Texas Medical Center reveals new details and renderings for its TMC3 campus
May 1, 2019, 7:54 am
The design and construction team has been announced for TMC3. Courtesy of Elkus Manfredi Architects
The Texas Medical Center just announced the dream team of architects and designers that are making TMC3 into a reality.
Elkus Manfredi Architects, Transwestern, and Vaughn Construction are the three companies that will serve as the architectural and development team for the 37-acre research campus. TMC3's founding institutions — TMC, Baylor College of Medicine, Texas A&M University Health Science Center, The University of Texas Health Science Center at Houston, and The University of Texas MD Anderson Cancer Center — decided on the three entities.

"Texas Medical Center is eager to move forward with a bold, imaginative and dynamic new design vision for the TMC3 Master Plan," says TMC CEO and president, Bill McKeon, in a press release. "With the combined talents of Elkus Manfredi Architects, Transwestern, and Vaughn Construction on-board, I couldn't be more confident that this dream team will flawlessly execute the totality of the project's vision and fulfill its mission to bring together leading researchers and top-tiered expertise from the private sector to create the number one biotechnology and bioscience innovation center in the entire world."

TMC3 was first announced just over a year ago and is planned to open in 2022. The campus will incorporate research facilities, retail space, residential plans, a hotel and conference center, and green space. Parking will be underground to optimize surface area.
Design in mind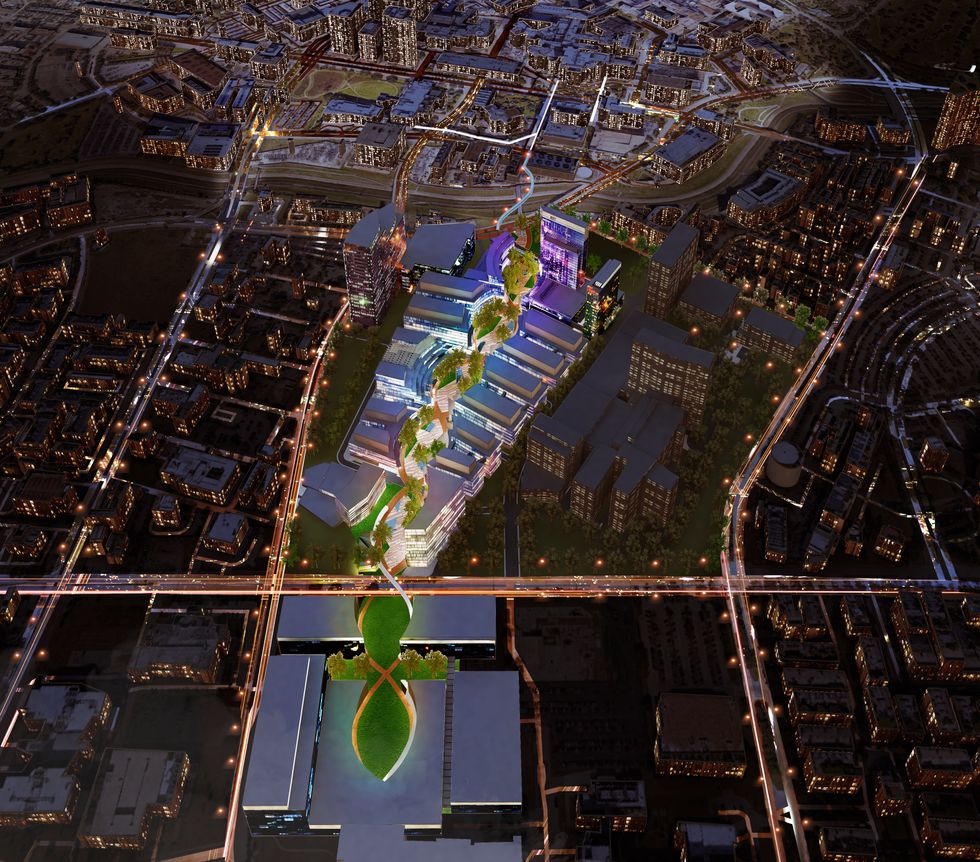 The 37-acre research campus will be interconnected by a DNA helix outdoor promenade.
Courtesy of Elkus Manfredi Architects
From a design perspective, the key element will be a DNA helix-shape that looks like a necklace chain that connects the campus.
"Our idea was to expand on the DNA design concept and create a series of spaces that would elongate the strand all the way north to the historic core of the Texas Medical Center and south to the new development by UTHealth and MD Anderson in order to create more opportunity for connections and collisions," says Elkus Manfredi Architects CEO and founding principal, David Manfredi, in the release. "We're implementing the connective tissue between all these places and establishing opportunities for unplanned interactions. Science, technology, medicine, discovery and innovation are all about making connections, and we are building a space for institutions, industry and startups to interact."
Manfredi's firm is responsible for a few other iconic medical facilities, such as the original Broad Institute of MIT and Harvard and The Stanley Building at the Broad Institute in Cambridge, Massachusetts, and the New York Genome Center.
"We want to create spaces that attract talent," Manfredi says in the release. "You can attract talent with great colleagues, research and facilities, but if you don't have a great social environment for people to live, learn, and play, people move on. We are creating a place where people will want to be because they're constantly stimulated – whether it's breakfast at the local coffee shop, or a volleyball league in the afternoon, or working in a central lab and the person next to them is doing something intersects with their own research."
Growing partner institutions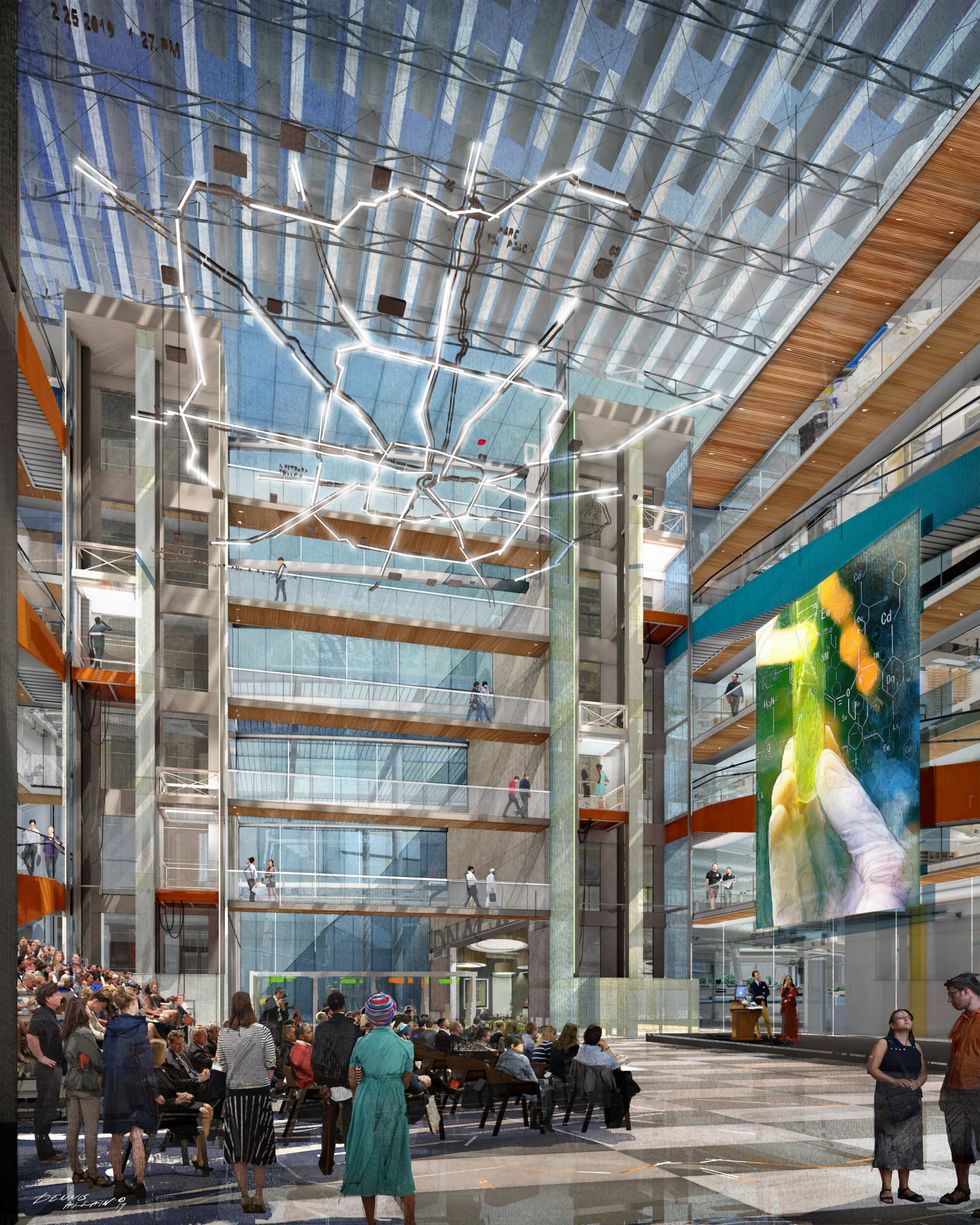 TMC3 Collaborative will be a centrally located building on the campus that is designed to host gatherings and share space with industry leaders.
Courtesy of Elkus Manfredi Architects
While a big portion of the attraction in the new campus is this multi-purposeful and connective space, the project opens doors for the five partner institutions. For Baylor College of Medicine, TMC3 means an expansion of its facilities and an increased footprint for Baylor St. Luke's Medical Center's McNair Campus. The second tower of the hospital will be right at TMC3's eastern edge.
"The selection of a development team is an important milestone for the TMC3 project," says Paul Klotman, president, CEO and executive dean of Baylor College of Medicine, in the release. "The project itself is a huge step in developing the biotech industry in Houston. At Baylor, we look forward to working closely with TMC leaders, as well as those of the other anchor institutions, in making this project a reality."
Additionally, the Texas A&M Health Science Center research building — led by Carrie L. Byington, M.D — on the north end adjacent to BCM's building and the hotel and conference center. On the south side of the campus, MD Anderson and UTHealth will each develop new research facilities that will connect to the existing University of Texas Research Park that is directly to the south of the campus. UT Research Park will be connected to TMC3 via a new skybridge.
The release also describes a central building dubbed TMC3 Collaborative that will create collaborative research space for industry partners. The first level of the building will be an open atrium for gatherings and have food and beverage concepts.
"When TMC3 opens in 2022, Texas Medical Center will officially plant a tangible flag that signals its arrival as the Third Coast for life sciences for the foreseeable future," McKeon says in the release.