Jul. 11, 2023 10:52AM EST
Sepsis has been the No. 1 killer hospitals, but this Houston startup has a tech to help mitigate the risk. Photo via Getty Images
Anyone can die of sepsis. The number one killer in hospitals has a reputation for felling the infirm and elderly, but while the immunocompromised are at highest risk, sepsis isn't that selective.
Take 12-year-old Rory Staunton. In 2012, the healthy boy scratched his arm diving for a ball in gym class at his school in Jackson Heights, NY. Bacteria entered his arm through the cut and he died days later of septic shock.
His story is not unique. Physician Sarma Velamuri saw this firsthand in his internal medicine practice at St. Luke's Health Center and his residency at Baylor, both in Houston. But it really struck home when he watched helplessly as a friend's 22-year-old daughter lost her life to sepsis. He had to tell his friend that she would not be coming home.
"There are 300,000-plus people a year who die of sepsis," says Velamuri. "It's important that people understand it's not just those who are most susceptible to infections."
This fact is not only unfortunate, but preventable. And that's why Velamuri, who describes himself as "a recovering hospitalist," co-founded Luminare in 2014. A full-time CEO since 2017, Velamuri, who runs the company with co-founder and CTO Marcus Rydberg, is based in the TMC Innovation Factory.
"Because of the complex workflows in hospitals, sometimes it takes 10 people to get the patient the care they need," Velamuri explains.
And because of the pervasiveness of sepsis, it's important to screen every patient who enters an institution before it gets to that point.
Luminare's technology allows nurses, who are notoriously spread thin, to automatically screen patients in 10 seconds using 50 different parameters.
"We're looking at a vast amount of data simultaneously," says Velamuri. "We're not generating any new data, we're taking data that exists and shining a light on it."
In 2020, the technology found a new application when Velamuri and his team created a version of Luminare that helped with the hospital workflow surrounding COVID PCR testing and vaccine management. Since then, it has also been used to help identify and treat monkeypox.
Though Velamuri says he doesn't want to distract Luminare from its goal of making sepsis the number-two killer in hospitals, he is also aware that his technology can be instrumental in identifying and treating patients at risk for countless other maladies, including heart failure and stroke, and even helping with oncology workflows.
Velamuri says that his team is Luminare's biggest strength, far more than the AI that they have designed.
"I have this saying that AI is a great servant but a terrible master. It doesn't solve the problem," says Velamuri.
Though the company is distributed as far afield as Stockholm, about half of its people live and work in Houston. Of the company's placement in TMC's Innovation Factory, Velamuri says, "They've been tremendous partners to us. The company would not be as successful today without their supportive partnership." Not least of that is working with in the same space as other founders who can share their expertise as easily as a trip to the coffee machine.
And the company is growing quickly. Last year, Luminare participated in Cedars-Sinai's accelerator program. Thanks to that partnership, the hospital is now using Luminare's technology for sepsis screening. The team is working to partner with even more large hospital systems on solutions for one of the health industry's biggest problems. And data that shows that Luminare can be the path to preventing death from hospitals' most prolific killer.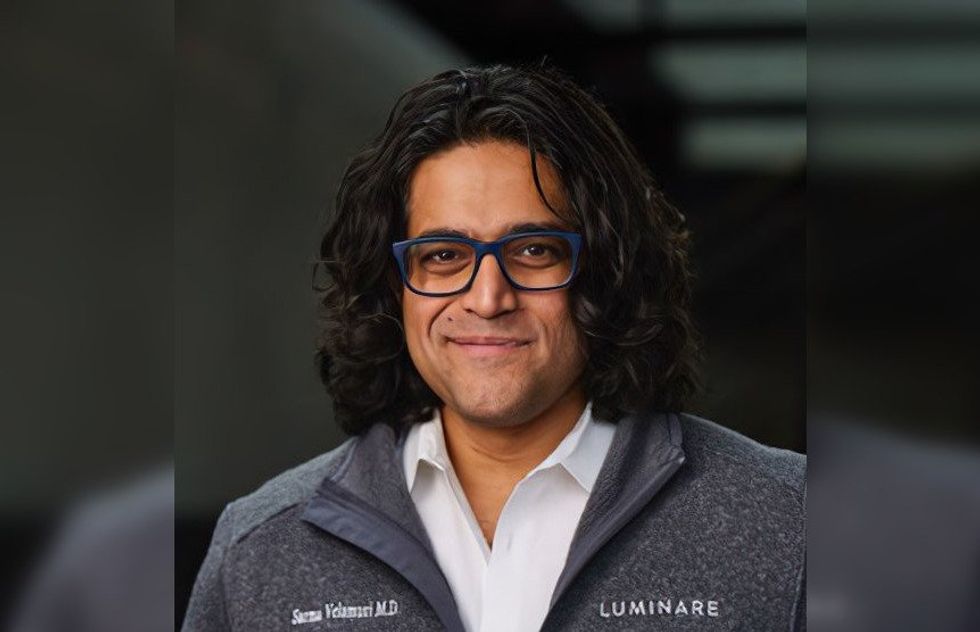 Sarma Velamuri went from MD to CEO when he founded Luminare. Photo via luminare.io