Jan. 10, 2023 01:01PM EST
The Dynamic One building in TMC Helix Park is expected to deliver later this year. Rendering via TMC.edu
TMC Helix Park, formerly known as TMC3, has announced its first anchor tenant.
The Texas Medical Center and Beacon Capital Partners announced that Baylor College of Medicine will be the anchor tenant of the Dynamic One building at TMC Helix Park. The facility is will be the first to deliver of the four TMC Helix Park industry buildings. The Topped off in December, the Dynamic One building is being developed by Beacon in collaboration with Zoë Life Science and is scheduled to open before the end of the year.
"Beacon is excited that Dynamic One will be our first entry into the fast-growing Houston Life Science market," says Fred Seigel, president and CEO of Beacon, in a news release. "This state-of-the-art environment is designed to enable and encourage collaboration and will greatly accelerate the innovative lifesaving discoveries that emerge when industry and academic research work side-by-side."
Baylor College of Medicine will lease 114,000 square-feet of lab and office space in the 355,000-square-foot building. BCM's goal is to house lab space for novel diagnostics and therapeutics — and provide space to house startups.
The organization is expanding its presence in Houston after decades of residing in the region.
"Baylor College of Medicine moved to Houston in 1943 and was the first institution built in the Texas Medical Center," says Dr. Paul Klotman, president and CEO and executive dean of Baylor, in the release. "Our researchers and scientists will have the opportunity to access the uniquely concentrated research environment being developed at TMC Helix Park, facilitating the continuing advancement of innovation and compassionate care."
TMC Helix Park, which includes more than 5 million-square-feet of space across 37-acres, also expects to deliver its research facility, the TMC3 Collaborative Building, later this year.
"Baylor College of Medicine is a major force in life sciences discovery and commercialization at TMC," says Bill McKeon, president and CEO of TMC, in the release. "Their move to TMC Helix Park will serve as a catalyst for enhanced collaboration with TMC's other esteemed Institutions, as well as with industry leaders from around the world."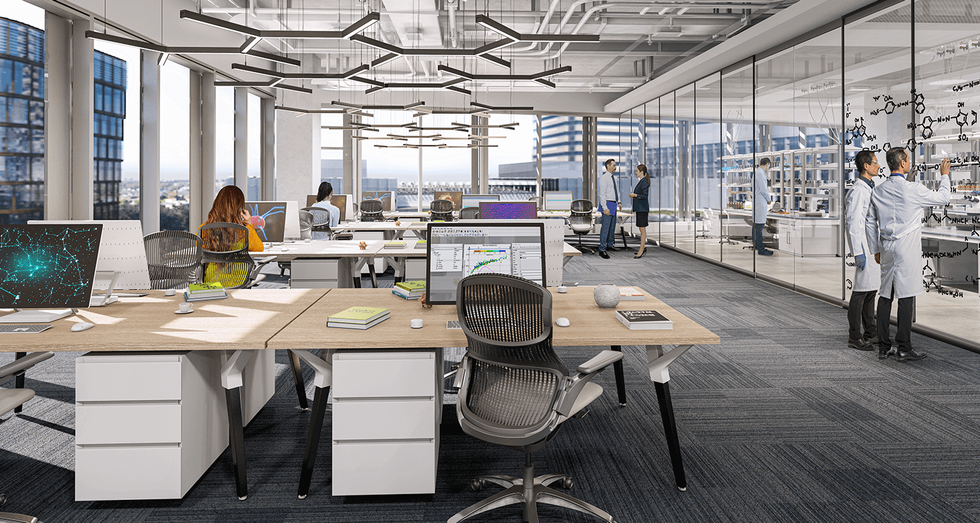 BCM is the first anchor tenant announced for TMC Helix Park. Rendering via TMC.edu