3 health technologies developed in Houston that are changing the industry
Jul 3, 2019, 8:43 am
Houston researchers are commercializing their organ 3D printing technology, a local hospital has a tiny medical device with a big impact, and more in health tech. Jordan Miller/Rice University
There's a huge opportunity for breakthrough medical technology in Houston thanks in large part to major universities, the Texas Medical Center, and other resources within health care startups.
From a new tiny implant that can deliver medicine into the patient remotely to printable human tissue, here are three health technologies coming out of Houston innovators to look out for.
Houston Methodist's tiny drug delivery implant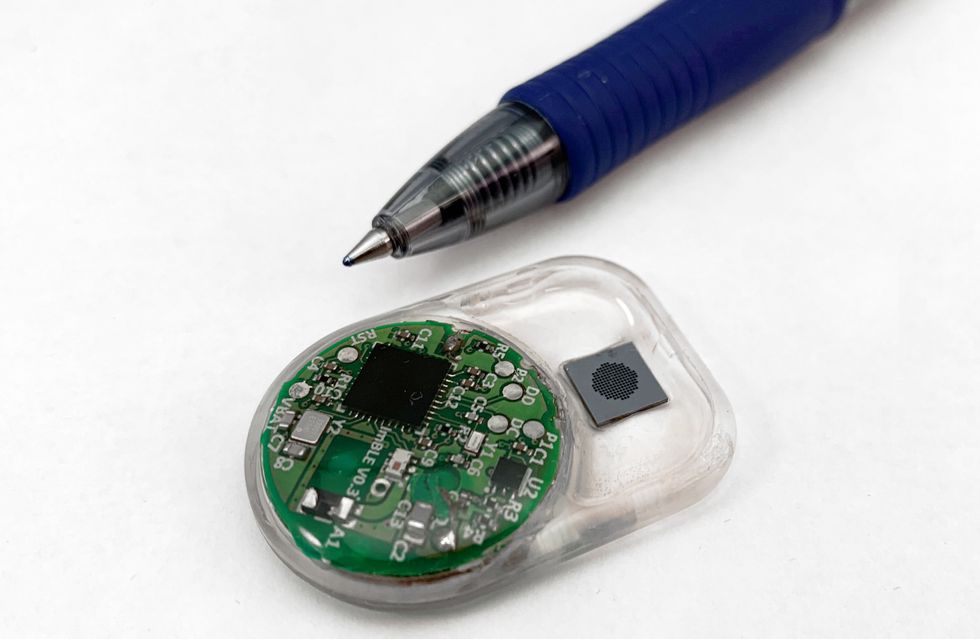 This tiny implant can have a big effect on patients. Courtesy of Houston Methodist
Houston Methodist nanomedicine researchers have developed an implant the size of a grape that can deliver medicine via a remote control. The device has applications in arthritis, diabetes, and heart disease treatment.
The battery-powered nanochannel deliver system uses Bluetooth technology and can dole out continuous, predetermined dosages for up to a year without refills. A proof-of-concept for the device published in Lab on a Chip.
"We see this universal drug implant as part of the future of health care innovation," says Alessandro Grattoni, chair of the nanomedicine department at Houston Methodist. "Some chronic disease drugs have the greatest benefit of delivery during overnight hours when it's inconvenient for patients to take oral medication. This device could vastly improve their disease management and prevent them from missing doses, simply with a medical professional overseeing their treatment remotely."
The devices can be programed for different dosage sizes and different release settings, which affect the voltage for the medicine delivery.
Houston Methodist has a number of new technologies it's introduced into its hospital system — click here to read about a few more.
NurseDash's resourceful scheduling tool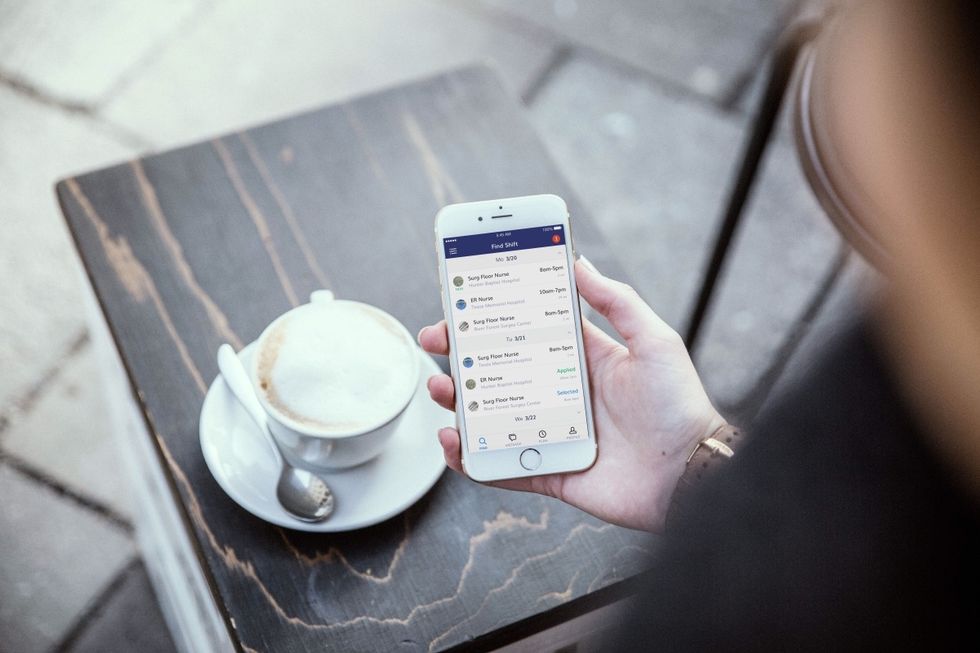 Houston-based NurseDash is the Uber of staffing nursing shifts in medical facilities. Photo via nursedash.com
Filling open nursing shifts has always been a challenge for hospitals and medical centers, and they've been forced to rely on outsourced companies to coordinate nurses to fill the shifts. NurseDash puts the power back in the hands of freelance nurses and the medical institutions that want to hire them.
Andy Chen, former CFO for Nobilis Health Corporation and co-founder of NurseDash, says the standard practice is hiring these agencies to fill shifts, and, while they promise to send someone, they don't even know who they'll be sending for a shift just hours away. This antiquated system prioritizes who comes in first, rather than a nurse's specialties or qualifications.
Since its debut, NurseDash, which is based in Houston's Galleria Area, has attracted 40 facilities in Houston, including hospitals, surgery centers, and senior living, and about 400 nurses. Chen says he isn't sure just what to call his technology yet, but compares it to the ride hailing of Uber or Lyft and calls it "a virtual bulletin board."
The company has already expanded beyond Houston to northeast Ohio, which the founders say has a similar competitive dynamic to the Houston market. The next goal is to hit the rest of the top 10 largest cities in the United States. To read more about the app and startup, click here.
Volumetric's human tissue-printing technology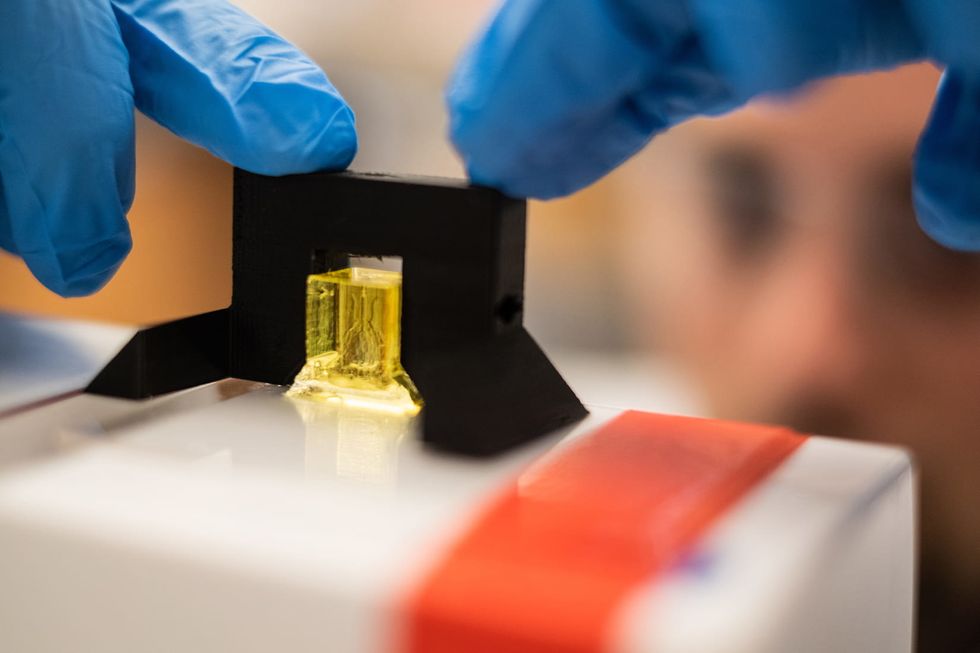 Rice University bioengineer Daniel Sazer prepares a scale-model of a lung-mimicking air sac for testing. Jeff Fitlow/Rice University
In a world where organ transplants means an incredible amount of time, money, and patience, there might soon be another option on the operating table. Volumetric is a startup that came out of a human tissue-printing technology developed at Rice University.
Jordan Millar developed the 3D printer in his lab at Rice, and still has ongoing research within the technologies. However, Miller says he very strategically chose to launch a for-profit company in 2018 — mainly, to provide access.
"If we want to do translational research, commercialization is important," reasons Miller. "We need to build the market to get that technology into the world."
Right now, the device is printing scaled down organs, and a contraption that looks a bit like a futuristic beehive, graced the cover of the May 3 issue of the journal Science. It's a working air sac complete with blood vessels, the beginnings of a technology that is perhaps only a decade from being implanted in humans. To read more about Volumetric, click here.