5 new technologies enhancing health care at Houston Methodist
Apr 29, 2019, 1:18 pm
Patients about to undergo brain surgery can use VR to see what their surgeon is about to do to their brain. Courtesy of Methodist
While hospital systems might have a reputation for being slow adaptors to new technologies, Houston Methodist is single-handedly trying to change that theory. From artificial intelligence to virtual reality, the hospital system is making big moves innovating and introducing cutting edge tools and systems.
Houston Methodist's Center for Innovation, which has really developed in the past few months, is lead by Roberta Schwartz — executive vice president, chief innovation officer, and chief executive officer of Houston Methodist Hospital. She says Methodist has always lead the way within health care innovation in Houston.
"I think we're an industry that is transforming itself. We're either going to be disrupted or we're going to do the disruption ourselves," Schwartz tells InnovationMap in a previous interview. "There's nobody who knows health care better than we do, so if we're going to transform the industry, I want that transformation to come from the inside."
Here are five different new programs the hospital has introduced to enhance patient care.
An automated recruiting tool named Mia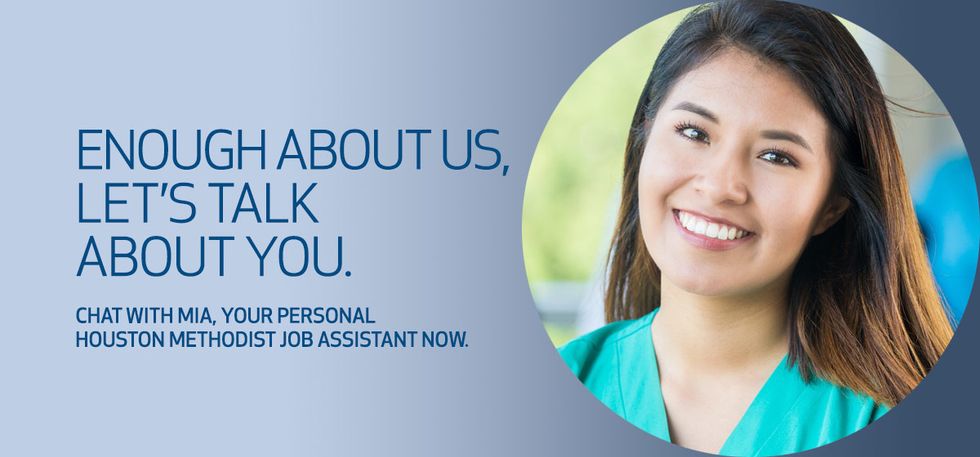 Photo via houstonmethodistcareers.org
Hospital recruiting has always posed a problem for a few reasons, but one challenge has been the lack of HR resources available at all hours of the day or night. To help rectify this issue, Methodist has introduced Mia, a 24/7 chatbot that can answer HR questions from potential applicants.
"We find that we are communicating with night nurses at 1 am asking about benefits," Schwartz says. A lot of the people we are trying to recruit are working at night when we don't have HR staff in the office all night long."
Methodist is one of five in the country to launch the recruiting chatbot. The initial pilot is focused on recruiting medical surgical nurses and medical assistants. In just four months, Mia has chatted with over 800 prospective employees resulting in over 20 hires.
Pre- and post-op automated information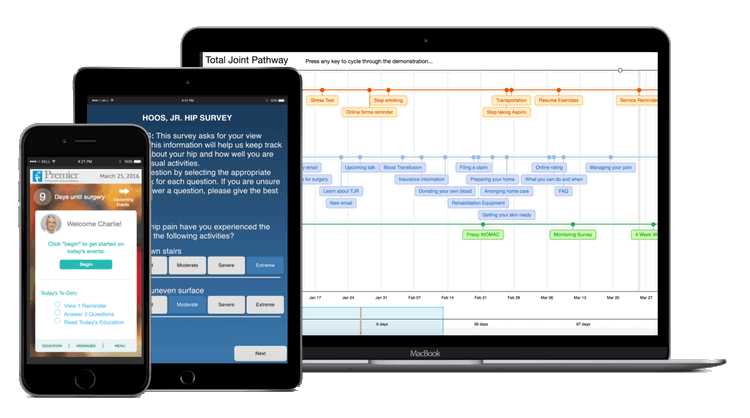 Photo via caresense.com
A crucial time for patients is immediately before and after surgeries or procedures, but doctors and medical staff usually has the most trouble keeping track of patients during these times.
CareSense automated program offers reminders and monitoring questions that better connects the patients with the hospital. In the three months the pilot has been running, nearly 500 Houston Methodist surgical patients reported extremely high satisfaction and over 75 percent of patients are engaged with the program.
Currently, CareSense works with Houston Methodist patients undergoing certain total joint replacement, colorectal, spine, and cardiac procedures. The technology can send texts, emails, website, and video links before and after the procedure. Early data has seen a reduction in missed appointments, lower surgical cancellations, and increased patient compliance. Up next is an expansion into various clinical areas, including mental health, interventional radiology, and oncology.
Virtual reality technology for brain surgeries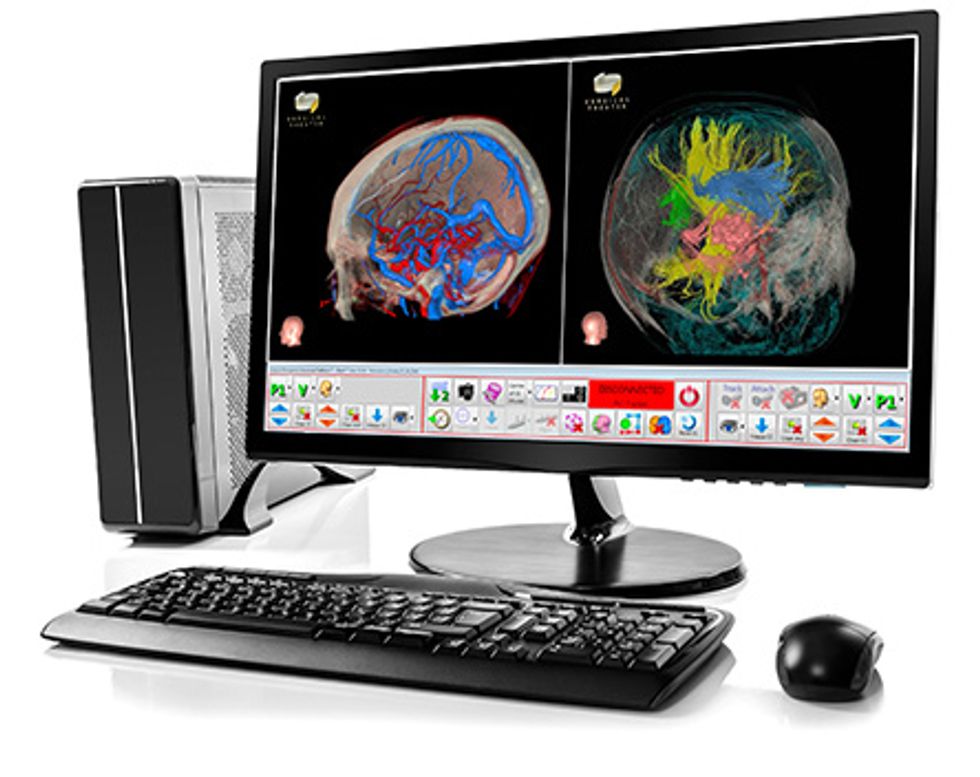 Patients about to undergo brain surgery can use VR to see what their surgeon is about to do to their brain. Courtesy of Methodist
Houston Methodist Hospital is channeling a Magic School Bus episode with new VR technology that allows neurosurgical patients and their family members to essentially walk through their brains ahead of their surgeries.
The patient wears a virtual reality headset and gets a 360 degree view of their brain, and the neurosurgeon can walk the patient through the surgery process. According to a release from Houston Methodist, the technology is the first of its kind that combines fighter jet flight simulation with patients' anatomy scans from MRI, CT, and/or DTI processes to make a 3D model.
Virtual urgent care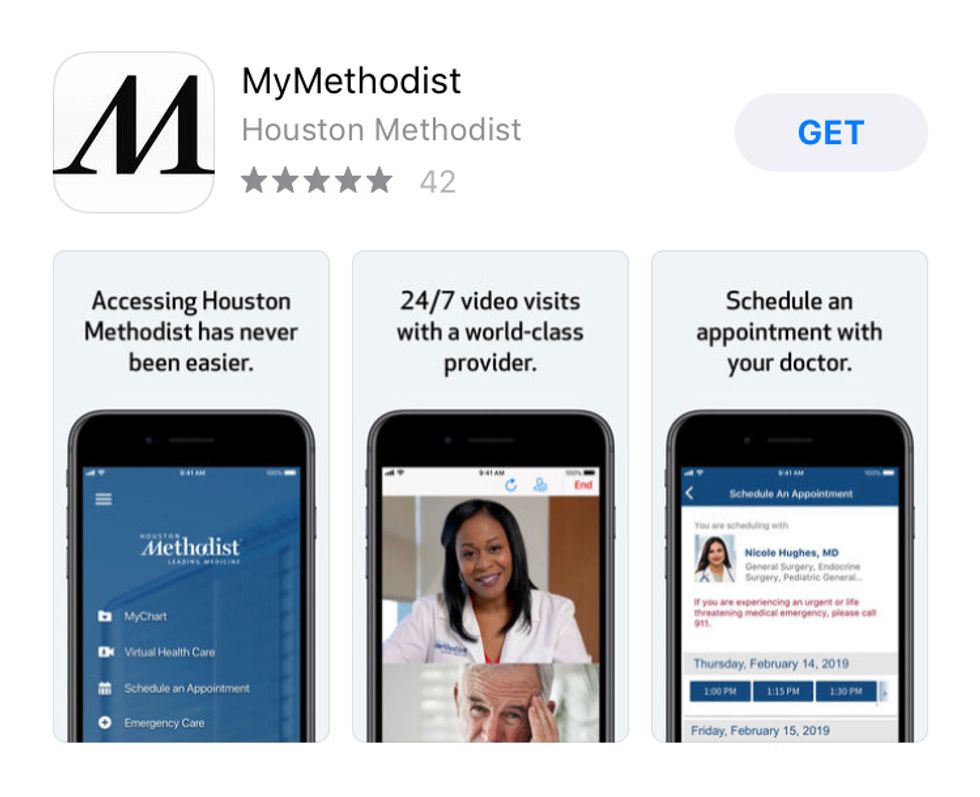 Screenshot via App Store
Houston Methodist recently went mobile, Schwartz says. About 77 percent of patients are interested in virtual access to physicians, according to the Advisory Board's 2017 Virtual Visits Consumer Choice Survey that included over 5,000 patients across the country — and 19 percent of patients have already engaged with doctors virtually.
"We live in a technology-driven age where people want easy access to services and they are open to seeing a provider via video. With virtual urgent care, a patient can get help for minor illnesses from the comfort of their own home," says Schwartz in a release.
The new MyMethodist app provides a platform for patients to contact doctors virtually, as well as medical records, test results, bill payments, prescription services and more. Some of the conditions included in virtual treatment are cold/flu symptoms, pink eye, skin infections/rash, allergies, cough/fever/headache, and upper respiratory infections.
Scheduling tool partnership with Next Level Urgent Care and Blockit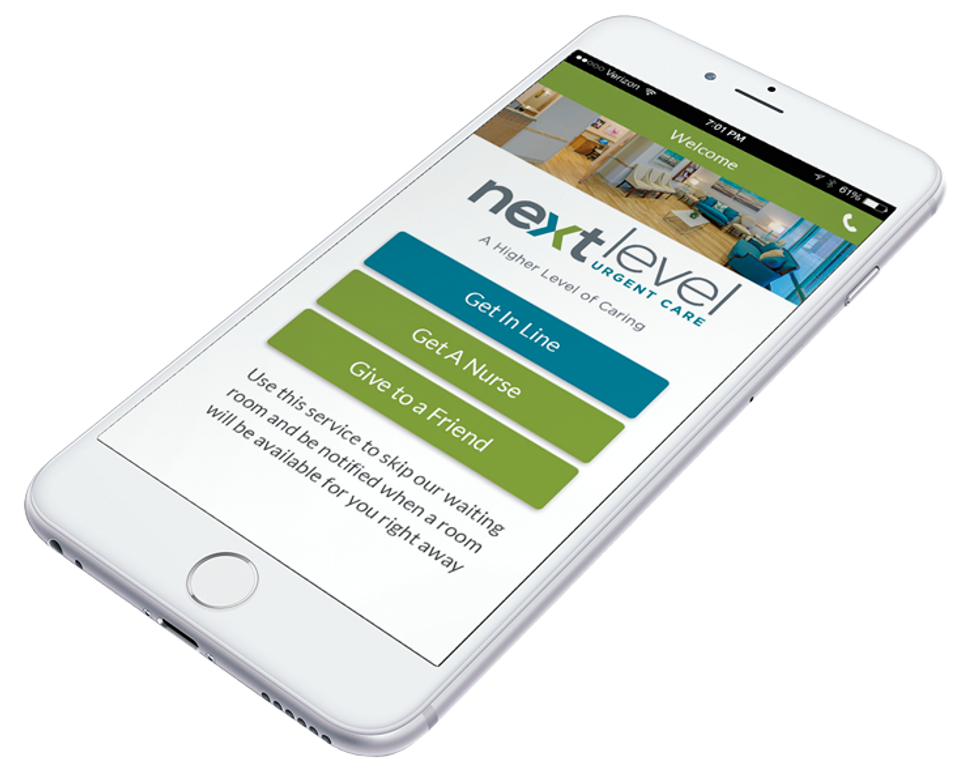 Photo via nextlevelurgentcare.com
In an emergency situation, a patient might opt for an urgent care center over a hospital visit. Houston Methodist wants to connect the dots in that case in order to best serve its patients. A partnership between Blockit, Next Level Urgent Care, and Methodist has emerged to allow for easier access to follow-up appointments with orthopedic specialty physicians, and an urgent care patient might leave the facility with his or her follow-up visit already scheduled. In the pilot program's first five months into this pilot, over 120 urgent care patients engaged with the program and made follow up appointments from the facility.