Houston researchers are commercializing their human tissue-printing technology
May 29, 2019, 8:11 am
Houston researchers are commercializing their organ 3D printing technology. Jordan Miller/Rice University
There may come a time when you or someone you love is in need of a new pair of lungs. Or perhaps it's a liver. It's not a scenario anyone dreams of, but thanks to Houston company Volumetric, you may never end up on a waiting list. Instead, that organ is made to order and 3D printed using a mix of medical plastics and human cells.
And this possibility isn't necessarily in the distant future. On the cover of the May 3 issue of the journal Science, is a contraption that looks a bit like a futuristic beehive. It's a working air sac complete with blood vessels, the beginnings of a technology that is perhaps only a decade from being implanted in humans. And it was crafted on a 3D printer in Jordan Miller's lab at Rice University.
Yes, there are shades of another Houston story — Denton Cooley's implantation of the first artificial heart — but Cooley only inserted the organ. Miller and his bioengineering graduate student Bagrat Grigoryan are primed to profit from their inventions.
In 2018, they started Volumetric Inc., a company that sells both the hydrogel solutions used for printing organs like theirs and the printers themselves. Touring Miller's lab in the Houston Medical Center is a visual timeline of his team's progress designing printers. The version being manufactured is a slick little number, small enough to fit under chemical exhaust hoods, but fitted with everything necessary to print living tissues. It's made and sold in cooperation with CellInk, a larger bioprinting company.
"Our technology is based on projection," Miller explains. Specifically, it's stereolithography, a type of 3D printing that produces the finished product layer-by-layer. Shining colored light of the right intensity turns the polymers into a solid gel.
But why start a company when Miller and Grigoryan are already busy with research?
"If we want to do translational research, commercialization is important," reasons Miller. "We need to build the market to get that technology into the world."
Miller explains that usually the inventor of a technology is the best one to bring it to market.
"When we were building this technology in the lab we saw the potential for commercialization," he recalls. "We do see that this technology is highly scalable. We do think it can have a positive impact on tissue models in a lab."
Those tissue models could one day make not just scientists, but also animal rights activists, very happy. With the technology that Volumetric is developing, scientists could eventually print human cells so well that animal models would be far less accurate in predicting the success that the product being tested would have on humans.
As academics, though, Miller and Grigoryan weren't sure how to start a company. Fortunately, there is the National Science Foundation (NSF) and its I-Corps program. The pair spent a couple of weeks doing a regional program that taught scientists how to commercialize their technology.
"They want to see funded research get out of the lab," Miller says, explaining that they moved on to the national I-Corps program while Miller was on sabbatical from teaching at Rice, allowing them to interview potential customers.
This gave them the confidence to launch last year. Grigoryan now works full-time at the Med Center incubator and accelerator, Johnson & Johnson's JLabs. He has a team of two other scientists on staff.
"It would have been a lot harder to get started if we didn't have a space like JLabs available," Miller says. It also helps, he adds, that JLabs takes no equity, only helping the fledgling brand to finalize its market and get hooked in with potential investors.
Volumetric has its demo units ready to go and expects to start shipping printers in late June, pending final certifications.
"We believe we have technology to make organ replacements for people," Miller says.
And someday soon, long waits for a new set of lungs and a life of antirejection drugs could be a thing of the past.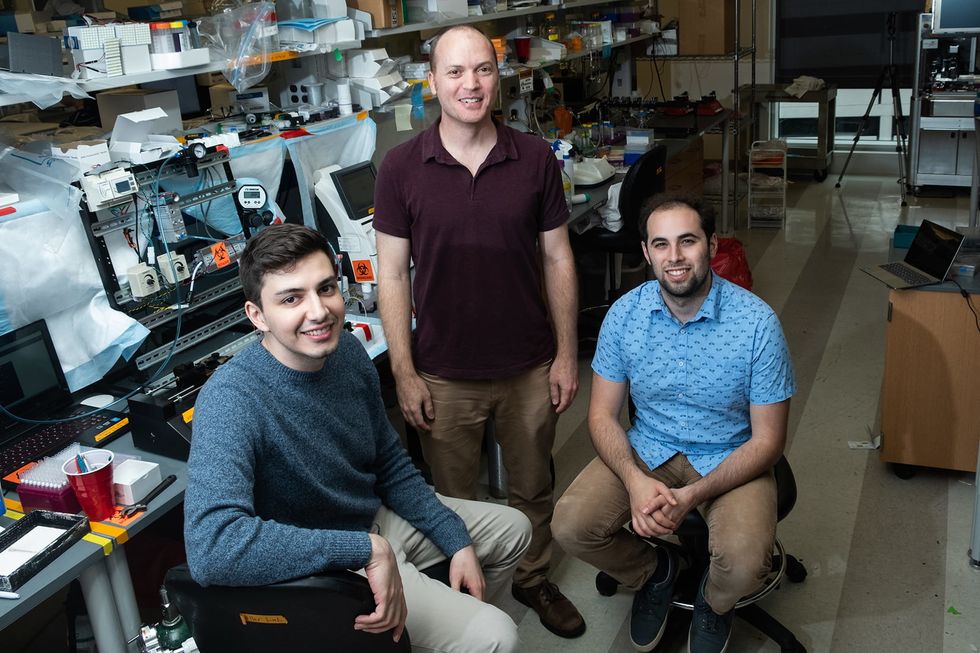 Rice University bioengineers (from left) Bagrat Grigoryan, Jordan Miller and Daniel Sazer and collaborators created a breakthrough bioprinting technique that could speed development of technology for 3D printing replacement organs and tissues. Photo by Jeff Fitlow/Rice University