Houston startups named most promising in the life science space at annual event
Nov 8, 2022, 5:46 pm
Eight of the 10 most-promising life science startups named at BioHouston and the Rice Alliance's event are based in Houston. Photo courtesy of Rice Alliance
For the second time this year, Houston life science leaders and startup founders gathered to discuss the future of health care in Houston.
The annual Texas Life Science Forum hosted by BioHouston and the Rice Alliance for Technology and Entrepreneurship was usually held during the fall before the pandemic pushed it off schedule. In February, the two organizations hosted the previous forum, but as of this month, the annual event is back on track.
The day included panels and networking, plus over 50 companies — about half of which are based in Houston — pitched their solutions across medical device, therapeutics, pharmaceuticals, and more to the crowd.
Houston-based Bairitone Health won the Michael E. DeBakey Memorial Life Science Award, established by BioHouston in honor of the groundbreaking Houston cardiovascular surgeon. The company is creating a wearable technology that takes a more innovative approach to sleep apnea and snoring with its SOMNAR platform that detects tissue-born sounds, identifies obstructions, and more. The award was presented by Ann Tanabe, CEO of BioHouston.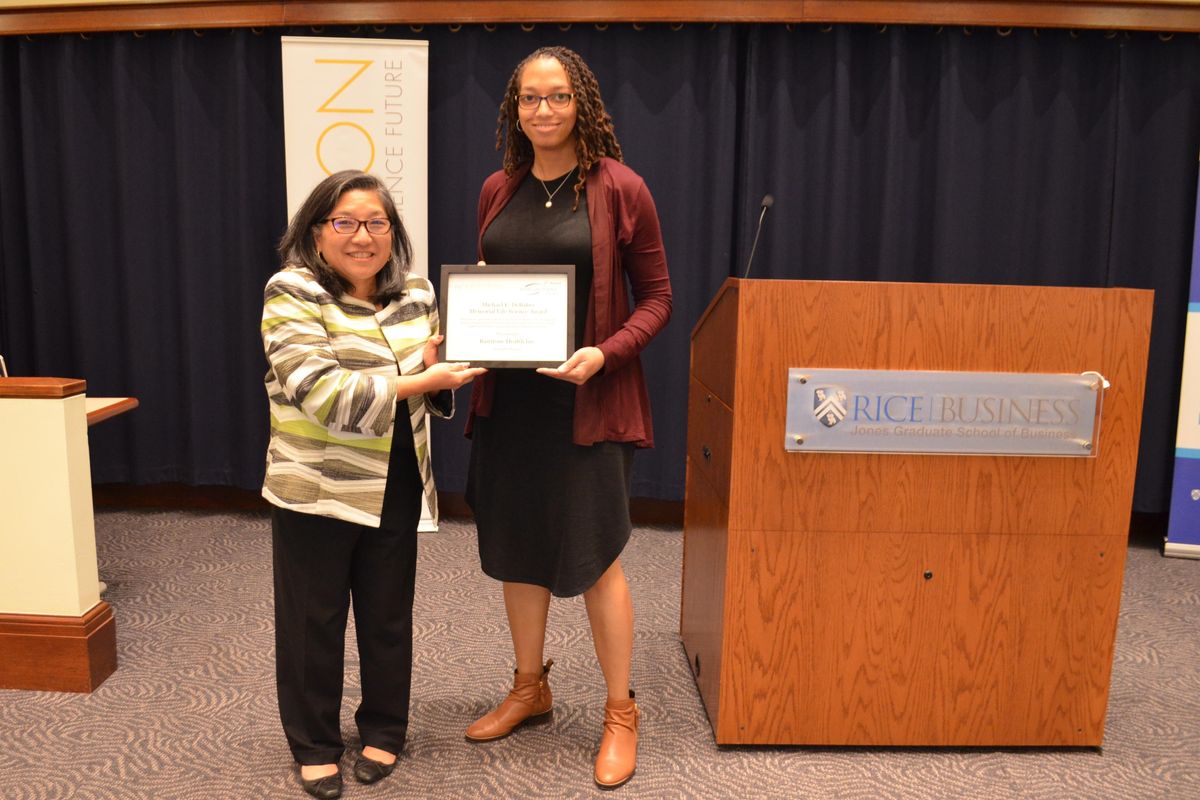 Ann Tanabe, CEO of BioHouston, presented the DeBakey Award to Houston-based Bairitone Health. Photo courtesy of Rice Alliance
For the first time, the event also named a people's choice award winner, as voted on by the audience members. Baritone Health also claimed the prize.
At the conclusion of the event, the Rice Alliance and BioHouston named the 10 most promising life science companies selected by investors and presented by the Greater Houston Partnership. This year's selection included the following companies, in alphabetical order.