Oct. 15, 2019 01:15PM EST
Texas venture capital deals had a slow quarter, according to Crunchbase data. Getty Images
The entire state of Texas saw an unimpressive third quarter of venture deals — especially compared to the second quarter's reports — and Houston was not immune.
The state reported $372.4 million fundraised by tech startups in Q3 of 2019, according to Crunchbase data, which is less than half of what was reported in Q3 of 2018 ($776.8 million) and what the state raked in the second quarter of this year ($830.6 million).
Houston brought in a measly $38.4 million last quarter, per Crunchbase, and compared to the $251 million raised by Houston companies in Q2, that drop stings. It's the lowest quarterly venture amount Houston's seen in over a year, and lower than Houston's $44.7 million reported for Q1. Zooming out a little, the city's venture reports remain a rollercoaster of sorts with strong quarters bookended by lousy ones.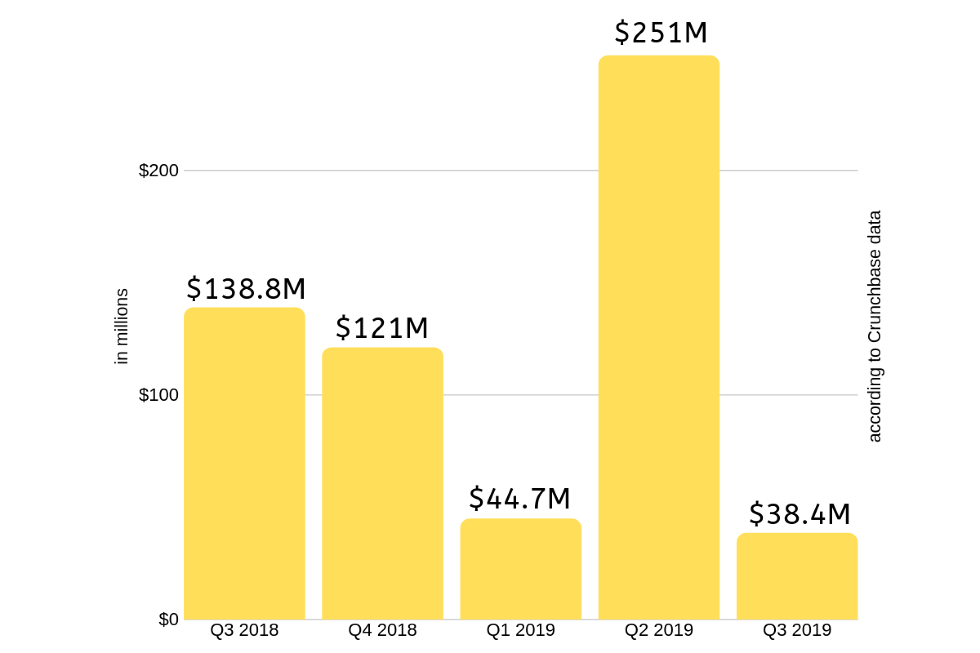 Chart via InnovationMap using Crunchbase data.
Austin maintained its top spot on the Texas venture leader board with $236.4 million of Texas' total $372.4 million raised in Q3 2019, according to Crunchbase, but that's about $200 million less than the city raised in Q2. Meanwhile, Dallas — a city Houston usually competes with for the No. 2 spot — raised $70.3 million compared to its $126.7 million raised in Q2. The only region up in raises is categorized as "other Texas metros," which went from $7.3 million to $27.4 million between Q2 and Q3.

According to Crunchbase, the city's $38.4 million was raised in six deals between June and September 2019. The top deal of those six companies was raised by Axiom Space, which closed a $16 million in a seed round.
Crunchbase's Texas reporter, Mary Ann Azevedo, reminds readers that their proprietary data is subject to reporting delays.
"Actual deal counts and dollar volume totals are higher than what Crunchbase currently has on record, and the numbers we're reporting today are likely to change as more data gets added to Crunchbase over time," she writes.
Just like Crunchbase, InnovationMap doesn't get to report on every single venture deal. However, here are some of the raises we covered in the third quarter of this year.