Exclusive: Houston-based stadium ordering app closes near $1.3 million Seed round with plans to scale
Sep 6, 2019, 11:03 am
Houston-based sEATz has closed a funding round and plans to reach more fans than ever this football season. Courtesy of sEATz
Fans across the country are headed to football stadiums this weekend to cheer on their teams, but only a few will have the luxury of ordering food, beer, and even merchandise from the comfort of their seats.
Houston-based sEATz has created a platform where fans can order just about anything their stadium has from an app. Much like any other ordering app, once the order is placed, a runner will pick up the food and deliver it to the customer for a small fee and a tip.
The startup is now preparing to scale up from seven venues to 10 before the year is over as well as launching a new version of the app thanks to an oversubscribed near $1.3 million Seed round led by Houston-based Valedor Partners. Houston-based Starboard Star Venture Capital also contributed to the round. SEATz has plans to launch its Series A round before the new year.
"We're building enterprise-level, scalable in-seat ordering, delivery, and pick-up software. We'll have all the data and validation we need this fall to really start to push that out," says CEO and co-founder Aaron Knape.
SEATz got its start when co-founder and COO Marshall Law missed a particularly amazing play by the Astros during a World Series gameduring a World Series game because he was waiting in line to get food for his family. In a world of Uber and Favor, it was time for stadiums to step up their convenience. Law and Knape had been friends for a while — they met through their wives — and they regularly bounced business ideas off each other.

"We would meet every couple weeks in the Heights for coffee and throw spaghetti at the wall. We knew we'd eventually find an idea together," Law says. "After I left that Astros game, I texted him from the parking lot and told him, 'I found it.'"
The duo teamed up with another friend, Craig Ceccanti —CEO and founder of Houston-based Pinot's Palette, which has locations across the United States — and created sEATz's parent company, Rivalry Technologies. The name's an homage to the fact that the men are from rivalry schools — Law went to the University of Texas, Knape went to Texas A&M University, and Ceccanti went to Louisiana State University.
Part of sEATz ability to grow so rapidly has been a series of key partnerships. A Rice University business master's grad, Knape got them a foot in the door at his alma mater, and sEATz's first game was at Rice last year. Then, the startup was connected to Jamey Rootes, president at the Houston Texans, at an event at The Cannon Houston. That partnership lead to an introduction with Philadelphia-based Aramark Corp., a global food service and staffing company. SEATz is a member of Cannon Ventures, as well as being a member company of Capital Factory, which has its Houston outpost at The Cannon.

"At this point, we know that fans want food in their seats," Knape says. "That concerns the concessionaires because they don't want an app that just helps them sell food, because they already have long lines. What we have on the back end actually helps them divert that traffic and reduce those lines."
Aramark got sEATz into the University of Houston's basketball games, but the university then switched their food service company to Delaware North. However, sEATz had proven itself to the athletic department at UH, and wrote it in Delaware North's contract that they will work with sEATz.
At this point, the growing company has contracts in Houston with NRG Stadium, UH's TDECU Stadium and Fertitta Center, Rice Stadium, and Constellation Field. SEATz also worked 71 games of the Corpus Cristi Hooks and recently had its first out-of-state expansion to the University of Southern Mississippi. In its first game on campus, sEATz saw over 700 downloads for just the first game.
"Now that we're there, Mississippi State and Ole Miss want it too," Knape says. "Our expansion is really coming on."
The team has big ideas for sEATz and Rivalry Technologies. SEATz has applications in all types of venues — music or entertainment and even resorts.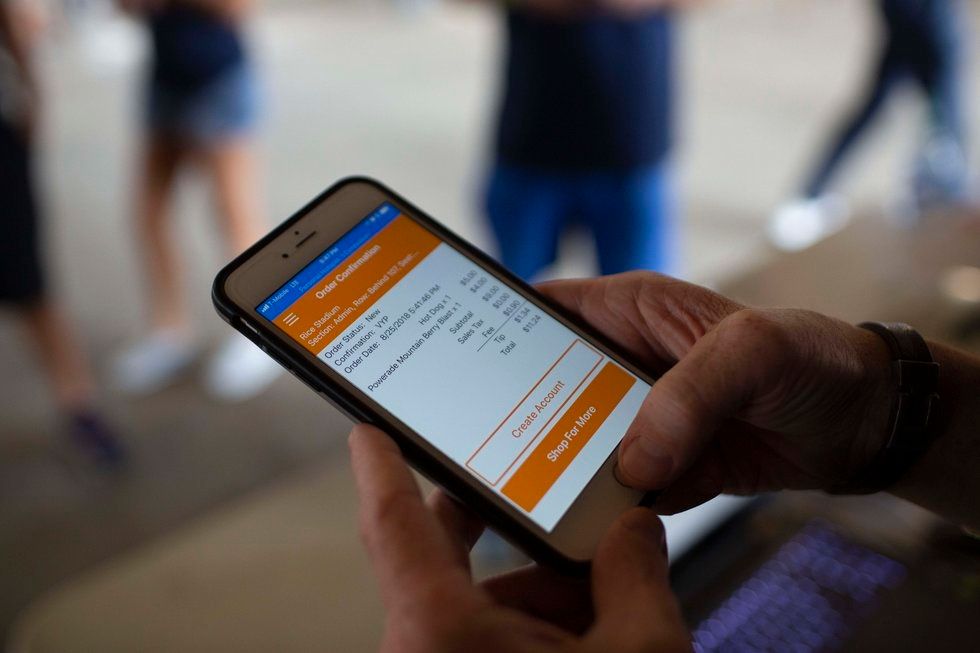 Concession food to your seat? That's what sEATz makes possible. Courtesy of sEATz