Texas sees significant growth in VC investments for Q1, but Houston falls short
Apr 12, 2019, 1:19 pm
When it comes to venture capital invested in the first quarter of 2019, Houston raked in less than 10 percent of what Austin reported, but the state as a whole has seen an increase, according to Crunchbase. Getty Images
While the state marked significant growth in first quarter venture capital investments year over year, Houston fell far behind its Texas sister cities. Houston startups received just 10 percent of what Austin startups reported, and Houston lost its lead it's had on Dallas for two quarters, according to Crunchbase data.
Texas had a reported $790.4 million in Q1, per Crunchbase, which is up from Q4 2018's $530.6 million as well as being up year over year from $587.2 million in Q1 of 2018. The number of deals for the state was cut almost by half — 64 Q1 2019 deals compared to 118 in Q1 of 2018 — "indicating larger investment sizes as the state's startup market continues to mature," according to Crunchbase's Mary Ann Azevedo.
Meanwhile in Houston, the city's startups received $44.7 million of that reported investment last quarter, which is down from the $121.4 million reported in Q4 2018. Austin raked in $493.8 million — more than 10 times that of Houston — and Dallas reported $245.4 million, which more than doubles what they reported for Q4 of 2018.
Houston lost its lead it had on Dallas for the past two quarters. In Q4 of 2018, Houston outdid Dallas with $121 million in venture capital investment, according to Crunchbase. Before that, Houston crushed Dallas in the third quarter too with $138.8 million compared to Dallas' $38.1 million. That quarter was when Houston came close to Austin's VC funding.
The largest deal in Houston was for biotech startup, Solugen, which closed its $13 million Series A in March, Cruncbase reported, and Y Combinator contributed to the round.
The Crunchbase report mentioned a few huge deals that tipped the scale this time around for Austin and Dallas. Dallas-based Peloton Therapeutics closed a $150 million Series E round in February. In Austin, Disco — a company founded in Houston but relocated to Austin — closed a $83 million Series E round, and Austin's Billd drew in $60 million in a Series A.
Houston's cut shrinks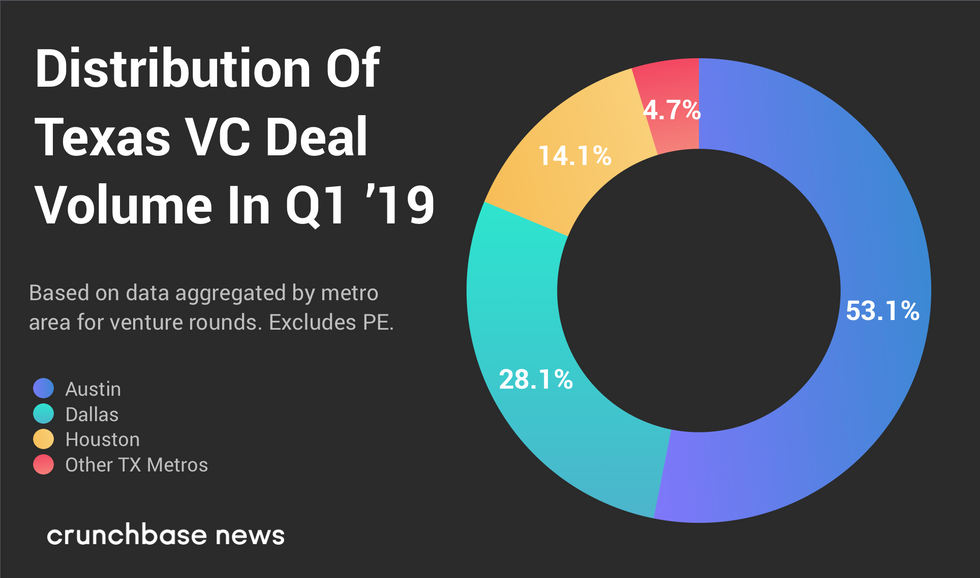 Houston's piece of the Texas VC pie continues to shrink. In Q3 2018, the city had a third of the funds and, in Q4, had over 20 percent.Via Crunchbase News
Dallas is back at No. 2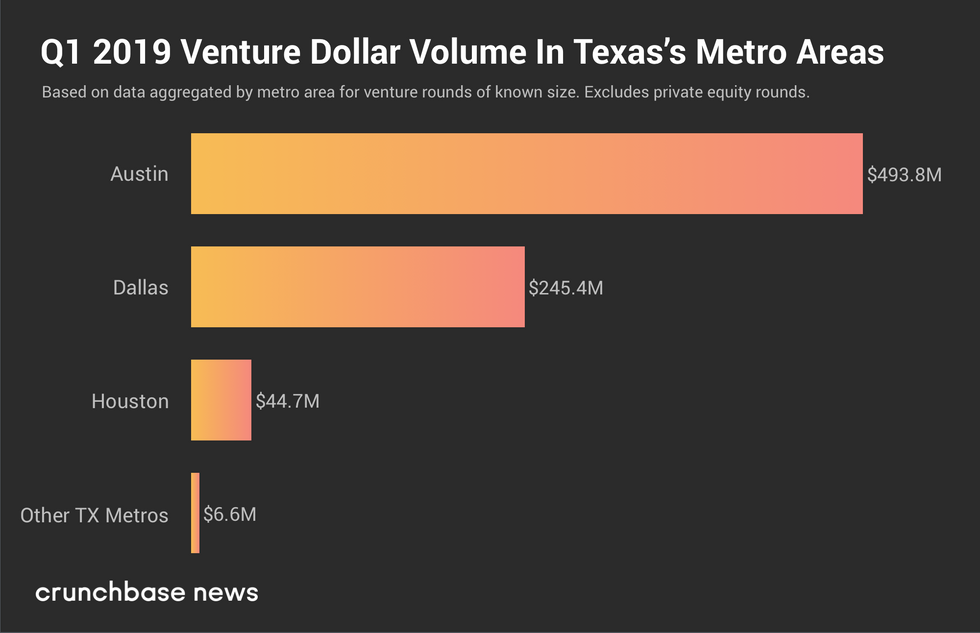 Dallas came back with a vengeance after being outdone by Houston for the past two quarters.Via Crunchbase News