Houston startup rebrands, closes $3 million investment round, and plans first out-of-state expansion
Jul 18, 2019, 1:44 pm
Apartment Butler has reemerged as Spruce with fresh funds to take the company to Denver and beyond. Photo via GetSpruce.com
A Houston startup that coordinates hospitality services — such as cleaning, dog walking, etc. — has recently cleaned up itself, with a fresh rebranding and new funds to further develop the company.
Spruce (née Apartment Butler) has closed a venture capital round at $3 million. Princeton, New Jersey-based Fitz Gate Ventures led the round with three Texas investors: Houston-based Mercury Fund, the Houston Angel Network, and Austin-based Capital Factory, which recently announced its Houston outpost.
The fresh funds will allow for Spruce to expand its services out of Texas for the first time. Denver will be the first non-Texas market for the company, according to a news release. The funds will also go toward sales, marketing, and software development scaling.
"We could not be more appreciative of the support from these outstanding investors," says Ben Johnson, founder and CEO of Spruce, in the release. "Since our founding, we have grown aggressively as more and more apartment communities have seen the demand for hotel-inspired services increase dramatically. We look forward to continuing our strategic, rapid growth with this funding that will play a critical role in that expansion."
Last month, Apartment Butler rebranded into Spruce to better represent the company and its market disrupting features, according to a news release.
"Since our inception just a few short years ago, we have experienced an incredible rate of growth, demonstrating the demand residents have for hotel-inspired services in their apartment homes," says Johnson in the June 25 release. "We believe the new Spruce brand name better connects with consumers and reflects the full range of services we have to offer."
Spruce's services include daily chores, housekeeping, pet care (dog walking, pet sitting, etc.), and laundry and dry cleaning. Spruce has a B-to-B-to-C model in which it works with apartment communities to broker partnership deals to reach their residents.
Late last summer, Johnson closed a $2 million seed round for his company and expanded the company to Austin, hinting at the out-of-state growth being in the near future for the startup.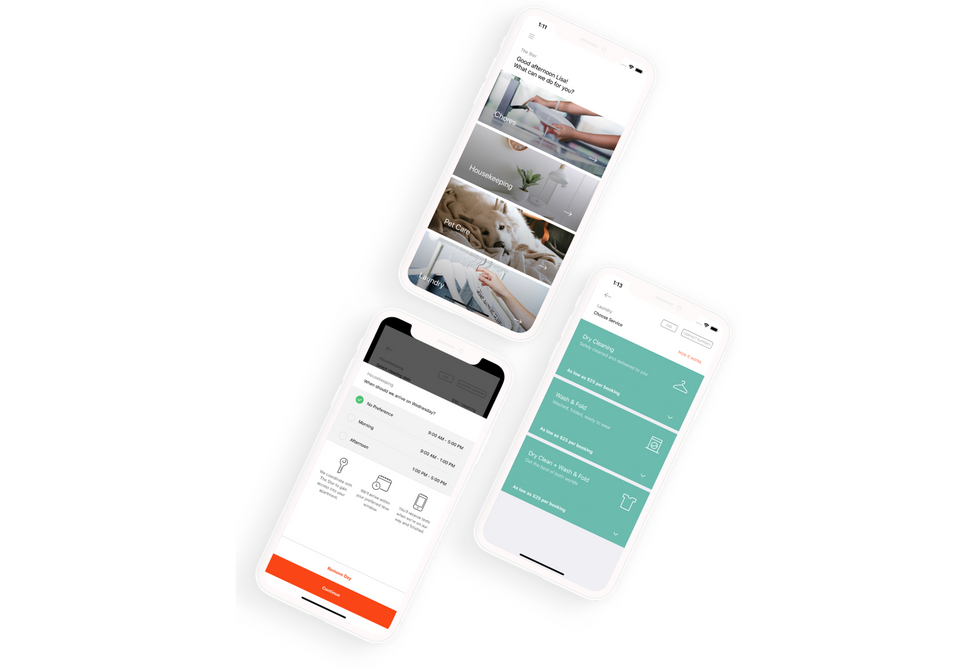 Apartment dwellers that live in a Spruce-partner community can access services through an app or desktop interface.Photo via GetSpruce.com