Houston sees massive growth in startup venture capital investments
Jul 15, 2019, 1:55 pm
The most exciting part of this Texas startup funding roundup is that Houston brought in more dollars than Dallas. Getty Images
When it comes to startup funding, Texas saw only a small jump in startup investments made, according to Crunchbase. However, when you look at funds coming into Houston companies, the Bayou City's numbers soared.
Houston raked in $251 million of the state's total $817.9 million for the second quarter. Last quarter, the city posted a mere $44.7 million of investment into local startups, which was previously a huge drop from the $121.4 million reported in Q4 2018, according to Crunchbase.
The state's VC activity only increased by less than $10 million, with both Austin and Dallas taking huge hits following their strong starts in Q1. VCs invested $411.11 million into Austin startups in Q2, which is a 19 percent drop from Q1's $493.18 million, Crunchbase's Mary Ann Azevedo reports. Dallas also saw a drop of around $100 million in investments between quarters. Dallas startups only brought in $148.5 million in Q2 compared to $245.4 million in Q1.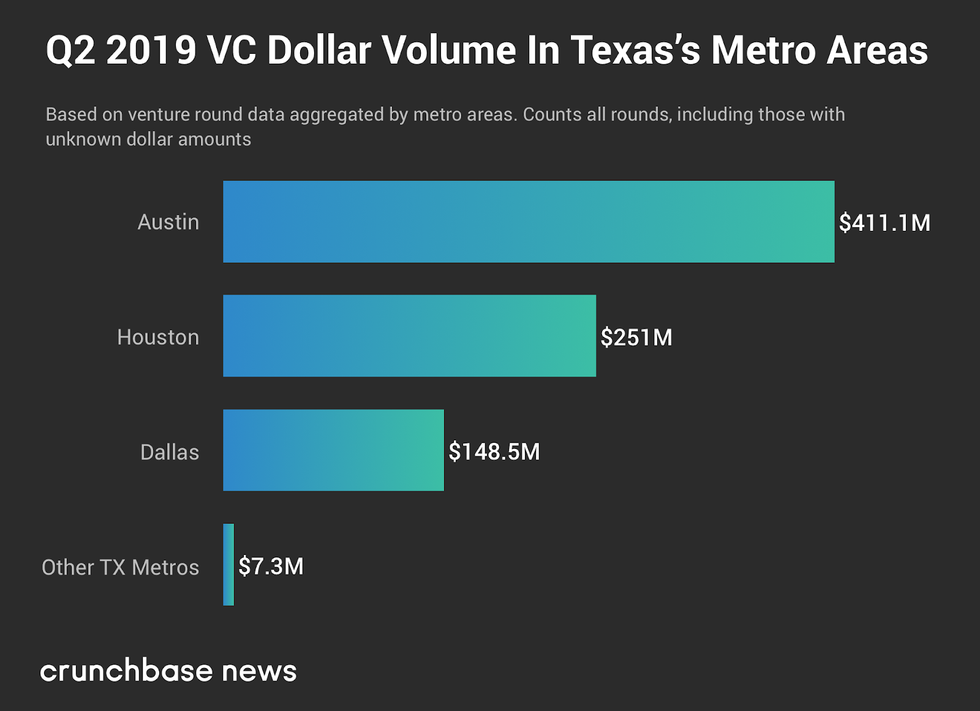 Chart via news.crunchbase.com
Houston's biggest deal for the quarter was AlloVir's $120 million Series B, which closed in May. The biotech company founded at Baylor's Center for Cell and Gene Therapy is currently in clinical trials for its immunotherapy technology and also announced with the round closing that it joined the ElevateBio — a Boston-based organization that combines a group of cell and gene therapy companies — portfolio.

Here are some other Houston startup deals that closed in Q2. (Note: Not all of these deals are necessarily included in Crunchbase's report.)
Houston VC deals in April:
Innovapptive, a software-as-a-service company with clients in industrial industries, closed on a $16.3 million Series A investment. Read more.
OAGAnalytics, which uses artificial intelligence in the oil and gas industry, has closed its second round of strategic funding. The exact amount of the raise was not disclosed by OAG, but according to a Form D filing, the company expressed that it was raising $8.72 million in this round. Read more.
Houston VC deals in June: 
Following a $20 million commitment from Sanford Health, regenerative medicine and cell therapy company, InGeneron Inc., has extended its Series D round to $43 million. Read more.
Iownit Capital and Markets Inc. announced that it closed a $4.5 Seed round of funding. Read more.