Houston named a top city for women in STEM fields
Mar 26, 2021, 1:39 pm
Women in science, technology, engineering, and mathematics are well represented in Houston, according to a recent report. Photo via Christina Morillo/Pexels
If you're a woman in science, technology, engineering, or mathematics and you call Houston home, according to a new report, you're doing it right.
In honor of Women's History Month, CommercialCafe updated its 2020 ranking of the top U.S. cities for women working in STEM. According to the report, Houston ranks at No. 5 on the list of the best southern cities in the United States for women in STEM. The Bayou City also claims the No. 19 spot nationally.
Here are some other key findings about Houston on the report:
STEM jobs in Houston account for 7 percent of all jobs, and a little less than a third of these positions are held by women.
About 23,964 women work in STEM in Houston — which is the most out of any other city in the South.
Houston gained 4,318 new women STEM employees since 2015, the third-highest number in this regional ranking.
The median annual income for women in STEM here is $68,172.
Texas makes up about half of the top 10 Southern states — Austin places in second, while Frisco (No. 7), Dallas (No. 8) and Plano (No. 10) fall behind Houston. Nationally, New York City, San Francisco, and Seattle take the top three spots, respectively.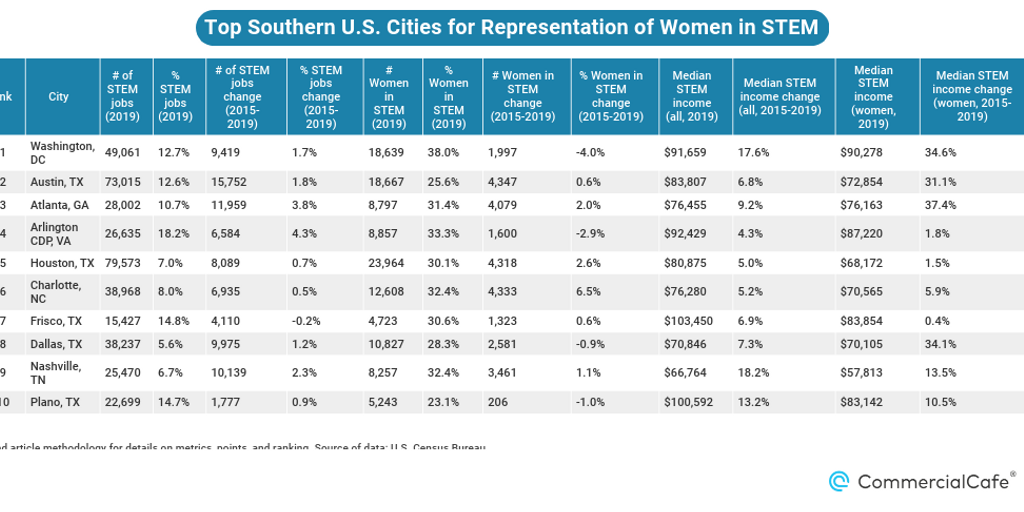 Women working in STEM - South 2021 - Infograminfogram.com
Houston has been recognized for its STEM fields before, and last fall, SmartAsset ranked Houston as No. 7 in STEM nationally based on workforce size. And, in 2019, Houston placed sixth for STEM workforce diversity. Last year Houston also ranked No. 6 for women in tech, also according to SmartAsset.