Houston reported to have among the most minority-owned startups in the nation
Oct 22, 2019, 1:37 pm
Houston, named the most diverse city in the country, also has a strong representation of minority-owned startups. Photo by Tim Leviston/Getty Images
While Houston's population is considered diverse, the breakdown of startup founders doesn't necessarily follow suit. However, according to a new report, the city of Houston has among the highest percentage of minority-owned startups in the United States.
Using data from the U.S. Census Bureau's Annual Survey of Entrepreneurs, Volusion published a report naming the 15 cities with the most minority-owned startups, and the Houston, The Woodlands, and Sugar Land market ranked at No. 13. The city has 35.4 percent of its startups (3,697 startups) owned by minorities. While this percentage is enough to secure placement on the list, Houston's actual minority population is 62.8 percent, so the Bayou City still has room to close the gap.
According to Volusion's study, 15,673 people work at Houston's minority-owned startups and the gross sales of these companies ranges from $1 billion to less than $5 billion. The top industry for minority-owned startups is accommodation and food services.
"One of the major resources for minority business owners is the Greater Houston Black Chamber of Commerce, which offers a Business Readiness Training Program to help new entrepreneurs develop their skills," the report reads. "Although Houston is well-known for its petroleum and technology industries, minority-owned businesses are most active in accommodation and food services."

The Dallas, Fort Worth, and Arlington market ranks immediately ahead of Houston at No. 12 with the slightest edge of a fraction of a percentage. Dallas startups are 35.5 percent minority owned, making up 4,357 startups with 23,992 employees. Meanwhile, San Antonio and New Braunfels slides into the No. 6 spot on the list with 45 percent of its startups (1,534 companies) being minority owned and employing 4,160.
Five of the top 15 metros on this list are in California, and the top three markets are all in California: No. 1 San Jose-Sunnyvale-Santa Clara, No. 2 Riverside-San Bernardino-Ontario, and No. 3 Los Angeles-Long Beach-Anaheim. Each of the top three boasts around 50 percent of their startups being minority owned.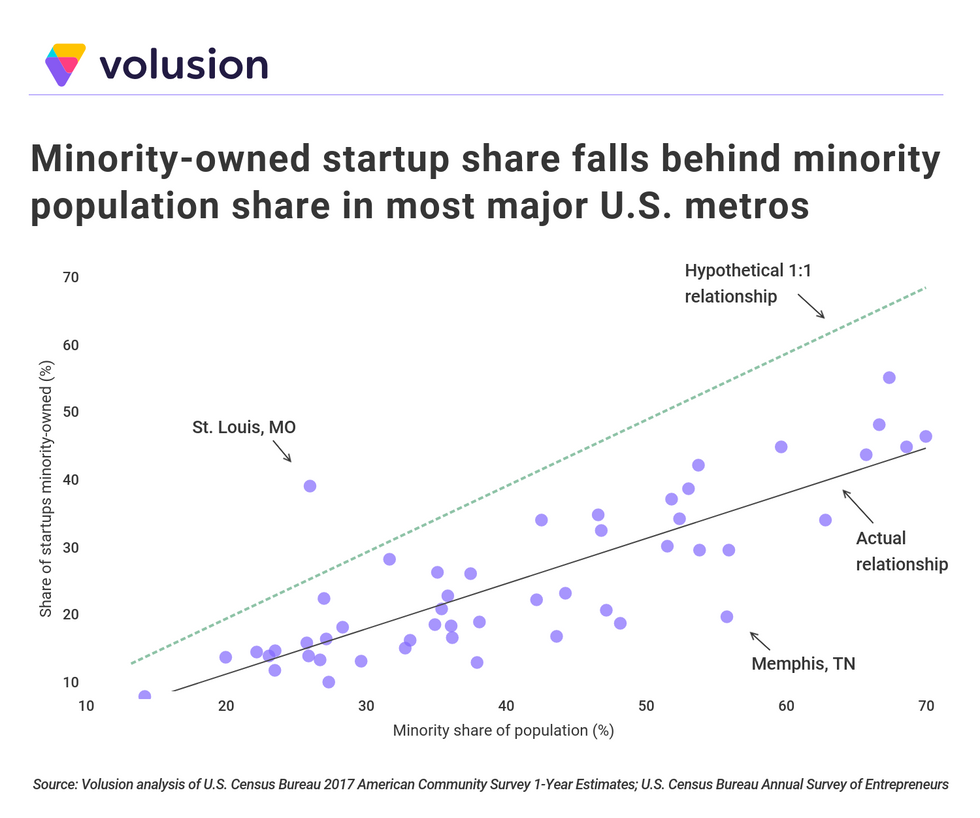 According to Volusion's report, the national trend is disproprotionate when you compare the markets' population diversity to its minority-owned startups. Chart via Volusion
All of the Texas markets have a higher percentage of minority-owned startups compared to the national average, which is 27.4 percent. According to the U.S. Census Bureau, almost 40 percent of the country's population identifies as nonwhite, and some estimates, predict the U.S. will be considered a "majority-minority" country by 2044.

According to Volusion, some of the aspects that are holding back these types of companies include lack of resources and access to capital.
"In fact, a recent survey by Morgan Stanley found that while eight out of 10 investors perceive the funding landscape as balanced, investments in minority and women-owned ventures fall short by as much as 80 percent," reads the report. "The researchers cite increased risk perception, as well as lack of access and familiarity with minority and women-led businesses as key drivers of what they coin The Trillion-Dollar Blind Spot."

According to another report, money isn't the city's biggest issue. Houston was named as an affordable city for startups in a national report last month.
In April, Houston was named as the most diverse city in the nation, and earlier this month, a report found that diversity was well represented in Houston's STEM industries.