New virtual tutoring platform launches for Houston students, by Houston students
Oct 12, 2020, 10:47 am
A group of Houstonians have launched a virtual tutoring platform for students in Kindergarten through eighth grade. Image via teachingtogive.org
Seven local high schoolers took lessons from their own schooling challenges in 2020 to launch a free, virtual tutoring program last month with the goal of helping younger students close learning gaps of their own during this unprecedented academic year ahead.
Dubbed Teaching To Give, the project matches kindergarten through eighth grade students with honor roll high schoolers from Kinder High School for the Performing and Visual Arts, Strake Jesuit, and Bellaire High School for 30- to 45-minute teaching sessions in core subjects, languages, debate, and arts via Zoom.
Kinder HSPVA sophomore Weillison Hsu, who now serves as president of Teaching to Give, first proposed the idea to fellow piano major and Vice President Hayden Miller at the end of the 2019-20 school year. The 15-year-olds are bright, talented, and artistic, but their freshman years had not come without challenges: First, several of their teachers were required to take a leave of absence, leaving them with long-term substitutes. Then COVID-19 hit, making traditional learning impossible.
It took time to adjust, Miller says, but eventually he and his peers found their stride in the tech-based schooling style that Houston Independent School District has been following for months. Still, they feared the transition for younger students had not been as smooth.
"We have been used to that independence, where in elementary school, and middle school even, you do a lot hands on and in person," Miller says. So, they decided to help in a way that was safe, affordable, and approachable.
"During these times, it's just not possible to make sure that everyone is fully striving," Miller says. "We wanted to make it as easy as possible for parents to use us and to have a stress-free environment, to provide a successful education and set up."
Today, Teaching to Give has held more than 100 free web-based tutoring sessions for kids around the city in subjects from science to piano. They ask on-boarding students to complete a personality and learning style questionnaire and place them with one of their 29 tutors who they predict will work best with for their subject matter and interests. Miller says the minor age difference has allowed their sessions to have real impact.
"It provides a more relatable experience," he says. "A lot of the time we'll have the same interests as our students. We can use that to foster mutual excitement for the subject material."
Still, the group is learning how to teach in a virtual setting as they go.
"It really forces you to think of how you say things to get the result that you want," Miller says. "I think we will all come out of this as better communicators."
Miller, Hsu, and the five other board members — Lina Wu, Amy Park, Fiona Condron, Rushil Chetty, and Ashley Chu — plan to continue to focus on virtual tutoring sessions even after the pandemic ends and limitations on in-person learning lift. Again pulling from their own experience, they know that virtual options can provide big benefits for busy parents and students like themselves.
And in the meantime, they're hoping to start partnerships with a few local lower schools, are accepting applications for additional tutors, and are raising awareness for their new initiative, Project Pencil, which will donate art supplies to the Gregory-Lincoln Education Center in the Fourth Ward.
"Art is something that is universal. It takes away the stress of learning. Also, art lessons and music lessons are very expensive," Miller adds. "We wanted to incorporate that into our classes because that's what our biggest strengths lie in. We wanted to share that passion and provide a way to spread more unity between people. Art has a way of doing that."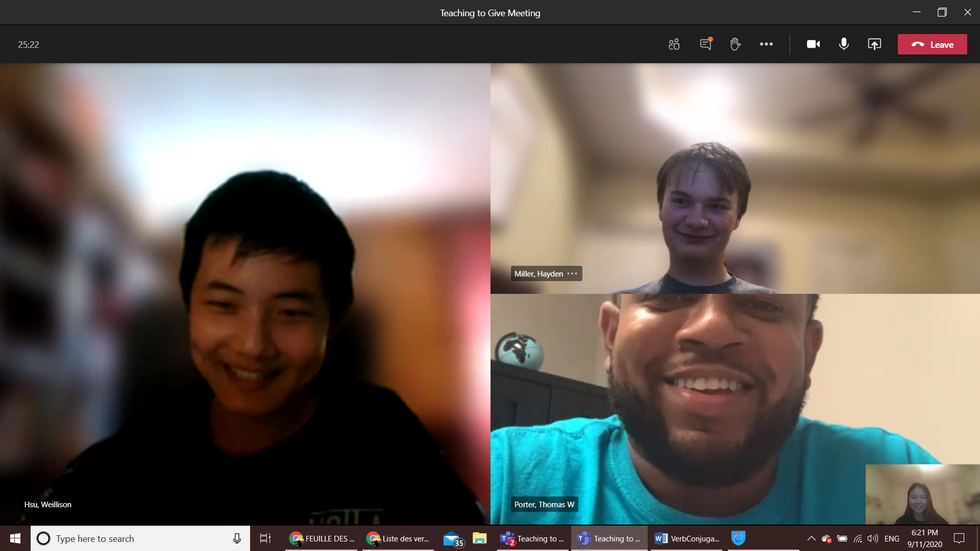 Teaching to Give founders (Weillison, Hayden and Lina) virtually meeting with Thomas Porter, HISD Magnet Coordinator for Gregory Lincoln. Image courtesy of Teaching to Give