Jun. 04, 2020 01:16PM EST
The HX Venture Fund reached a proof point of its model — one that arrived much earlier than expected. Getty Images
When a Houston software startup closed a $17 million series B funding round, it was a big win for more than just the startup. Not only was the deal among the few Houston venture capital deals to happen amid the COVID-19 outbreak, but it represented a proof of concept for Houston's fund of funds.
The HX Venture Fund was founded in October of 2018 to encourage investment into local startups by raising corporate funds and investing into a portfolio of non-Houston venture capital funds that show an interest in Houston. HXVF hit a milestone last month when Liongard, a software-as-a-service company based in Houston, closed its fundraising round led by Updata Partners — one of HXVF's portfolio funds.
To date, the HXVF has reviewed over 150 venture capital funds and invested in eight: Austin-based LiveOak Venture Partners and Next Coast Ventures, Washington D.C.-based Updata Partners, Chicago-based Baird Capital, San Francisco-based VenBio, and Boston-based .406 Ventures, OpenView Venture Partners, and Material Impact Fund. Since each investment, those funds have invested in over 30 startups that are also included in the greater HXVF portfolio.

These HXVF portfolio funds represent various stages — from seed to growth stages, like Liongard — and across industries, from software and hardware to life sciences — "the whole gamut," says Sandy Guitar, managing director of HXVF.

"What that means now is there is over $2 billion of venture capital that actively has Houston on its radar right now," Guitar tells InnovationMap.
The Liongard investment represents a proof point for the fund of funds — one that comes earlier than expected. HXVF invested in Updata less than six months before Liongard closed its round with Updata's lead investment. Guitar says she expected to get to this milestone within 18 to 24 months of the fund of funds deploying capital — and it's happened in just nine months.
"You have this trickle down effect, where it can easily take two to three years to get your capital at work," Guitar says, explaining that HXVF first has to raise funds from its corporate partners, then vet and invest in the VCs, and, finally, wait to see how those funds invest.

Of course, the pandemic has not exactly helped the growth of Houston's startup and venture capital sectors. While COVID-19 has allowed growth in some sectors — telemedicine, for instance — it has limited the opportunities for startups to test the market.
"To build great startups, a startup has to do what I call 'run into walls.' They have to test the market, get it wrong, and pivot. The problem right now is there are no walls to run into," Guitar says. "You have to have an actively running economy and market for proof points of what's working and what's not working."
Meanwhile, Guitar observes, VC investors have limited their activity to their own networks due to the inability to meet face-to-face with unfamiliar startups. Comparing the VC-startup relationship to a marriage, you wouldn't meet and marry someone you've never met in person just like investors wouldn't fund an entrepreneur they have only ever met via Zoom.
"A lot of VCs are staying in their known networks in the short term," says Guitar, while, in the long term, VCs are going to rely on introductions to entrepreneurs from their network.
With this benchmark secured, HXVF is continuing to grow its portfolio — as well as its team. Recently, Guitar — who runs the fund with Guillermo Borda — brought on Houston native Aleece Hobson as venture partner.
"Aleece joining is a phenomenal step for us — a dedicated resource and venture partner on activation," says Guitar on the hire. "I think it speaks to the seriousness of purpose we have to make this not just an investment platform, but one that moves the needle on Houston."
Guitar says HXVF is also growing its limited partners with the addition of Rice University, which joins the likes of HEB, Shell, Chevron, and Houston Methodist — to name a few.
"We're going to be getting even closer to our limited partners' needs and introducing them to the 34 portfolio companies," Guitar says "and creating meaningful collisions between those two groups."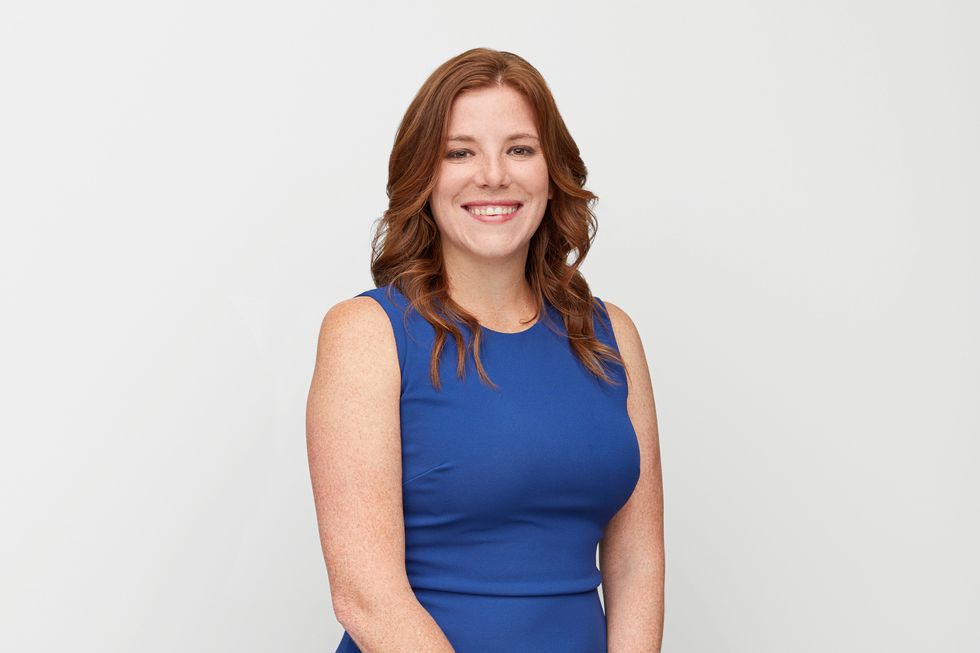 Aleece Hobson joined the HX Venture Fund as venture partner. Photo courtesy of HXVF