Rice University taps 2 partners to increase access to prototyping technology
May 8, 2023, 1:34 pm
Rice University announced a new partnership between two tech companies to allow for the community to have access to prototyping tools. Photo via Rice
A Houston university has entered into partnerships with two businesses to provide on-site prototyping and additive manufacturing services and equipment.
Rice University's Office of Innovation announced its partnerships with Redwood City, California-based Carbon and Austin, Texas-based manufacturer TyRex Group today. The arrangement includes making additive manufacturing equipment, prototyping, and design facilities and services available on campus.

"Collaboration is the fastest way to get technology out of the lab and into the real world," says Paul Cherukuri, vice president of innovation at Rice, in a news release, adding that 3D printing "allows you to create things you couldn't otherwise make, and it lets you go very quickly from an idea to a prototype and downstream to a product."
Carbon's platform — which includes end-use materials, software, and 3D printers — allows users to rapidly design and develop products quickly. At the same time, TyRex's expertise with manufacturing complements Carbon's technology. Together, the two entities provide the support for turning "proof-of-principle" ideas into viable prototypes.
Cherukuri has first-hand experience with these two businesses, per the release. In 2021, he pitched an idea for 3D-printable smart helmets to the Office of Naval Research. The Rice Smart Helmet reimagines a military helmet that has both protective equipment and a wearable technology platform. The Navy's funding allowed Cherukuri to purchase "two of Carbon's industrial-grade 3D printers, an M2 model that was installed at Rice for smaller prints and a top-of-the-line, large-format L1 that was installed at TyRex's Austin facility almost 170 miles from the Rice campus," reads the release.
Cherukuri says the technology allowed the project to "go seamlessly from idea to production," and he wants to replicate that experience for other labs at Rice. "If I design on the L1, I can hit print and print 1,000 of them, and that is a capability we did not have before," Cherukuri says in the release.
The technology will be available at the Rice Nexus, based in the Ion and expected to open this summer. Cherukuri recently shared more details on and the potential of the hub on the Houston Innovators Podcast.
"We've got so much technology in our labs that we've never shared with the world," Cherukuri says. "We're going to demonstrate that in the Ion."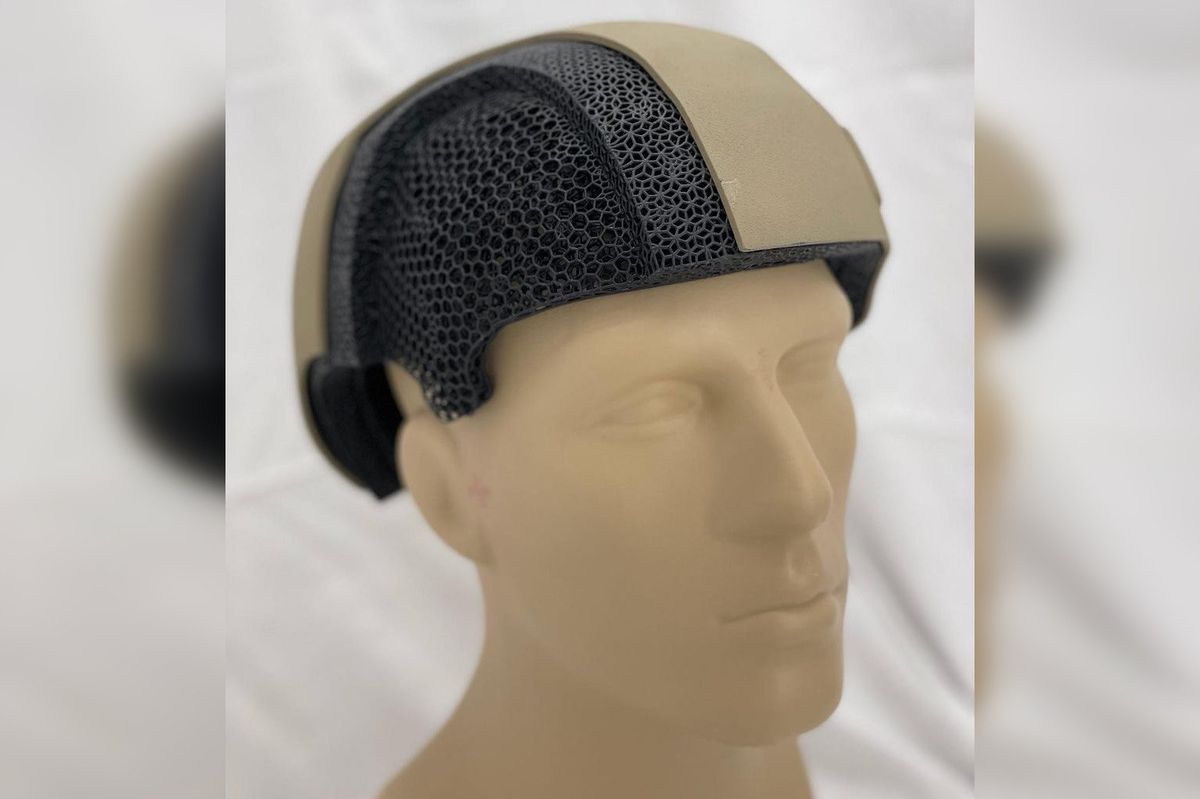 The Rice Smart Helmet is an example of the work that can be done through this 3D printing partnership. Photo via Rice.edu