Houston innovation hub expands coworking space
Dec 15, 2022, 1:49 pm
The Ion has announced that it is adding an additional 28,000 square feet of coworking space. Photo courtesy of the Ion
The Ion has announced it will bring more coworking space to its facility.
The innovation hub in Midtown, which is owned and operated by Rice Management Company, expanded its partnership with Dallas-based Common Desk to the Ion's fourth floor. The addition brings another 28,000 square feet of workspace to the building.

"When people work in an inspiring place that fosters community, going into work is exciting. The Ion's experience with Common Desk proves it," says Jan E. Odegard, executive director of the Ion. "This rapid expansion signals that the Ion is the place to be for growing organizations, and we will soon be releasing new programs that expand our value proposition for startups, investors, corporations, academic institutions, and the community."
According to the release, Common Desk's Ion space — originally opened in August of 2021 — reached max capacity in less than a year and now has a waiting list. The new combined space will total 86,400 square feet of coworking space for Houston entrepreneurs.
"With RMC's support, we created a thoughtful design, along with the amenities and memberships offered," says Common Desk's Head of Real Estate Dawson Williams in the release. "One year later, this space in the Ion is a game-changer for Houston's innovators. It's exciting that we're already expanding because so many rapidly growing companies want to be inside the Ion and experience everything it has to offer."
Founded in 2012, Common Desk has grown to over 20 locations and counting in Dallas, Houston, Austin, Wilmington, and Raleigh. In Houston, the company has opened coworking space in several locations, most recently at the POST in downtown.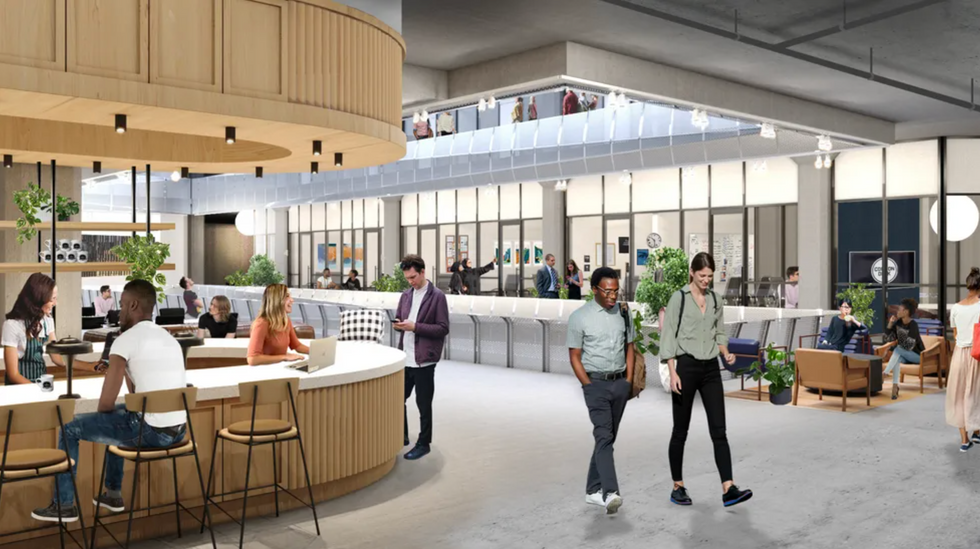 The Ion's Common Desk space originally opened last summer. Rendering courtesy of Common Desk