The Ion Houston announces opening of its coworking space
Aug 19, 2021, 10:24 am
The Ion has officially opened its coworking space on the second floor of the Midtown building. Rendering courtesy of Common Desk
The Ion Houston's coworking space — roughly four times the size of a typical Walgreens drugstore — opened this week ready to welcome its pre-leased tenants and potential coworkers alike.
The coworking space, Common Desk, occupies 58,400 square feet on the second floor of The Ion. That represents about one-fifth of the 266,000-square-foot Ion complex.
Amenities at Common Desk include craft coffee from local purveyors, unlimited conference room bookings, access to all shared areas on the second floor, private chat booths, full kitchens, and break areas.
Other tenants at The Ion include Chevron Technology Ventures and Microsoft. The Ion opened earlier this year, occupying the former Sears store in Midtown following a $100 million conversion. It's part of the 16-acre Innovation District, being developed by Rice University and the City of Houston.
"We can't wait for our new Common Desk tenants and members across their network to experience the magic that's being made here," Jan Odegard, executive director of The Ion, says in a news release. "Just as The Ion, alongside developer Rice Management Company, set out to build an innovation community and hub different from anything the nation has ever seen, Common Desk set out to build its biggest and most innovative space yet."
Dallas-based Common Desk specializes in flexible office space. Its location at The Ion is the company's largest flex office space to date.
"Common Desk has joined the ranks of some of the nation's top companies to cultivate an authentic, game-changing community destined to transform Houston's innovation ecoscape," says Dawson Williams, head of growth and partnerships at Common Desk.
Members of the Common Desk location at The Ion also can use the company's three other coworking spaces in Houston, as well as it locations in Austin, Dallas-Fort Worth, and North Carolina.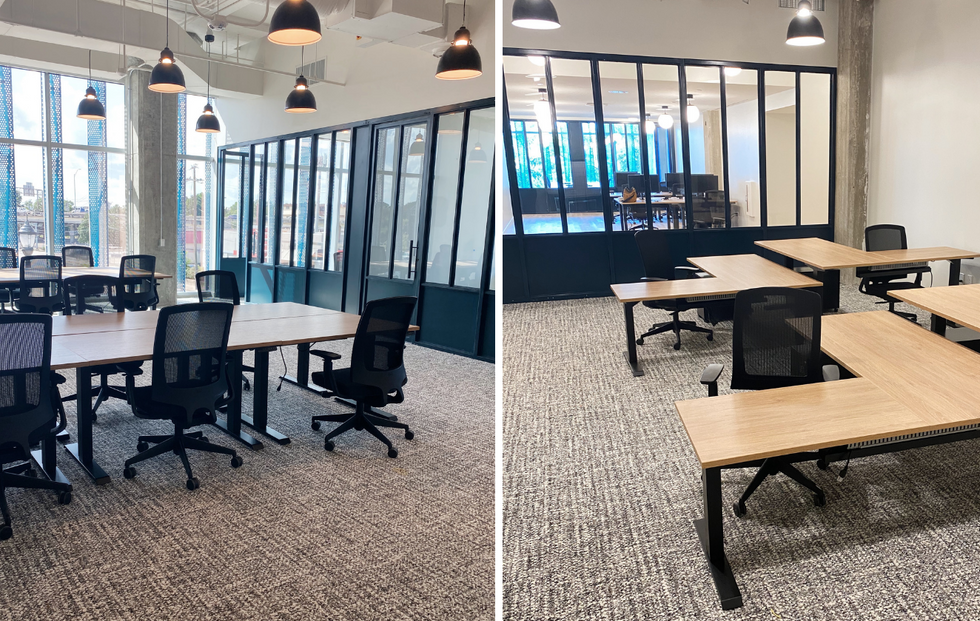 Common Desk's coworking space has several options for leasing. Photos courtesy of Common Desk