Houston Tech Rodeo drops schedule for 2023 events
Feb 6, 2023, 1:45 pm
Houston Tech Rodeo returns with 2023 programing across space, health, emerging tech, and more. Image via houstontechrodeo.com
Houston Tech Rodeo returns this year — and the lineup of panels and networking opportunities has been released online.
The four-day summit was originally introduced in 2020 by Houston Exponential to shine a spotlight on Houston's tech and startup ecosystem. Last year, HX changed ownership, converted into a for-profit business, and named Natara Branch as the new CEO. With the new ownership comes a new era for HTR — complete with AI-generated media, a goal for a record-breaking finale event with CodeLaunch, and more.
"The biggest theme of Tech Rodeo this year is around being aware," Branch tells InnovationMap. "We want entrepreneurs to know what resources are out there, that they are supported, and that there are all these entities out here that are conducting themselves in a manner that is really centered around supporting them."
"We hope that when entrepreneurs and startups walk away from Tech Rodeo this year, it will really feel to them like there's more momentum in this city than there has been in the past so that we can be a top-tier startup destination," she continues.

This year's schedule is divided across a few themes and all events are being held in the Houston Innovation District in Midtown.
Monday, February 27: Space Tech at the Ion
Tuesday, February 28: GlobalMindset at HCC Central Campus and EnergyTech at Greentown Labs
Wednesday, March 1: BioEconomy at TMC Innovation and EmergingTech at The Cannon - Downtown
Thursday, March 2: Townhall and CodeLaunchFinale at Sesh Coworking and 713 Music Hall
The week's events will attract founders, investors, startup development organizers, and more. When HTR launched its free tickets online, Branch says they received around 800 registrants in one day. At the center of everything HX does is the Houston founders, Branch says.
"It was supper important to us to make sure that entrepreneurs have access," she says. "It's free to entrepreneurs — they are number one in who should attend."
More information and registration is available at houstontechrodeo.com.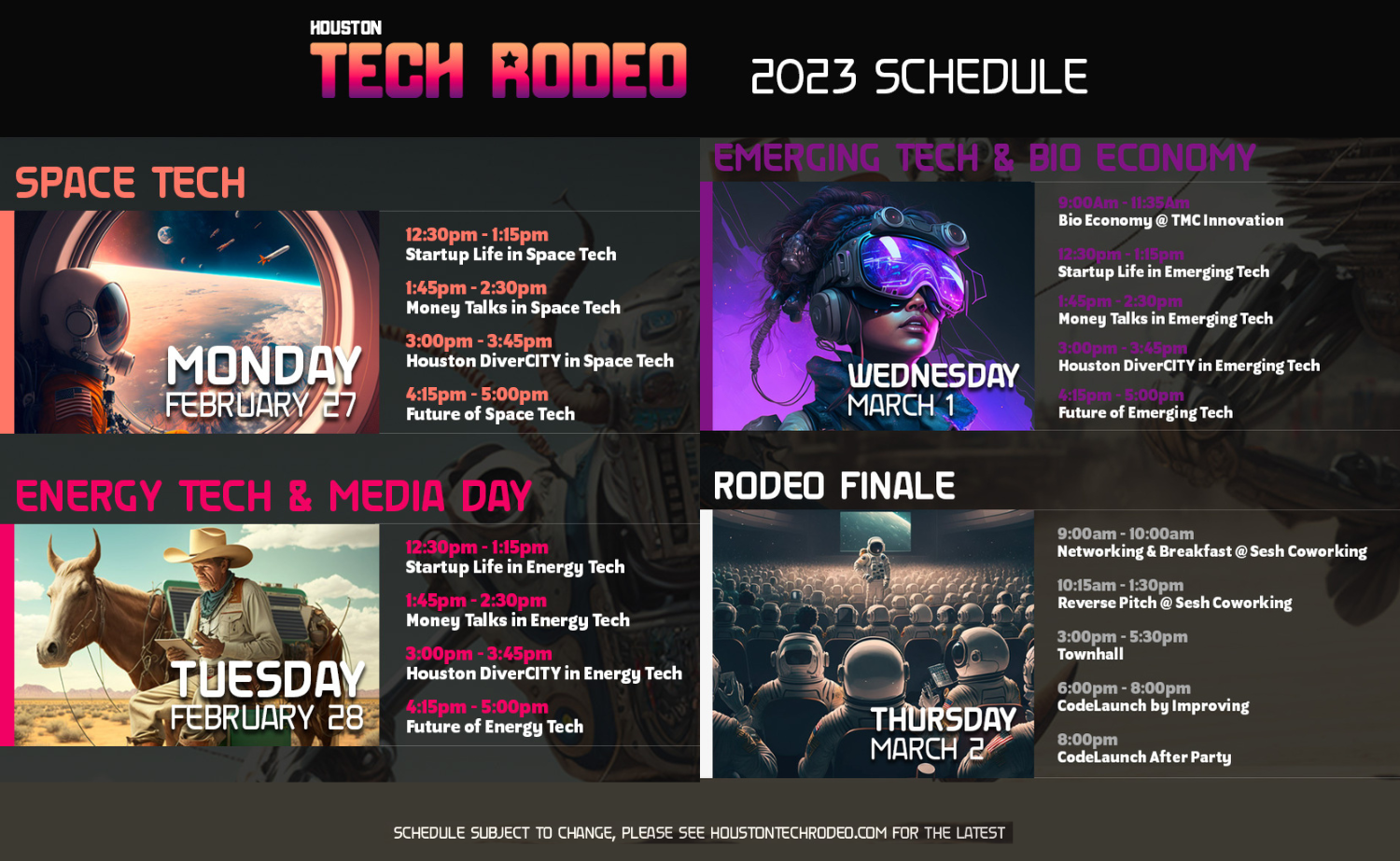 Head to houstontechrodeo.com for up-to-date schedule information. Graphic courtesy of HX