Houston named one of the fastest growing metros for tech startups
Jun 21, 2019, 10:41 am
Houston has seen an influx of new startups entering the market — and that growth hasn't gone unnoticed.
A new study from New York-based Center for an Urban Future analyzed Crunchbase data to find 17 cities have have had the most percentage of growth in startup activity. While Houston ranked last on the list, the city's numbers speak for themselves.
In 2008, Crunchbase's data reflects that Houston only had 567 startups, and, by 2018, that figure had increased to 1,409, representing a 149 percent growth. It's worth noting that Crunchbase's data tracks tech startups in particular through various avenues of public and private reporting.
The study included a few other Texas cities that outranked Houston, including Dallas (223 percent growth), Austin (with 221 percent growth), and San Antonio (with 155 percent growth). While the percentage is larger, Dallas' number of startups —according to Crunchbase — is slightly lower than Houston's at 1,293.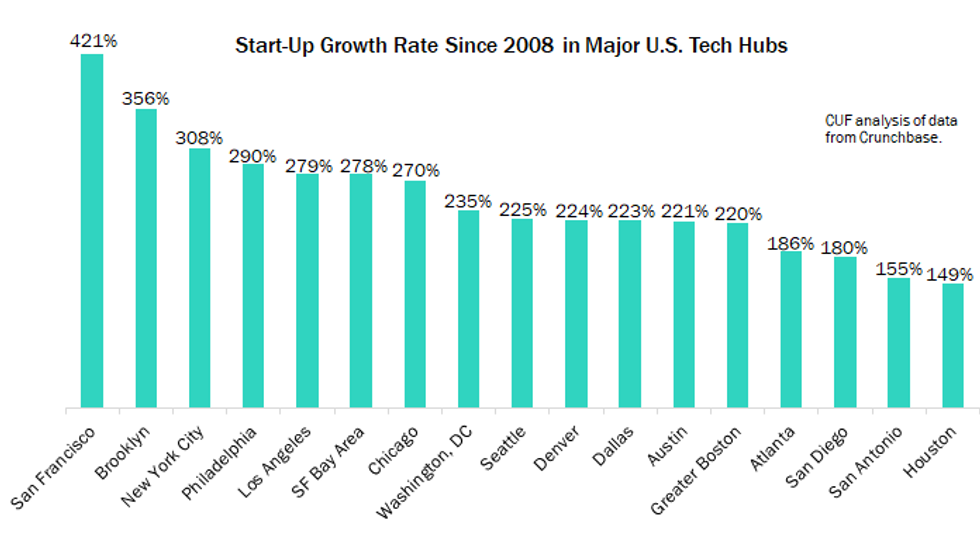 Chart via the Center for an Urban Future
While indicative of Houston's growth, the study unintentionally omits non-tech startups or companies that haven't been entered into the Crunchbase system. The study also seems to recognize only Houston data, rather than the greater Houston area as a whole.
Meanwhile, the Greater Houston Partnership's data reflects that the greater Houston area added 11,700 firms between 2013 to 2018 — an average addition of 2,340 per year.
Last month, WalletHub found that Houston was the 13th best city to start a business. The study analyzed 19 key metrics — such as five-year business-survival rate and office-space affordability — to compare 100 cities in the U.S.
More recently, Houston grabbed the fifth spot on a new 2019-20 list of the 10 North American Cities of the Future produced by the fDi Intelligence division of the Financial Times. The ranking is based on data in five categories: Economic potential, business friendliness, human capital and lifestyle, cost effectiveness, and connectivity.
To Susan Davenport, senior vice president of economic development at the Greater Houston Partnership, the results of the study make a lot of sense. Houston's diversity and friendly business climate are prime.
"Houston's future is a bright one," Davenport says in a previous InnovationMap article. "Our young and well-educated workforce, coupled with targeted infrastructure investments, will help us become a hub for innovation in the years ahead."