8 energy tech startups recognized at Houston's CERAWeek pitch competition
Mar 10, 2023, 1:17 pm
Here's what startups took home wins at CERAWeek. Photo by Natalie Harms/InnovationMap
Over 200 startups participated in CERAWeek this year, and 18 of those companies pitched at a Greater Houston Partnership event.
The Houston Energy Transition Initiative, an initiative to promote Houston's work within the energy transition, hosted its second annual HETI Energy Ventures Competition at CERAWeek Innovation Agora. The competition was divided into four categories. The first batch of startups consisted of five companies from the Texas Entrepreneurship Exchange for Energy, or TEX-E, a collaboration with Greentown Labs, MIT's Martin Trust Center for Entrepreneurship, and universities across Texas.
The winning startups shared $50,000 of prizes, sponsored by TEX-E. Houston-based Helix Earth Technologies — which has developed high-speed, high-efficiency filter systems derived from technology originating at NASA — won both the first place prize and fan favorite for the category. Helix's co-founders, Rawand Rasheed and Brad Husick from Rice University, walked away with $25,000 in prizes
Founded by Bryon Praslicka, Daniel Zamarron, and Craig Newman from Texas A&M University, Flux Works LLC, and its magnetic gear technology, took second place and $15,000 home. Tierra Climate, a two-sided marketplace for carbon offsets and other sustainability efforts founded by Emma Konet and Jacob Mansfield from Rice University, won third place and $10,000.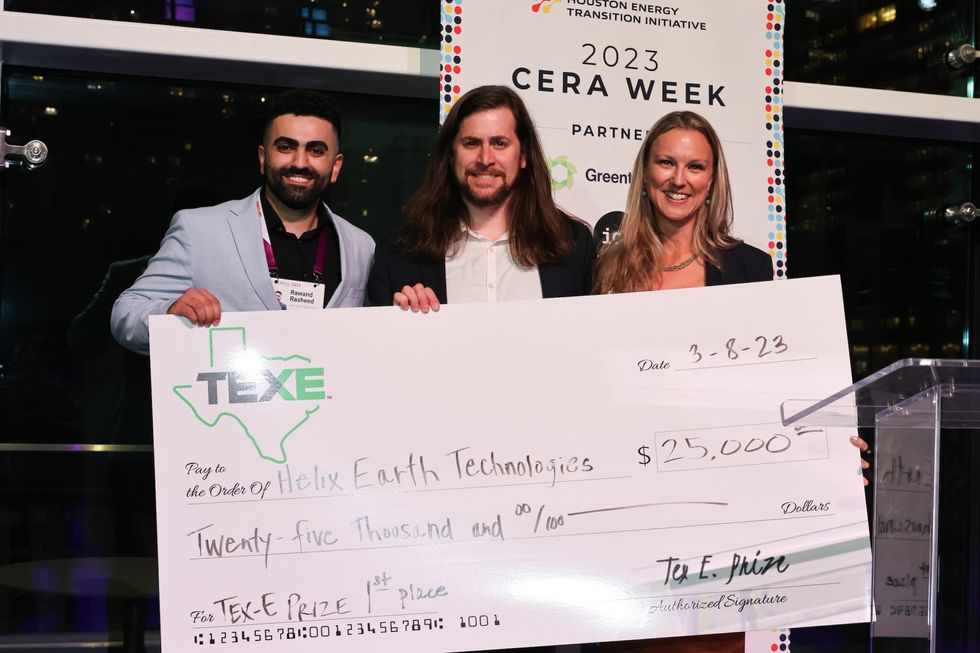 Helix Earth Technologies walked away with the top prize of the TEX-E category. Photo via greentownlabs.com
The next sets of startup pitches we broken down by funding stages — pre-seed and seed, series A, and series B and beyond.
Red Shift Energy, uses plasma energy to produce hydrogen from hydrogen sulfide, won fan favorite in the pre-seed and seed category sponsored by HX Venture Fund. A member of Halliburton Labs, the company also was recognized as Chevron favorite.
Per the judging panel, CanaGas won the title of most promising in the pre-seed and seed category sponsored by Alchemy Industrial. The Canadian company liquifies natural gas without costly cryogenics or stripping of the gas.
Houston-based Criterion Energy Partners won both the most-promising series A company category sponsored by SLB, but also the fan favorite series A category sponsored by Guerrella LLC. A geothermal energy tech company, Criterion was also a member of Rice's inaugural Clean Energy Accelerator cohort.
OptiSeis Solutions also won in both categories for the series B track. The company, a geophysical acquisition design and software company, won the title of most promising in the series B category sponsored by Pana LCE Investments and the series B fan favorite category sponsored by Halliburton Labs.
Lastly, the competition named the Most Impactful DEI, a category sponsored by Pana LCE Investments. Austin-based Gazelle Ecosystems, a social innovation startup with eco-solutions for corporations, won that category.