Houston researchers identify new tech for unprecedented transportation speeds
May 1, 2023, 11:01 am
A team of researchers out of the Texas Center for Superconductivity at the University of Houston has discovered a faster way of transportation. Photo via UH.edu
Researchers at the University of Houston and in Germany released a proof-of-concept paper this month that uncovers a new, fuel efficient means of transportation that they say could one day make air travel and traditional freight transport obsolete.
"I call it a world-changing technology," Zhifeng Ren, director of the Texas Center for Superconductivity at UH and author of the paper, said in a statement.
Published in the journal APL Energy, the paper demonstrates a new way of using superconductors to move vehicles along existing highways while transporting liquified hydrogen at the same time. Until now, the costs of using superconductivity for transportation has held back innovation in the field. This model also reduces the need for a separate specialized pipeline system to transport liquified hydrogen that's able to keep the fuel source at minus 424 degrees Fahrenheit.
The model uses a similar concept to what's behind already existing magnetically levitating trains that operate on a magnetized rail, with superconductors embedded in the train's undercarriage. In Ren's model, superconductors would be embedded into existing highway infrastructure and magnets added to the undercarriages of vehicles. Liquified hydrogen would be used to cool the superconductor highway as vehicles move across it.
The idea could apply to trains, cargo trucks, and even personal cars, according to the paper. Better yet, the vehicles could travel up to 400 mph while on the highway. Drivers would then use the vehicle's traditional or electric motor once they exit.
"Instead of 75 mph, you could go 400 mph, from Houston to Los Angeles, or Houston to New York in just a few hours," Ren said in a statement.
Ren adds that this method would also require drivers to consume less fuel or power, cutting down on cost and environmental impact.
Technical and economic details still need to be addressed. But Ren believes "the project's potential long-term economic and environmental benefits, would outweigh the upfront costs," according to a statement.
The paper joins a number of other innovative concepts coming out of UH in recent months. Recently, a research team at the university upgraded at-home rapid COVID-19 testing to make results more detectable via glow-in-the-dark materials.
Late last year the university also opened its
new tech transfer facility
, and early this year it signed an agreement with India to
bring a data center focused on energy to campus.



cropfilter_vintageloyaltyshopping_cartlocal_librarydelete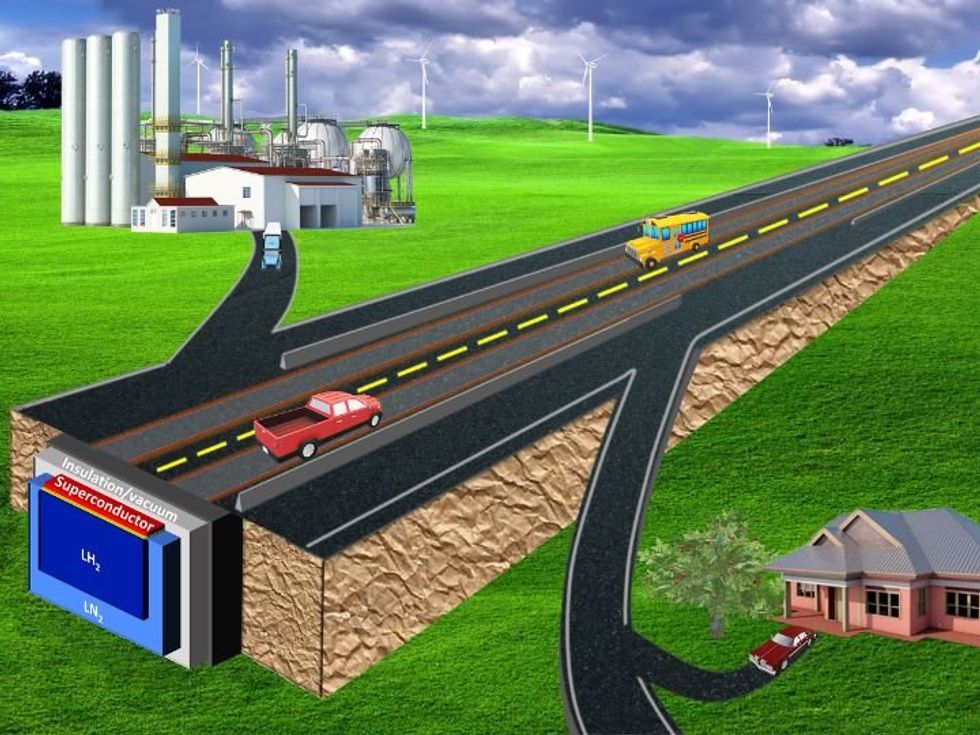 The illustration shows the theorized superconducting highway for energy transport and storage and superconductor levitation. Image via UH.edu