Texas A&M University reveals plans for $546M medical complex in Houston
Feb 21, 2020, 12:45 pm
Texas A&M University is planning a three-building project to bring parking, housing, retail, and more to the Texas Medical Center. Photo courtesy of Texas A&M University System
Texas A&M University has announced a new three-building project in the Texas Medical Center that will bring a renovated space for its Engineering Medicine program, student housing, parking, retail, and more.
The $546 million complex will be funded in part by a public-private partnership, according to a news release from the university. The project includes one 18-story building to be purchased and renovated for $145 million, and an additional $401 million will go toward constructing two new buildings.
"The Board of Regents of the Texas A&M University System recognized an opportunity in Houston to help Texans and contribute more to the global medical community," says Elaine Mendoza, chairman of the Board of Regents of the Texas A&M University System, in the news release. "We are eager and fortunate to further enhance the world's greatest medical center through this endeavor."
The first of the three buildings to debut will be the EnMed renovation project at 1020 Holcombe Blvd. This project, which had previously been announced, is expected to deliver by this summer and should be monumental for the already successful program, says Bob Harvey, president and CEO of the Greater Houston Partnership, in a statement.
"Texas A&M's EnMed program fits right into what we are doing in Houston," Harvey says. "Our city has long been recognized as a destination for world-class health care and cutting-edge research, thanks to the incredible institutions in the Texas Medical Center. Houston is also becoming known as an attractive location for both mature and emerging life science and biotech companies. We are, indeed, becoming the 'third coast' for life sciences."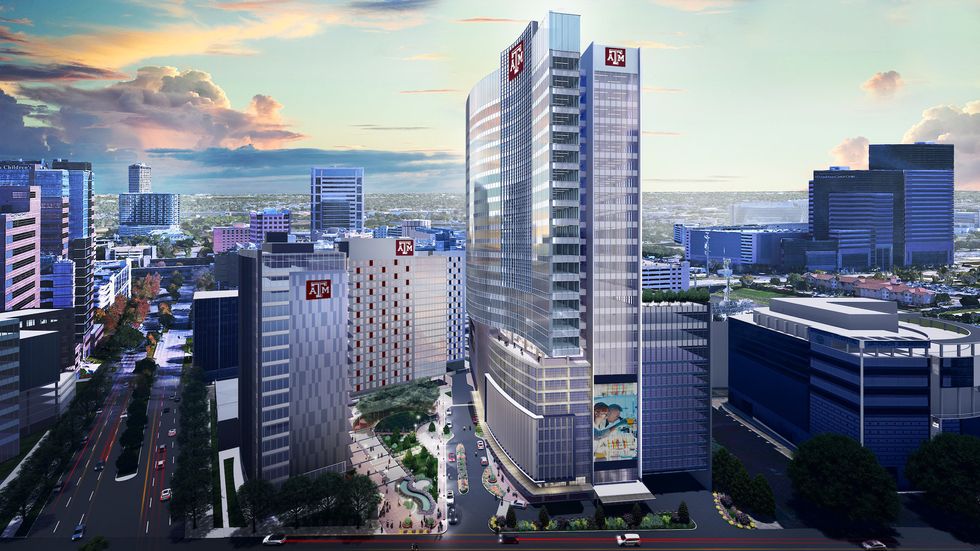 The first of the three buildings is expected to be complete this summer. Photo courtesy of Texas A&M University System
The two new construction buildings will be paid for through public-private partnerships. The student housing building, a 19-story building planned to have 572 units with 704 beds in a 365,000 square-foot space, will be completed by June 2022, according to the release. The building will also include a 3,444-spot parking garage. Students from A&M campuses will get priority housing, but students at other institutions will also be allowed spots if available.

"We saw a need for student housing and medical offices in Houston. Plus, our EnMed students needed the facilities to create the latest medical devices," says Greg Hartman, a vice chancellor at Texas A&M University System and interim senior vice president of the Texas A&M Health Science Center, in a news release. "So, we began the process of expanding the Texas A&M footprint in Houston and I believe the work done by Aggies in Houston will be life-changing for a lot of people."
The third component of the plans includes a 587,000-square-foot, 30-floor Integrated Medical Plaza — another public-private partnership — and it has a June 2023 expected completion. Thirteen of the stories will be parking, and 72,000 square feet of space will be for retail use, while 8,700 square feet will be green space.
According to the release, the developer for the two new construction projects is Houston-based Medistar Corp., which is run by CEO Monzer Hourani. New York-basedAmerican Triple I Partners is on the financing team and was founded by Henry Cisneros, a Texas A&M alumnus.
Representatives from both the school and the city see the potential impact of the complex for medical innovations.
"Last year, Houston had its best year ever in terms of attracting venture capital to the region," Harvey says in his statement on the news. "This program and this facility will provide one more reason for major VCs to give Houston's innovative companies a look – and for talented students, researchers, and entrepreneurs to make Houston their home."
Dr. M Katherine Banks, who serves the university of vice chancellor of engineering and national laboratories at the Texas A&M System, notes in the release how the EnMed program has set up its students for breakthrough medical device innovation.
"I expect to see transformative ideas generated by Texas A&M's broadened presence in Houston," says Dr. Banks in the release.