Nov. 19, 2019 12:20PM EST
The East End Maker Hub receives a huge grant, Chevron commits to two tech companies, and more in this Houston innovation news roundup. Courtesy of The East End Maker Hub
Houston is busting at the seams with innovation news as the ecosystem prepares to wrap up its year of growth. From grants and M&A activity to expansions and awards, there's a lot of news you may have missed.
In this latest news roundup, millions of federal funds are doled out, a female networking app commits to Houston, an accelerator launches applications, and more.
Makerspace in the East End to receive $24 million in federal funds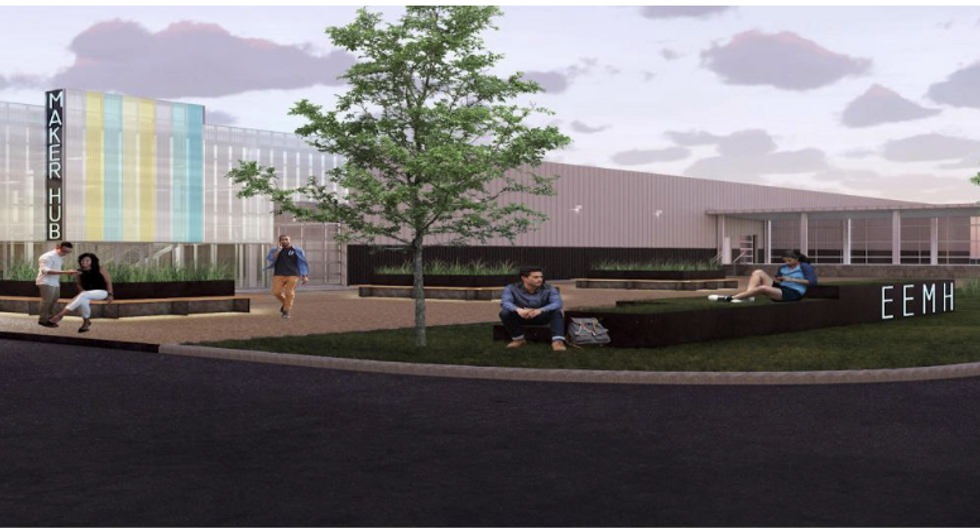 The East End Maker Hub plans to move tenants in next summer. Courtesy of TXRX
Last week, the Houston City Council voted in approval of $24 million in federal funds going toward a makerspace in the East End. The renovated 307,000-square-foot East End Maker Hub will be a place for education, training, and small-batch manufacturing.
The project is a collaboration between Urban Partnerships Community Development Corp., or UP CDC, and TXRX Lab, which will occupy around 60,000 square feet in the facility. The rest of the space will be leased out to startups.
The $37 million project is also being funded by a $5 million grant from the Economic Development Association, $7 million from New Market Tax Credits, and around $1.25 of TXRX's funds, including funds the nonprofit raised in donations.
The new facility is expected to create over 400 jobs, reach 14,000 young people annually, and support 100 small urban manufacturers, including 20 startups. The purchase close is planned for this month, and construction will begin next month. The first tenants are slated to move in next summer.
TMCx opens applications for redesigned accelerator program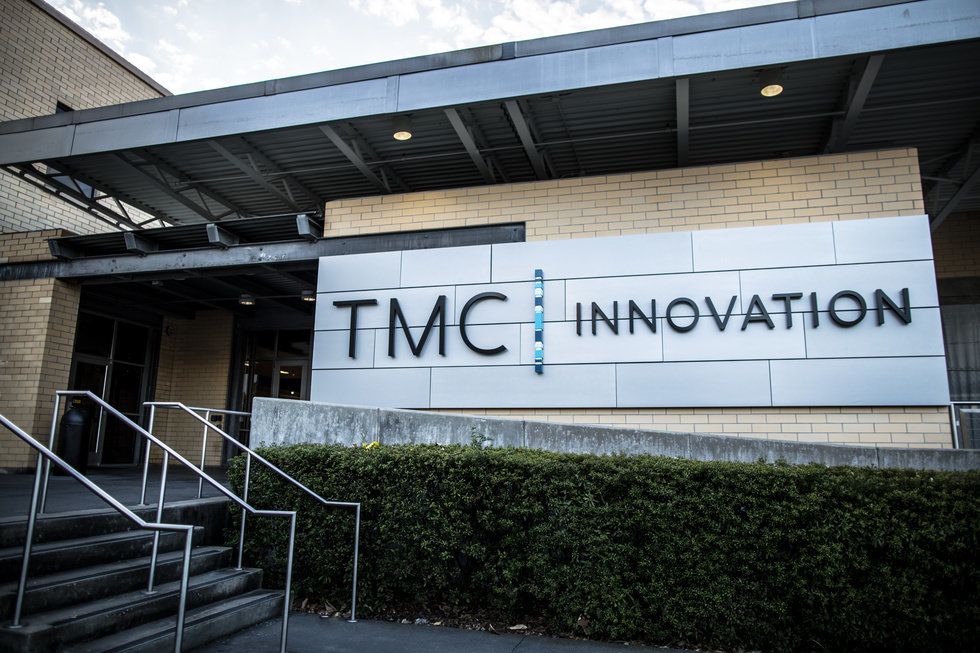 The revamped TMCx program is accepting applications until December 13. Courtesy of TMC
Applications for the Texas Medical Center Innovation Institute's new and improved accelerator program are open for the spring 2020 cohort. Life science startups from around the world can apply online.
After celebrating five years of digital health and medical device startup acceleration, TMCx announced its team had been working to rethink the program to make it more something TMC's member institutions can benefit from.
Themes for the upcoming cohort include remote monitoring, virtual care, hospital efficiency, accessibility, and ideating for the clinics and operating rooms of the future.
Applications close on December 13, and finalists for an in-person bootcamp will be announced by the end of January for the two-week program from February 24 to March 6. After the program, TMCx will select the cohort members on March 20. The program then will run five sessions from April to August before a showcase slated for September.
Chevron Technology Ventures makes two strategic investments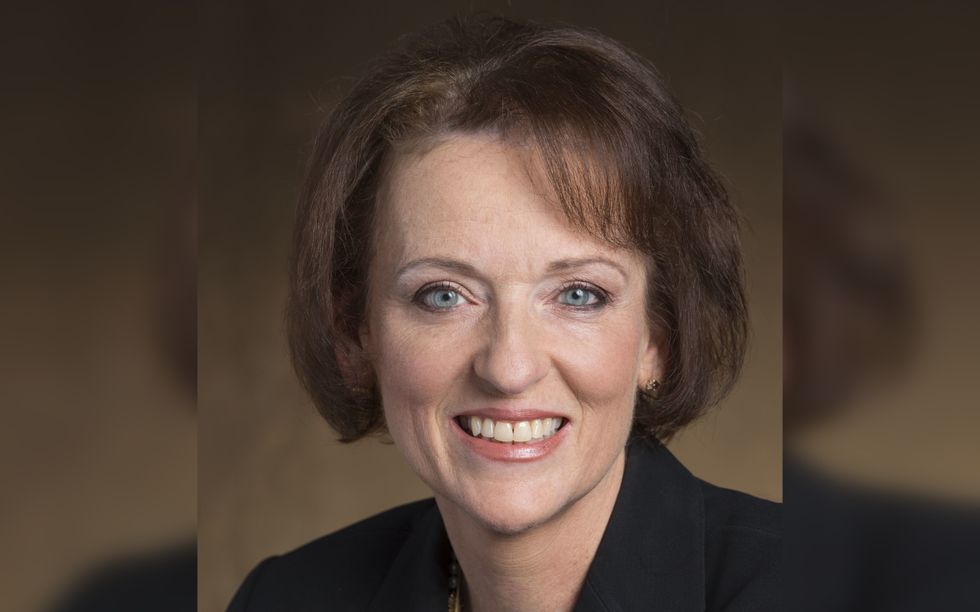 Chevron Technology Ventures, lead by CEO Barbara Burger, has committed to two California-based companies. Courtesy of CTV
Chevron's Houston-based tech investment arm, Chevron Technology Ventures, made two moves recently. Silicon Valley-based NovoNutrients was invited to join the CTV Catalyst Program and Palo Alto, California-based Orbital Insight closed a recent round with help from CTV.
NuroNutrients, which has developed a way to create proteins through carbon capture, is the first biotech company to join CTV's Catalyst Program. The program will help advance the company's technology through market validating opportunities like pilot programs.
Orbital Insight, a geospatial analytics software company, closed its series D funding round at $50 million. The round was led by Sequoia Capital and Clearvision Ventures with contribution from CTV, as well as from Invicta Growth, Bunge Ventures Ltd, Goldman Sachs, Tech Pioneers Fund, and others. The company has raised over $125 million of funding since its founding in 2013.
Houston SaaS company makes acquisition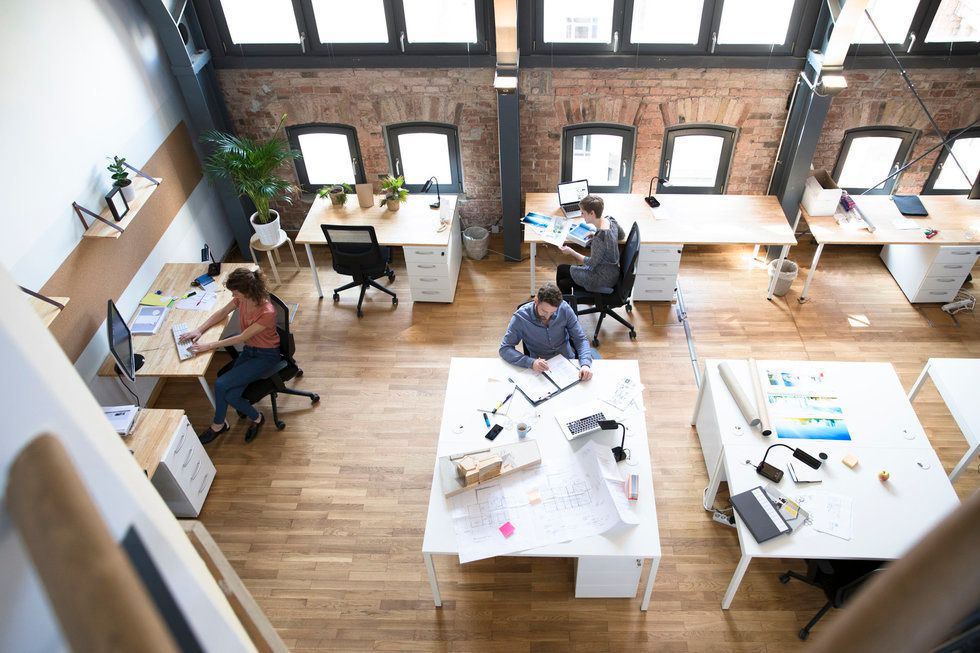 A Houston company specializing in digital workplace software solutions has made a strategic acquisition following an exit to private equity. Getty Images
Houston-based iOFFICE, a software-as-a-service company providing solutions in the digital workplace experience, recently acquired Canadian management software entity, Hippo CMMS.
"Incorporating Hippo's solution into iOFFICE's broader application suite is a logical next stage in our company's evolution," says Mark Peterson, CEO of iOFFICE, in a news release. "As one of the leading native SaaS, asset management systems on the market today, Hippo is an ideal fit to join our brand. Their culture is very much like our own - they're strong and they move fast. Their offerings are robust, agile and they share our passion for disrupting the market with solutions that are unlike any other."
iOFFICE was recently acquired by Chicago-based private equity, Waud Capital, which has opened doors for the company to grow at a rapid pace.
Two Houston companies rank on Deloitte's annual Technology Fast 500 list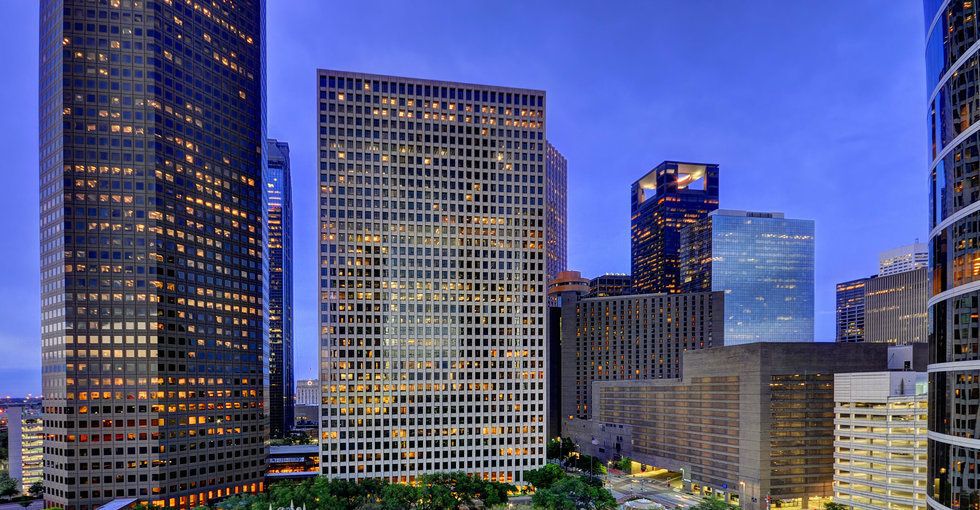 Two Houston companies made Deloitte's international list of growing tech companies. Shobeir Ansari/Getty Images
Two Houston companies have secured spots on Deloitte's annual Technology Fast 500 annual Technology Fast 500. Onit came in at No. 249, and symplr just made the list at No. 495. In its 25th year, the list represents the fastest-growing tech, media, life science, energy tech, and telecommunications companies from around the world.
The top company on the list was New York-based UiPath, which also has a large office in Houston. The company reported 37,458 percent growth. The 500 companies represent 41 states and provinces in North America, and Silicon Valley companies made up 19 percent of the list. New York City companies held on to 12 percent of the list, the New England region comprised 8 percent of the list, Washington D.C. companies were 7 percent of the list, and Los Angeles companies represented 5 percent of the 500 companies.

HerHeadquarters app plans to launch in Houston ahead of relocation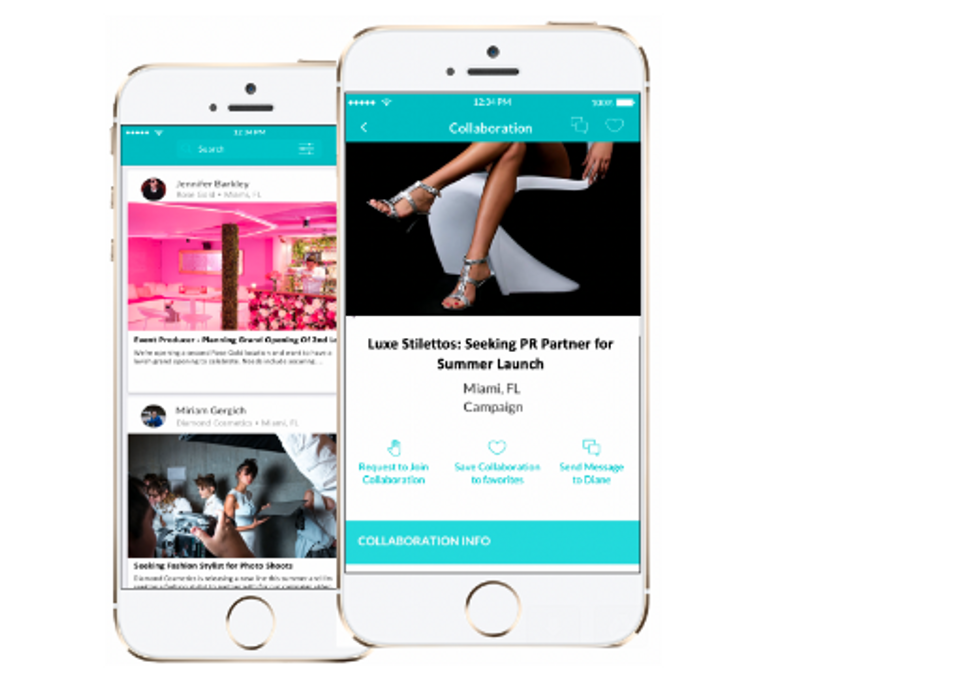 HerHeadquarters is rolling out its app locally ahead of relocating to Houston. Courtesy of HerHeadquarters
Female-founded, female-focused tech company, HerHeadquarters, has plans to relocate its business operations to Houston — but first, it's rolling out its app to local female executives. The app plans to go live for the over 103,000 female CEOs in Houston on November 25.
The app's user experience is focused on making digital connections between women-run organizations. The app is live in Los Angeles, Miami, and New York City and is expected to launch simultaneously in San Francisco.
"These collaborations give them the power to increase revenue, company exposure, and expand their territory. We're excited Houston women entrepreneurs get to experience a faster and easier way to secure powerful partnerships, " says founder and CEO of HerHeadquarters, Carina Glover, in a news release.
HighRadius expands to Amsterdam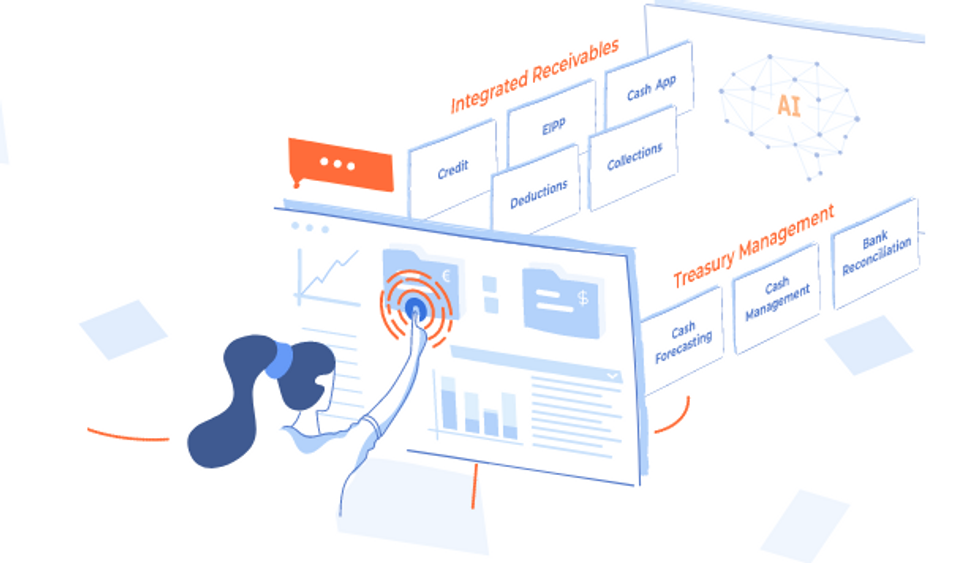 The Houston-based SaaS company is opening its fourth office to support its growth in Europe. Photo via highradius.com
Houston-based HighRadius Corp., a growing fintech software-as-a-service company, has announced a new office in Amsterdam just three years after opening its London office. Since entering the European market, the region has seen a 400 percent increase in bookings. The company, which has its headquarters in West Houston, also has an office in India.
"Automating order-to-cash and treasury management is a problem that transcends borders," says Sashi Narahari, founder and CEO of HighRadius, in a news release. "Building on the recent addition of Jon Keating as our general manager for EMEA, we continue to invest aggressively in the European market with the opening of our Amsterdam office."
Fannin Innovation Studio granted $2 million for new study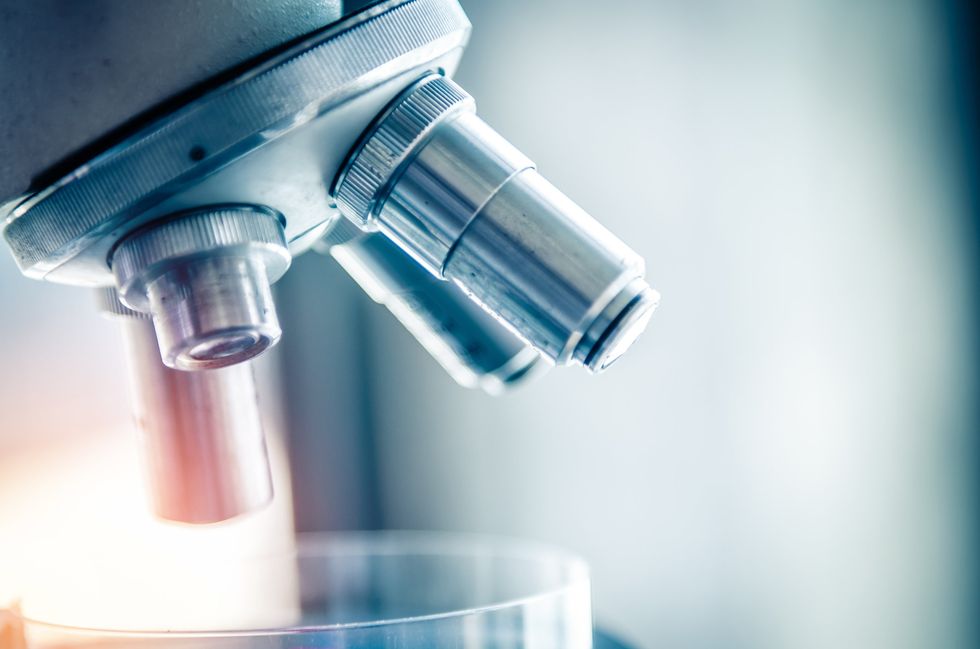 Getty Images
Houston-based Fannin Innovation Studio has received a $2,000,000 Phase II Small Business Innovation Research grant from the National Institute of Health. The grant is for the development of the ChorioAnchor device, which is designed to reduce preterm birth and infections in fetal surgery.
The device is being developed in partnership with Fannin, Texas Children's Hospital, Baylor College of Medicine, and Texas A&M University. The grant will be delivered over the next two years to devlop the device for pre-clinical and clinical testing.
"The ChorioAnchor has the potential to reduce these complications by providing mechanical support to the chorioamniotic membranes following fetal surgery, thus reducing the risk for chorioamniotic separation and PPROM," says Dr. Jimmy Espinoza of Texas Children's and BCM in a news release. "The additional support from the NICHD in the form of a Phase II SBIR grant will significantly help in refining the ChorioAnchor device with the objective of obtaining an investigational device exemption from the FDA to evaluate the efficacy and safety of the device in fetal surgeries."
Zibrio named honoree at CES Innovation Awards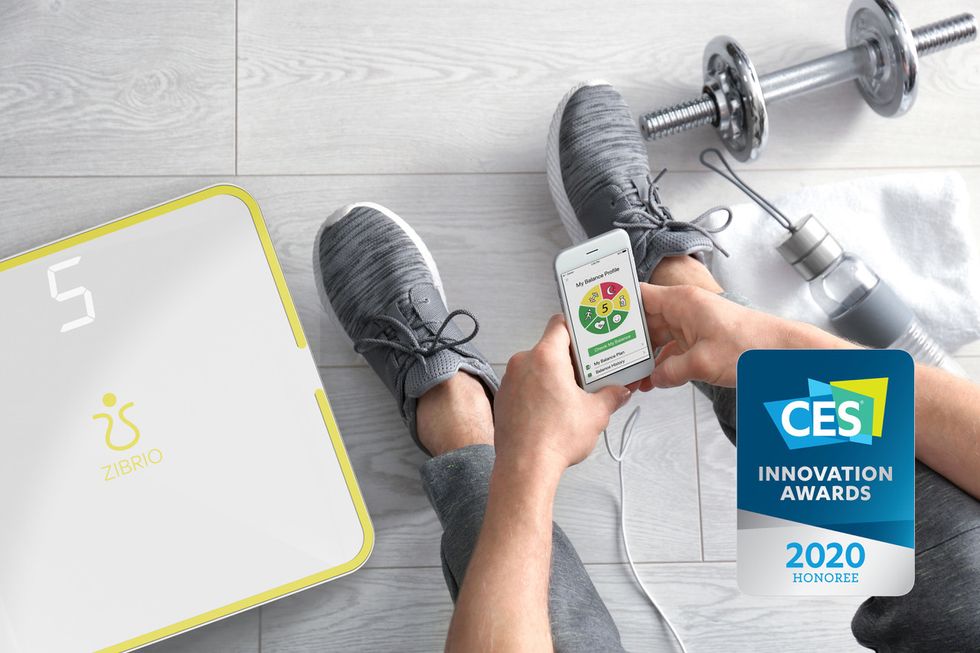 The Zibrio SmartScale received national recognition at CES this year. Courtesy of Zibrio
Houston-based Zibrio, which developed a scale for measuring balance, has been named an honoree for CES Innovation Awards. The company has been invited to exhibit in the 2020 showcase.
Zibrio, founded in 2015 by Katharine Forth and Erez Lieberman Aiden, has a technology that came out of the founders' research at NASA. The medical device allows users to keep track of their balancing abilities as its convenient for them, and is especially helpful for the aging population.