Jun. 06, 2019 01:19PM EST
Downtown Houston has over 100,000-square-feet of new coworking space expected to open by the end of 2020. Shobeir Ansari/Getty Images
Recently, Houston got a "needs improvement" on its coworking space report card — but the tide is changing as more and more coworking spaces plan to open in town — especially in the downtown sector.
Houston's current coworking space volume ranked it No. 15, according to a report from Colliers International, which fell behind Dallas and Austin. However, Houston has many future projects due to deliver in the next 18 months or so — including over 100,000 square feet of space in downtown alone.

Downtown has a slew of features that's made it attractive to coworking companies — public transportation, various retail and restaurant concepts, green spaces — but commercial real estate has typically been reserved for major corporations who can afford it, says Robert Pieroni, Central Houston's director of economic development.
"There's been a lot of new opportunities for companies — startups and companies who previously couldn't afford to be in the downtown market — to now be in the downtown market," Pieroni tells InnovationMap. "So, we've seen an influx of smaller companies particularly in the tech sector."
However, it's those major corporations sprinkled around downtown that have made Houston so attractive to startups and accelerators, Pieroni says, and these major corporations are willing to connect with entrepreneurs and startups.
"There's no difference on paper in our talent and the innovation hubs around the world," Pieroni says. "The one thing we have to offer startups that other places don't have to offer in Texas is we have the largest corporate presence in the state of Texas here in Houston."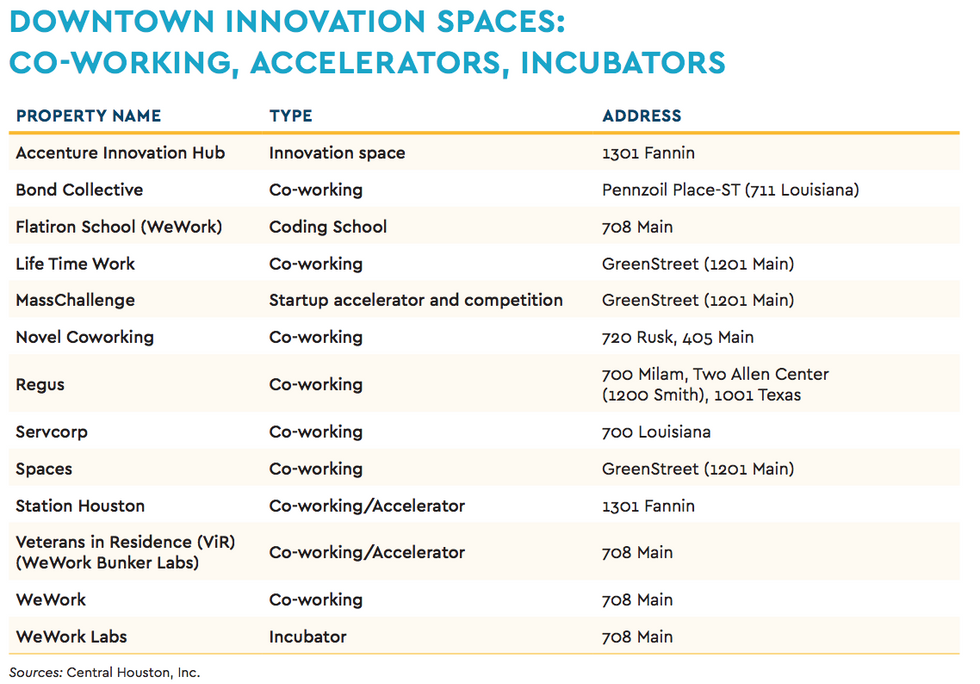 The new coworking options are slowly changing the way commercial brokers approach leases for startups. Traditionally, brokers are wary of short-term leases.
"It's not because [the startups] are afraid they are going to go out of business," Pieroni says. "They're afraid that they are going to grow at such a rapid pace."
Two new-to-Houston tech companies opened offices in downtown Houston just this year. Oil and gas AI-enabled analytics platform, Ruths.ai, and global robotics company UiPath, which has a presence in 18 countries, moved into the Main&Co at 114 Main. And, Pieroni says, Central Houston expects more to come in that arena.
"We're having conversations daily with multiple companies that are evaluating coming to downtown Houston," he says.
Here's a breakdown of the three coworking spaces expecting to deliver in downtown Houston over the next 18 months.
Spaces brings second largest coworking space in downtown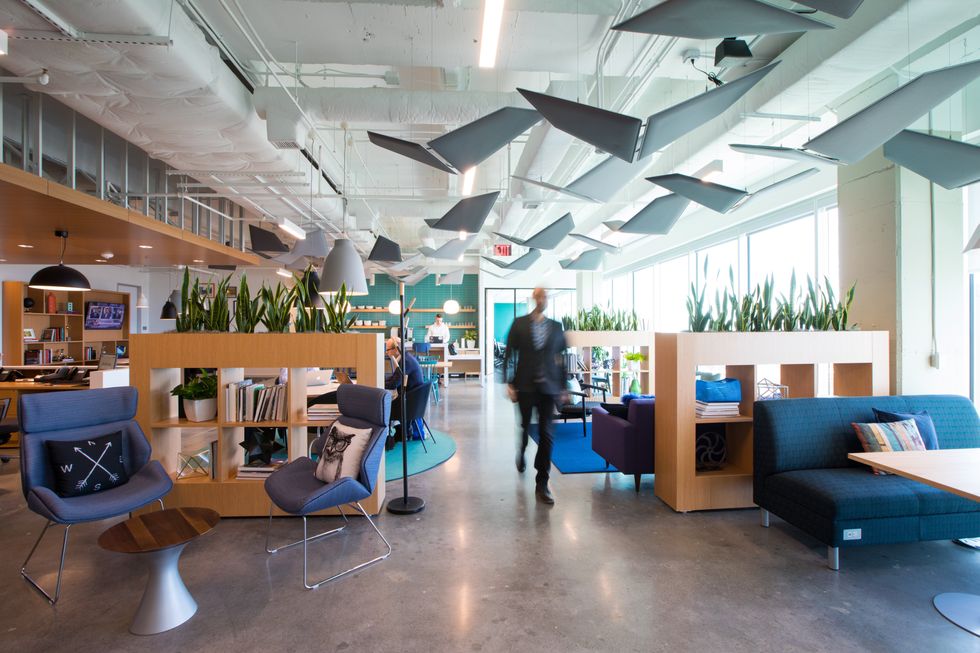 Spaces, an Amsterdam-based coworking space company that entered the Houston market with a lease in Kirby Grove announced in 2017, has two more Spaces locations planned for end of 2019. Courtesy of Midway
Size: 63,000 square feet of workspace in repurposed retail space.
Estimated timeline: Opening later in 2019
Special features: Open space, smaller team rooms, private offices, phone booths, and a 3,000-square foot rooftop patio.
Other locations: Amsterdam-based Spaces has 3,300 flexible workspace locations across the world — another in Houston's Kirby Grove and one coming to Two Post Oak Central.
Overheard: "Spaces fits perfectly in GreenStreet, a mixed-use district that is being redeveloped as the new model of urban lifestyle," says Chris Seckinger, vice president and investment manager for Midway, in a release.
Life Time Work announces second Houston location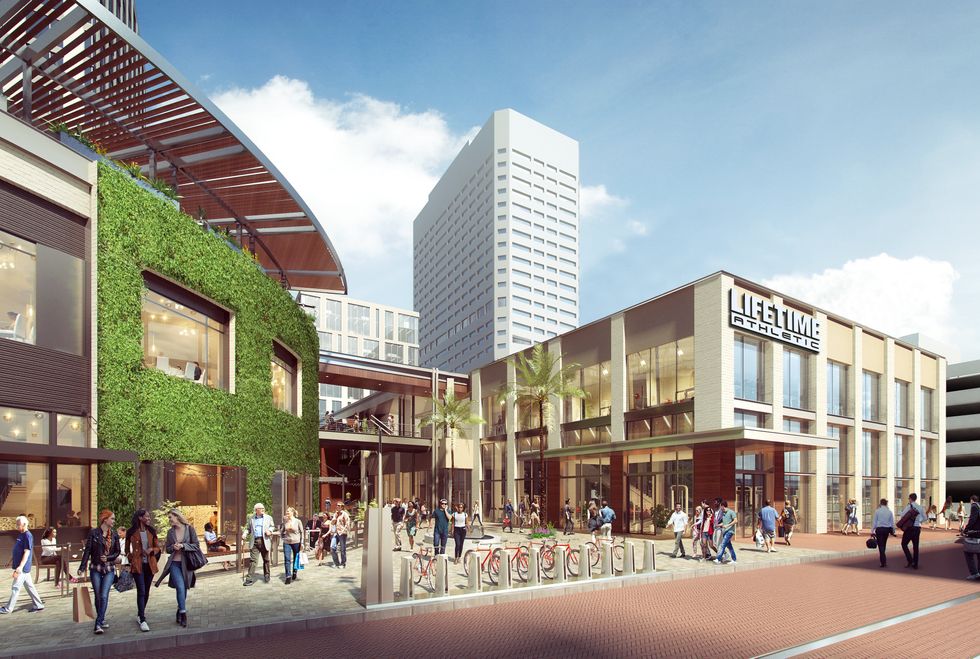 GreenStreet will soon have coworking space and a gym from Life Time. Courtesy of Midway Cos.
Square footage: 38,000 square feet of coworking space (additional 56,000 square feet of wellness space adjacent)
Estimated timeline: Opening in 2020.
Special features: Private offices, reserved desk, events, coffee, as well as other services.
Other locations: Last year, Minnesota-based Life Time Inc. opened its first location of Life Time Work in Pennsylvania as well as announced its second location headed to Houston's CIty Centre, which is expected to open later this year.
Overheard: "GreenStreet aligns well with our vision to meet the changing needs of consumers by bringing Life Time — through our athletic destinations and coworking space — as a lifestyle asset to bustling and successful developments," says Parham Javaheri, Minnesota-based Life Time's executive vice president of real estate and development, in a release. "We look forward to becoming an anchor to this new model of urban living in 2020."
Brookfield Properties' Houston Center renovation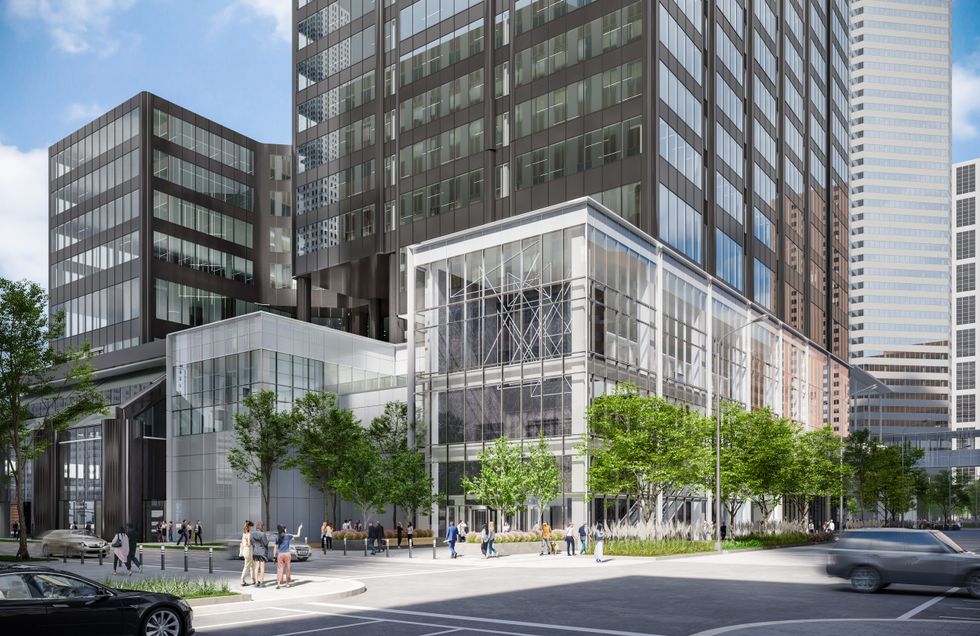 Brookfield Properties is currently renovating Houston Center. One of the new amenities will be coworking space. Courtesy of Brookfield
Square footage: The total project is projected to be 4 million square feet, but it's unclear how much of that will be for the coworking aspect.
Estimated timeline: Construction should be concluded by late 2020.
Special features: A new central plaza and greenspace, a digital water wall, entertainment space, an iconic stair connection to new landscaped terraces, two-story glass façade, reclad skybridges, a new 10,000-SF fitness center, new dining and retail.
Other locations: Currently, Brookfield doesn't have any other coworking locations in Houston.
Overheard: "Brookfield continues to look to the future by transforming another of their Downtown properties into an amenity-rich development. This progressive, strategic shift accommodates the blurred lines of today's live-work-play corporate culture that tenants desire," says Bob Eury, Downtown District president, in a release. "In addition, the re-imagining of Houston Center and McKinney Street will add to Downtown's list of attractions creating a bustling linear space lined with restaurants, nightlife, parks and landscaping, connecting Main Street to Discovery Green and Avenida Houston."