Apr. 28, 2021 01:24PM EST
ClassPass, which recently opened a Houston location, has launched a new tool for users to find their closest vaccine location. Photo courtesy of ClassPass
A global tech company that recently opened a local office in Houston has announced a major upgrade to its app — and it's now available in Houston.
ClassPass , a network of fitness and wellness partners, now has Houston vaccine centers searchable within the app and website. Members can find their closest vaccine center and get important information — like hours and address — as well as how to contact the locations; however, users aren't able to book directly through ClassPass.
"We are in a global health crisis and every company should be helping to support relief and vaccination efforts however they can. Using the ClassPass platform to connect members with vaccine centers is a natural extension of our technology and a way that we can contribute to curbing the spread of COVID-19," says Jeff Bladt, vice president of pricing and inventory, in a news release.
"We have deep knowledge of how to help people find accurate and up-to-date information on local businesses after routing millions of users to fitness and wellness locations across 30 countries," he adds.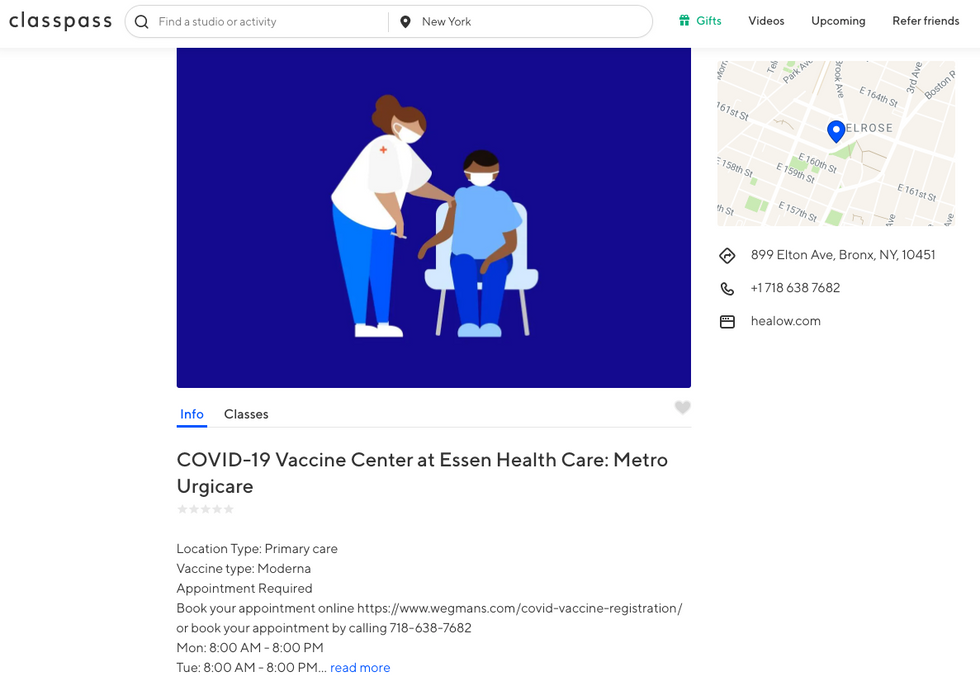 Users can search for COVID vaccine locations online or through the app. Photo courtesy of ClassPass
The new search option has been rolled out already in in Austin and Dallas, as well as Boston, Chicago, Denver, Miami, New York City and Washington, D.C.

"The process of finding a vaccination appointment can be challenging and many people don't know where to start," says Dr. Vin Gupta, a critical care pulmonologist, health policy expert, and NBC News Medical Analyst, in the release.
"I was thrilled to hear that ClassPass, a high touch app that has already trained people how to search for vital health information, is leveraging their platform to make it easier to identify vaccine sites and secure appointments," he continues. "Anything that can address this information gap is critical in getting more people vaccinated."
ClassPass quickly pivoted when the pandemic hit last year, and now all 41,500 fitness, wellness, and beauty partners on the app have been asked to provide updated details on their COVID policies. ClassPass also worked with 5,000 top studios around the world to add digital classes as an option.
In March, Houston-based ClassPass exec, Rachel Moctron, joined the Houston Innovators Podcast to discuss this pivot and the new Houston office. Listen to it below.