Jul. 09, 2019 01:27PM EST
The Houston Spaceport at Ellington Airport has broken ground, which means San Jacinto College is a step closer to its EDGE Center becoming a reality. Photo courtesy of San Jacinto College
The first phase of the Houston Spaceport at Ellington Airport broke ground last month, and that means a lot of things for a lot of entities like the Houston Airport System, the Houston City Council, and the Federal Aviation Administration, to name a few. But, to San Jacinto College, it means being one step closer to its on-site training facility, called the EDGE Center.
The facility will offer four training programs to start provided by San Jacinto College, the official education training partner for the Houston Spaceport. The programs include: composites manufacturing and repair technician, aerospace electrical assembly technician, aerospace structures technician, and mechatronics and industrial automation technician.
Aside from these four initial programs, the college will be able to over customized and individualized training as needed.
"We are excited for this opportunity," says Brenda Hellyer, San Jacinto College chancellor, in a release. "We look forward to creating an educational space that will support and enhance the workforce needs of current and future businesses in the Houston Spaceport. We thank the City of Houston, the Houston Airport System, and the Bay Area Houston Economic Partnership for working with us to make this EDGE Center a reality."

EDGE is just one part of the 154 acres of development currently in the works at Ellington Airport. The full property includes 450 acres that will all eventually be developed.
"Once completed, Phase 1 will stand ready to encourage even more progress to help companies with development of satellite technologies, drone technology, and urban air mobility initiatives," says Houston Airport System Director Mario Diaz in the release. "And beyond technology, it will help develop the talent to drive innovation forward. San Jacinto College is taking steps to open an aerospace workforce training center here, providing a talent pipeline that will help attract companies to Houston."

Houston's commercial spaceport plans were only the 10th to be approved by the FAA — and the only one to be centrally located to a major city (the site is less than 20 minutes from downtown Houston, according to the website). In October, the city council approved the $18.8 million Phase I budget for the project, which will account for developing the infrastructure of the project and, eventually, even coworking and innovation space for aerospace companies, according to a release.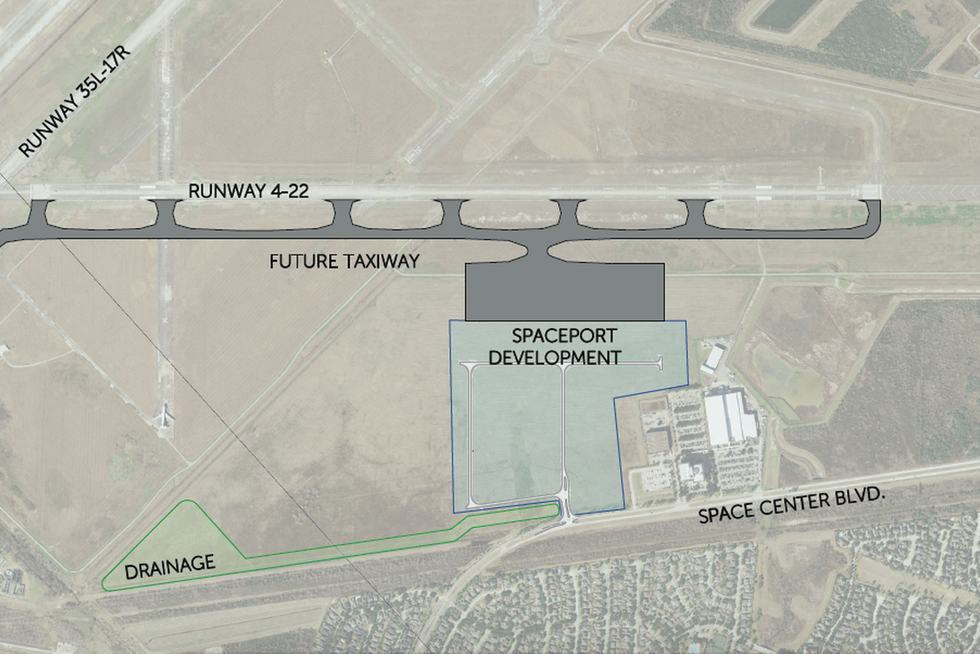 Photo via fly2houston.com