Station Houston partners with universities to launch new accelerator program
May 14, 2019, 8:20 am
This summer, Station Houston is connecting the dots for student and alumni entrepreneurs within Houston's innovation ecosystem. Station Houston/Facebook
Houston universities — namely the University of Houston and Rice University — have been providing student and alumni entrepreneurs with acceleration programming for some time now through RED Labs and OwlSpark, respectively. But nonprofit acceleration hub Station Houston is connecting the dots with these programs — and inviting more schools to join in — through a new summer acceleration program.
"One of the things we haven't historically had in Houston that other cities have are broad collaborations between our universities to help build on one another's resources and really demonstrate for our young people — the talent that we want to keep here — exactly how deep and strong the opportunity to be in Houston is," Gabriella Rowe, CEO of Station, tells InnovationMap.
The program will bring in 30 to 40 student and alumni from academic partners, which currently includes Rice, UH, and the University of St. Thomas, to Station. The schools will be responsible for selecting their participants and some of their own programming, and Station will provide additional resources, events, and full member access.
"We're not just going to depend on them bumping into someone at the coffee pot," Rowe says. "We're going to do meet and greets, some speed dating events, and some pitch practice events, so that they have the opportunity to have experienced entrepreneurs give them feedback and share their experiences."
The program, which is free to its participants, has derived out of planning for the Rice University's upcoming innovation district hub called The Ion, for which Station is the programming partner. Launching the student and alumni summer program ahead of The Ion's debut allows Station to get a couple summer cohorts under its belt.
"We have been for a number of months now — and will continue for the next two years — built out out a hub where all of the things that can be happening in The Ion," Rowe says. "We're piloting an building here first, so that, when the building opens, it can open in full force."
The plan is also to collect more universities in the area for the program and even expand it to provide more student and alumni access to resources.
"We have the ability at Station to give an expanding base as more schools choose to join them over time, so that hopefully we end up with something that is really robust in its ability to support students all year round — not just as a summer program," Rowe says.
Combining the forces of Houston's universities is unprecedented, Rowe says, but crucial to ensuring that these young entrepreneurs aren't leaving Houston for other major cities unaware of what their city has out there for them.
"For me, more than anything, it's about exposing these young, motivated entrepreneurs to all of the resources available in Houston," Rowe says. "By bringing them here into Station, we have the ability to show them first hand what entrepreneurs in Houston have access to. It allows them to see what an incredible place Houston is to stay and build and grow your company."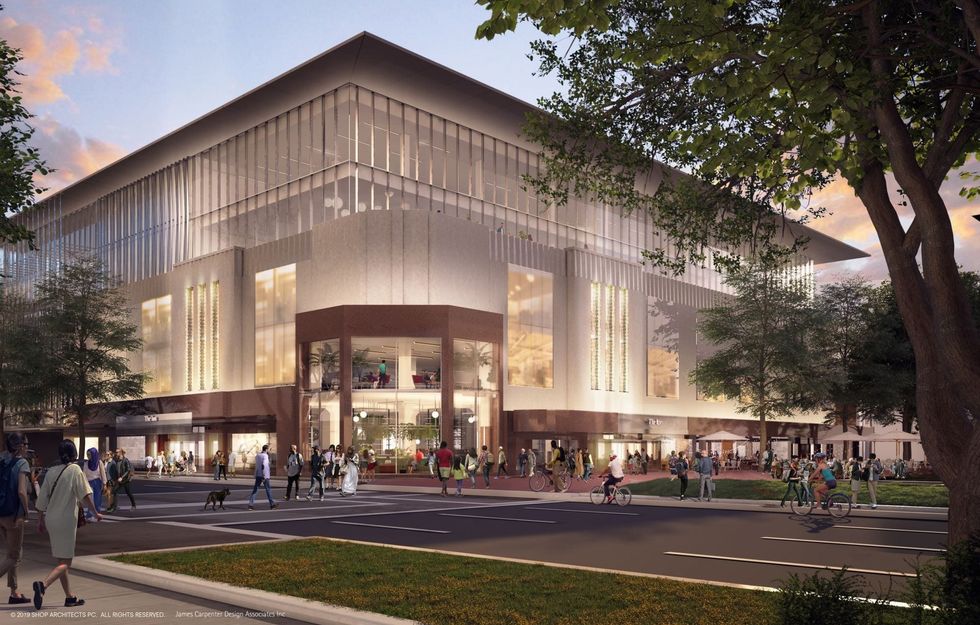 The Ion is expected to debut in 2021. Courtesy of Rice University