Houston startup that simplifies way to analyze cryptocurrency trends plans expansion
Jun 12, 2019, 8:07 am
Cryptocurrency doesn't have to be a big, confusing risk with this Houston startup's technology.
David McBee
/
Pexels
A new Houston startup is changing the way traders and investors analyze trending cryptocurrency.
Spencer Randall, CryptoEQ's principal and co-founder, says the mission of the company is to simplify ratings and analysis in cryptocurrency. With the company's beta now live, Randall hopes that those not familiar with cryptocurrency will be able to use the platform as a learning tool. The platform takes information on trending cryptocurrency and boils it down into three columns -- rating, technical analysis and trend analysis -- in order for users to know when to buy or sell.
"(It) is very complex," Randall says. "We see the utility and digital assets helping the common person so that they can try and boil down the information."
Randall, whose interest in investing and trading in cryptocurrency began a couple of years ago, became a frequent attendee of Bitcoin meetups in Houston, Austin, and San Antonio. There, he met his co-founders, lead designer Brooks Vaughan, program manager Norman Hamilton, lead analyst Michael Thoma, and lead marketer Joseph Romero.
The co-founders all recognized a need for reliable and trustworthy information in the cryptocurrency space and decided that creating CryptoEQ was the answer. The company hopes to expand its platform by the end of the third quarter this year.
"We really wanted to start building a platform that we would want to use as people organically enthusiastic about the (cryptocurrency) space," Randall says. "We built the platform for use at those meetups. It has a landing page where you can just jump on and get a feel in a matter of seconds of how the market is doing. This beta is intended to be a place where you can come throughout the day to check in on the market and check in on how things are going and learn about where'd you like to go next with crypto."
And while Houston is still an expanding technology hub, Randall thinks the city is an undervalued place to grow a small company like CryptoEQ. He credits innovation hubs like the Rice University's Liu Idea Lab for Innovation and Entrepreneurship, also known as Lilie, for creating the opportunity for Houstonians to thrive in the startup field.
"Houston is a place where entrepreneurs can actually thrive," Randall said. "You see a lot of people go to Austin because that's where the startup culture is in Texas. As Houston catches up, I think you'll see less of the talent leave."
CryptoEQ offices out of The Cannon, which is opening its 120,000-square-foot entrepreneurial campus this summer.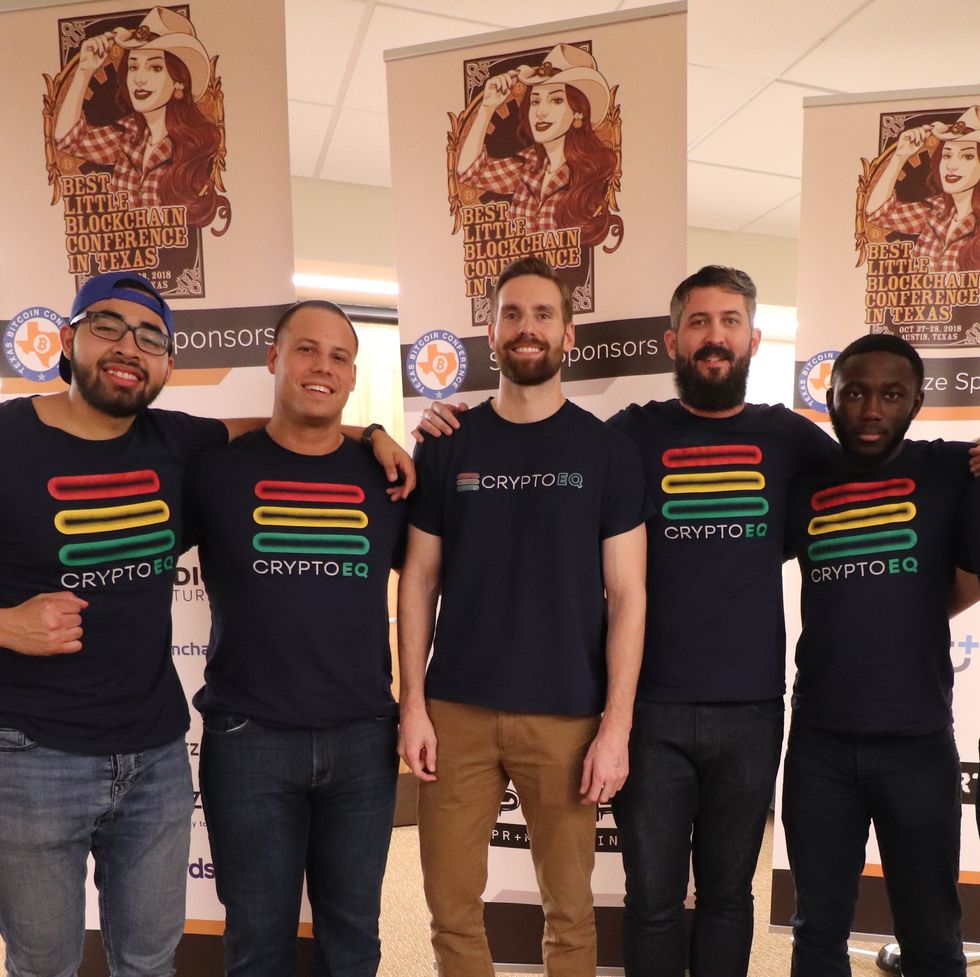 The CryptoEQ founders met at various Texas Bitcoin meetups. Courtesy of CryptoEQ