Houston medical device company closes $30 million round
Jul 12, 2019, 10:29 am
Houston-based Procyrion has closed a $30 million round — doubling its total funding to date. Getty Images
A clinical-stage medical device company based in Houston has rounded up $30 million for its Series D funding. Procyrion Inc.'s round was lead by Bluebird Ventures — a new funding partner for the company.
Procyrion is developing a blood pump, called the Aortix™ system, that's optimized for patients with heart and kidney failure. Joining in on the round with Bluebird are return investors, including Fannin Partners, Scientific Health Development, the State of Texas, and an undisclosed strategic investor. This round has now more than doubled the company's total funding, bringing that figure now to $59 million.
"Of the more than 1 million patients per year in the U.S. admitted to the hospital with acute decompensated heart failure, 25 to 30 percent also have worsening renal function," says Eric S. Fain, president and CEO of the company, in a release. "These are typically the most difficult to treat patients with high mortality and rehospitalization rates."
The funds, Fain says, will go toward advancing the medical device, specifically enhancing the system's ability to decongest cardio renal patients in the company's pilot program.
"Today there is a major gap in effective therapies that are available to treat these critically ill patients, and as such, there is a significant opportunity to improve patient outcomes," Fain continues in the release. "The Aortix device is uniquely designed and positioned in the body to simultaneously decrease the workload of the heart and improve kidney function."

The Aortix device is a solution for patients who haven't seen success from medical therapy, but don't have the immediate need for a transplant or more drastic solution. The device is thinner than a pencil, the release says, and can be inserted in a matter of minutes in a cath-lab setting. The size and ease of application could be transformational for the large population of heart patients that would need it.
In addition to the funds, Jeff Bird, managing director of Bluebird Ventures, will join the company's board of directors.
"The Procyrion Aortix device provides an elegant solution for managing heart failure, a serious and difficult-to-treat problem," says Bird in the release. "We are excited to work with this experienced team as they begin clinical testing."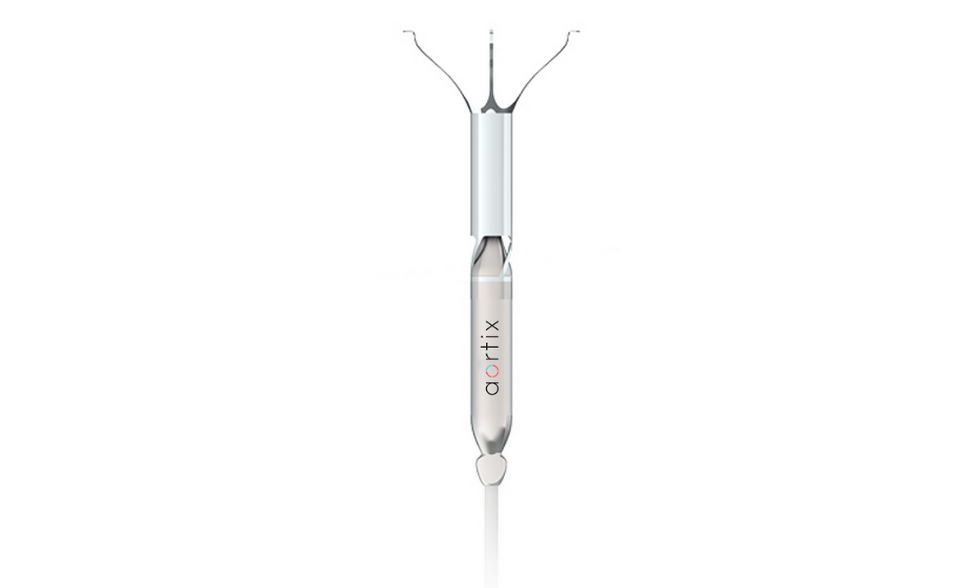 The device is thinner than a pencil and can be inserted in less than 10 minutes. Photo via procyrion.com