Houston expert looks into behavioral analytics in private equity, growth equity, and venture capital
Jul 1, 2021, 8:17 am

Houston Voices Lilie
The larger the deal, the higher the chances of failure, says this Houston expert. Photo via Getty Images
Study after study puts the failure rate of mergers and acquisitions somewhere between 70 percent and 90 percent (2011, HBR). One KPMG study narrowed the band of M&A failures to 75 percent to 83 percent (2015, KPMG). One constant in the research is that the larger the deal, the higher the chances of failure.

A FAILED MERGER, ACQUISITION, OR DIVESTITURE CAN BE UNDERSTOOD IN 2 WAYS:
Qualitative – what the companies had in mind that caused them to merge in the first place doesn't work out that way in the end.
Quantitative – shareholders suffer because operating results deteriorate instead of improve.
Deloitte's M&A Trends 2020 reports that 38 percent of PE firms cite revenue and growth improvement strategies as their primary strategy or focus area for driving value in their portfolio companies.
In the same report, EFFECTIVE INTEGRATION is key for the success of the deal. It accounts for 20 percent of a successful transaction, tied for top place with ACCURATELY VALUING A TARGET.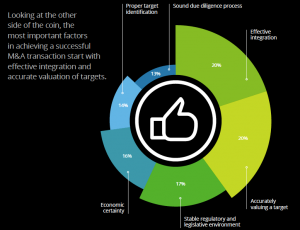 Post-M&A integration is defined as the implementation of changes in functional activities, organizational structures, and cultures of the two organizations to expedite their consolidation into a functional whole. Of course, this all involves people.
Moreover, Aon Hewitt research shows that:
There is a 23 percent increase in "actively disengaged employees" after a change event – even if no one's job is affected.
It takes about three years to return to pre-merger engagement levels.
With these figures, it is startling that there is not more focus on talent. Executives attribute 72 percent of their company's value to their employees, yet a mere 12 percent of companies align their talent strategy with their business strategy (Predictive Index, The 2020 State of Talent Optimization).
HOW ARE INVESTORS IN THE PRIVATE MARKET CHANGING THE TIDE?
According to Mike Zani, CEO of The Predictive Index, "When you look at the world of PE, growth equity, and to a lesser extent, VC, we are starting to see more talent officers, someone on staff to assist with strategic HR challenges with their portfolio." For example, Vista Equity has a consulting division that is solely focused on the talent and people analytics of its portfolio companies. They go beyond just finding the right executives, they have proprietary analytics tools to add value.
THERE ARE THREE USE CASES FOR ANALYTICS WITHIN THE PRIVATE MARKET:
1. Due Diligence
"One of the most powerful ways behavioral analytics are used for due diligence is understanding the strengths and blind spots of the future leadership team. It's about applying analytical rigor to the people side of the business to create a nuanced understanding of individual and team dynamics so you can be intentional about how to enable and de-risk the execution of future growth plans. We surface people challenges and opportunities early in the process so our clients can put strategies in place for effective change management and talent optimization." Heather Haas, President, ADVISA.
After signing a letter of intent, a consultant can assess the leadership team with behavioral, cognitive, and organizational assessments. In the process of evaluating leadership fit, consultants may identify gaps between the leadership abilities needed and those present in the executive team, and investors must focus attention on closing those gaps. It is much easier to suggest fixing them before the deal is closed, where investors can work with the company to create leadership development or hiring plans. If investors discover that the executive team lacks financial or operational excellence 6 months after close, it is going to be much harder to communicate that in a positive, forward-looking way.
Predictive Index isn't the only tool used for due diligence. Specialty consulting firms that provide due diligence support with people analytics include GH Smart, Green Peak Partners, Korn Ferry, and Deloitte. They use a host of tools ranging from Hogan assessments to proprietary software. "Out of the 150 PE clients with The Predictive Index," Zani says "about 1/3 are using it in due diligence regularly."
2. Post-Deal Value Creation
Effective M&A integration accounts for 20 percent of the success of a deal. As I mentioned in the last post, behavioral analytics can provide insights that allow each person to easily understand how their new team members are wired. This can drastically reduce the time it takes to build cohesion among the group and make for more effective collaboration as project teams are regularly assembled and reassembled. Put simply, instead of using our energy to try to figure each other out, we cut through the noise so we can run faster.
3. Scale
The use of behavioral analytics for hiring is nothing new. With an infusion of cash, one of the first thing a company does in response to growth goals is to hire. People data can help companies scale quickly and with confidence. Max Yoder, CEO and Founder of Lessonly shares about Predictive Index, "Now, every time we hire, we use the assessments as another tool in our toolkit. The results will never decide whether a person gets hired or not, but they do provide guidance as to whom should be in sales, whom should be in client experience, whom should sit in a quiet space, and whom thrives on commotion."
Even with such impressive results, still there are two schools of thought when it comes to how much control private market firms want to have over the operations of their portfolio companies. General Catalyst, the PE firm that invested in Predictive Index, in particular, says they don't want to be the management team. Kirk Arnold, Executive In Residence, General Catalyst says "We're very founder supportive. We invest in entrepreneurs and innovators and work to support them. We share feedback and insights with those teams – and encourage them to The Predictive Index toolset to help them scale effectively. But we don't force any of our teams to invest in any particular tool or strategy. We believe great businesses are built by great teams, and we believe that PI can help companies excel in team building – but we look to the leadership team to make those investment decisions based on their needs and culture.
Prior to becoming a Predictive Index Consultant, I spent five years integrating acquisitions. I only had access to PI for the very last year. It was so powerful in building dream teams that I wished I had known about it sooner. Areas I used PI heavily was in post-deal value creation as well as scaling. In my current practice, I spend about 20 percent of my time performing due diligence for start-ups as well as working with them to round out their team from a data-driven perspective.
------
This article was written by Wendy Fong, founder and principal of Chief Gigs, and originally appeared on Liu Idea Lab for Innovation & Entrepreneurship's blog.