Greentown Houston shares progress on Midtown building and adds new corporate partners
Feb 3, 2021, 10:20 am
Greentown Houston has revealed what it will look like in the new Houston Innovation District. Graphic courtesy of Greentown
Construction is underway on the Bayou City's first-ever clean tech incubator known as Greentown Houston.
Via a virtual ceremony on Feb 2, Mayor Sylvester Turner and a team from Massachusetts-based Greentown Labs revealed what the massive space in the new innovation district will look and feel like from the outside in.
The building's exterior will be painted grey and will be flocked by verdant green accents and foliage. According to a statement, Greentown Houston is also working with the Houston Arts Alliance to create a large mural by a local artist on the east side of the building.
The 40,000-square-foot interior — though still very much a construction zone today — will also incorporate Greentown's signature use of the color green in its designs in a bright, airy, and modern setting. A sleek gathering place and entryway will reside under a towering atrium from the building's past life as a Fiesta Mart, while ample square footage leaves room for prototyping and wet lab space, offices, and community gathering areas for about 50 startup companies working to solve climate and environmental challenges.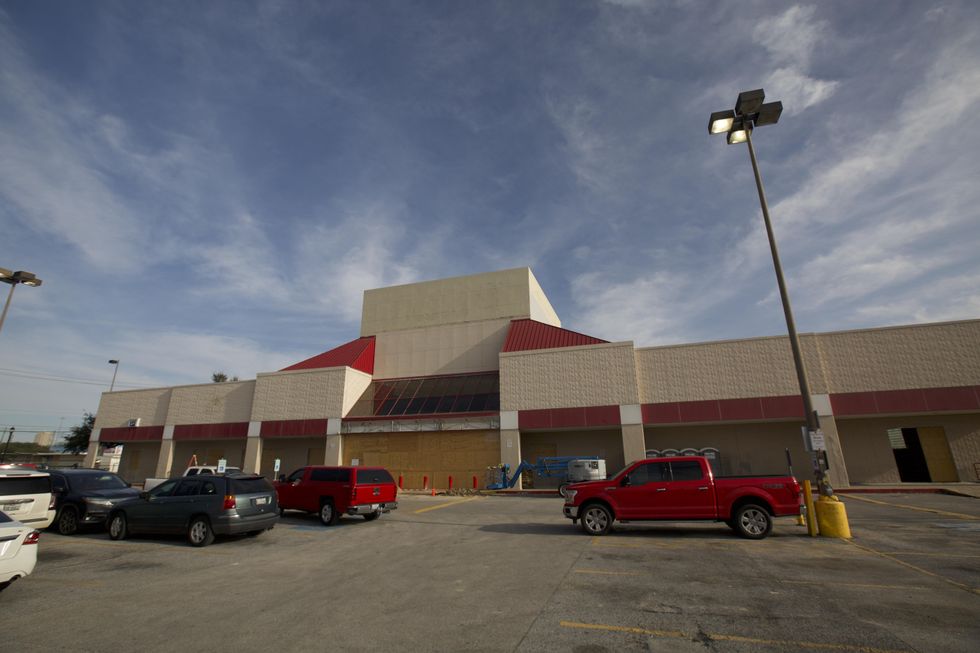 The Greentown space is being built out from a former grocery store. Photo courtesy of Greentown
"We are the energy capital of the world and we are very proud of it," says Turner. "We plan to lead energy transition and we are very proud of that."

"Last year, we released our first-ever Climate Action Plan, and we believe organizations like Greentown Labs, its impressive network of partners, and climatech entrepreneurs will help us achieve the ambitious goals outlined in the plan," he added.
Greentown Lab first announced its entrance into the Houston market last summer. It currently operates a similar 100,000-square-foot lab outside of Boston and boasts partnerships with some of the largest energy companies in the world.
At the ceremony, the organizations announced that CenterPoint Energy, Gexa Energy of NextEra Energy Resources, EIV Capital, Wells Fargo, and Williams have come on board as foundation and grand opening partners.
The 14 inaugural partners were announced last year and include Chevron, NRG Energy and Reliant Energy, Shell, BHP, Vinson & Elkins, Microsoft, ENGIE North America Inc., Rice Management Company, Saint-Gobain, Sunnova Energy International Inc., The American Family Insurance Institute for Corporate and Social Impact, SCF Partners; Tudor, Pickering, Holt & Co. and Direct Energy.
Greentown Houston is also a member of the Greater Houston Partnership.
"We are thrilled to join Greentown Houston to celebrate this critical step forward in their much-anticipated expansion with the addition of these new partners," says Susan Davenport, chief economic development officer with the Greater Houston Partnership. "These organizations, and the expertise and resources they bring, join a thriving ecosystem built of major corporate energy R&D centers, corporate venture arms, and VC-backed energy startups. We are eagerly anticipating Greentown Houston's official opening."
Greentown Houston is slated to open this spring. The incubator has accepted 16 inaugural startups and is looking to bring more on board.
Greentown Labs,the City of Houston, and the Greater Houston Partnership will also be hosting a public, virtual preview of the new space at 4 p.m. on Thursday, February 4. Interested parties can
register for the free EnergyBar event here.