Cleantech incubator announces location in Houston, names newest partners
Sep 22, 2020, 2:15 pm
Greentown Houston is headed for the Innovation District, which is being developed in Midtown. Photo via Getty Images
After announcing its plans to expand to Houston in June, Boston-based Greentown Labs has selected its site for its cleantech startup and tech incubator.
Houston Mayor Sylvester Turner and the Greater Houston Partnership announced that Greentown Houston will be opening in the Innovation District, being developed by Rice Management Co. and home to The Ion. The site is located at 4200 San Jacinto St., which was Houston's last remaining Fiesta grocery story before it closed in July.
The facility is expected to open this coming spring and will feature 40,000 square feet of prototyping lab, office, and community space that can house about 50 startups, totaling 200 to 300 employees.
"We are thrilled to announce the selection of Greentown Labs' inaugural location in partnership with RMC, the City of Houston, the Partnership, and leading global energy and climate impact-focused companies," says Emily Reichert, CEO of Greentown Labs, in a press release. "In order to meet the urgent challenge of climate change, we must engage the talent and assets of major ecosystems around the country. We look forward to catalyzing the Houston ecosystem's support for climatetech startups as we work together toward a sustainable future for all."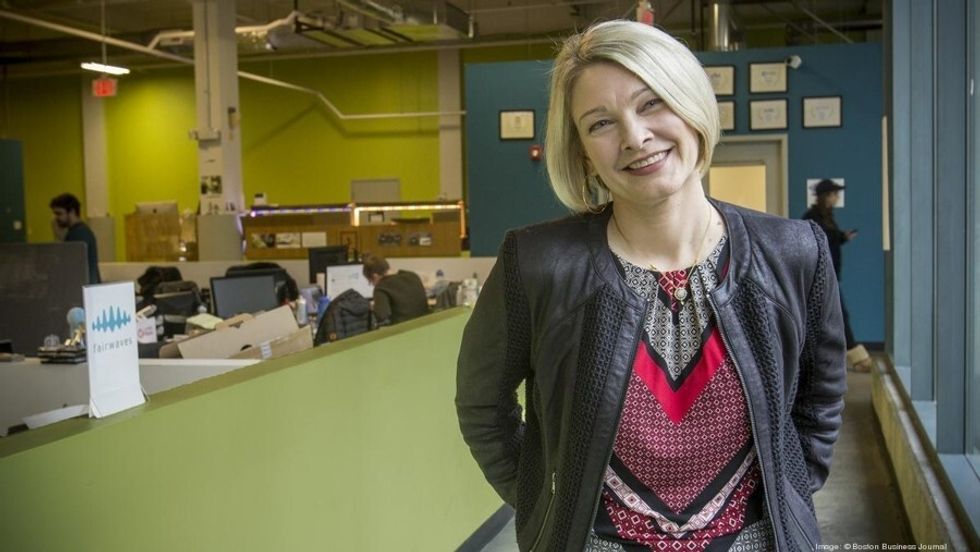 Emily Reichert is the CEO of Greentown Labs. Photo courtesy of Greentown Labs
Greentown Labs launched in 2011 as community of climatetech and cleantech innovators bringing together startups, corporates, investors, policymakers, and more to focus on scaling climate solutions. Greentown Labs' first location is 100,000 square feet and located just outside of Boston in Somerville, Massachusetts. Currently, it's home to more than 100 startups and has supported more than 280 startups since the incubator's founding. According to the release, these startups have created more than 6,500 jobs and raised over $850 million in funding

"We are so pleased that Greentown Houston will locate in the heart of the Innovation District, where they will seamlessly integrate into the region's robust energy innovation ecosystem of major corporate energy R&D centers, corporate venture arms, VC-backed energy startups, and other startup development organizations supporting energy technology," says Susan Davenport, chief economic development officer at the Greater Houston Partnership, in the release. "Houston truly is the hub of the global energy industry, and Greentown Houston will ensure we continue to attract the next generation of energy leaders who will create and scale innovations that will change the world."
Greentown Houston, which previously announced several founding partners in June, has just named new partners, including: RMC, Microsoft, Saint-Gobain, and Direct Energy. According to the release, Greentown Houston is also looking for Grand Opening Partners. Naturgy and and FCC Environmental Services (FCC) are the first to join on as a grand opening partners, and startups and prospective partners can reach out for more information via this form.
Reichert previously told InnovationMap that it was looking for an existing industrial-type building that could be retrofitted to meet the needs of industrial startups that need lab space. She also said that this approach is very similar to how they opened their first location.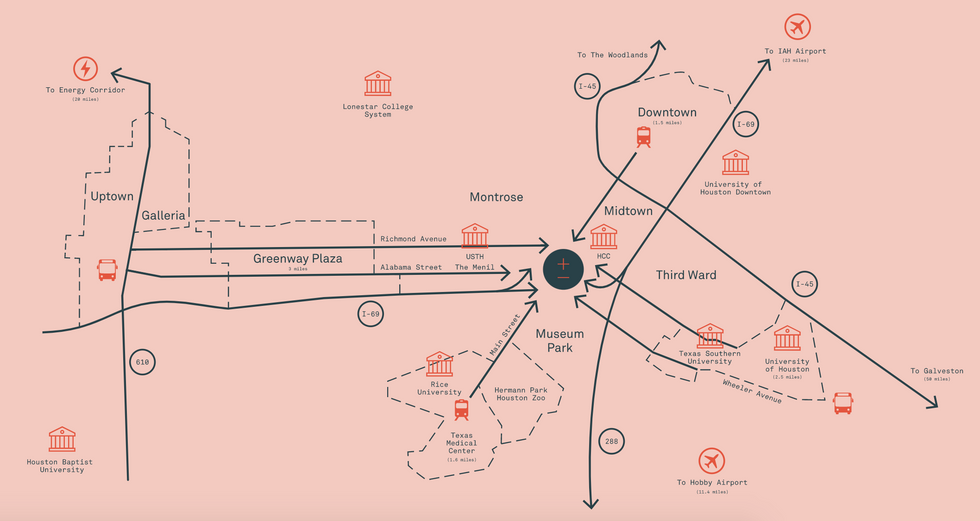 Rice Management Company is developing the Innovation District in the center of Houston. Screenshot via ionhouston.com
The new location will be in the 16-acre Innovation District that's being developed by RMC, which will be anchored by The Ion, a 270,000-square-foot hub that is being renovated from the former Sears building.

"What we love about Greentown Labs as much as its commitment to helping Houston become a leader in energy transition and climate change action is its proven track record of job creation through the support of local visionaries and entrepreneurs,"says Ryan LeVasseur, managing director of Direct Real Estate at RMC, in the release. "Greentown Houston, like The Ion, is a great catalyst for growing the Innovation District and expanding economic opportunities for all Houstonians. We're thrilled Greentown Labs selected Houston for its first expansion and are honored it will be such a big part of the Innovation District moving forward."
Acquiring the new Greentown location is a big win for the mayor, who released the city'sClimate Action Plan earlier this year. The plan lays out a goal to make Houston carbon neutral by 2050.
"We are proud to welcome Greentown Labs to Houston, and we are excited about the new possibilities this expansion will bring to our City's growing innovation ecosystem," says Turner in the release. "Organizations and partners like Greentown Labs will play a vital role in helping our City meet the goals outlined in the Climate Action Plan and will put us on the right track for becoming a leader in the global energy transition. The City of Houston looks forward to witnessing the innovation, growth, and prosperity Greentown Labs will bring to the Energy Capital of the World."
Greentown Labs will host a celebratory networking event on September 24 at 4 p.m. Registration for the EnergyBar is open here.