Houston startup raises $30M, plans to be 'next iconic chemical company' with plant-based alternatives
Jul 22, 2020, 10:42 am
Solugen, which uses plant-centered biotechnology to produce environmentally friendly chemicals, has raised an additional $30 million and is speculated to soon reach unicorn status. Photo via solugentech.com
While Forbes recently anointed Houston-based Solugen Inc. as one of the next billion-dollar "unicorns" in the startup world, Dr. Gaurab Chakrabarti shrugs off the unicorn buzz.
Chakrabarti, a physician and scientist who's co-founder and CEO of the startup, concedes he doesn't know whether Solugen will be worth $1 billion or not. But he does know that the startup aspires to be a key competitor in the emerging "climate tech" sector, whose players strive to combat climate change. Chakrabarti estimates the climate-tech chemical space alone represents a global market opportunity valued at $1 trillion to $2 trillion per year.
Solugen's overarching goal in the climate-tech market: Replace petroleum-based chemicals with plant-based substitutes.
"I'd love it if we were the poster child that drives climate tech to be the next big, sexy trend," Chakrabarti says.
Chakrabarti acknowledges Solugen's investors, executives, and employees hope the startup succeeds financially. But success, he believes, goes beyond making money and plotting an exit strategy. Instead, Chakrabarti emphasizes "a shift in thinking" on climate tech that he says promises to transform the fledgling sector into a "true niche" that'll be "good for everyone."
"Who cares if people are all hyped up for the wrong reasons?" says Chakrabarti, referring to the unicorn speculation.
Solugen sits at the crossroads of biology and chemistry. In short, the startup taps into plant-centered biotechnology to produce environmentally friendly chemicals and "decarbonize" the chemical industry.
"Quite simply, we want to become the next DowDuPont or the next iconic chemical company, but using principles of green chemistry instead of principles from petroleum chemistry," Chakrabarti says.
If Solugen does reach the icon stratosphere, Chakrabarti envisions it doing so on a speedy schedule. In the traditional petrochemical market, it can take 10 to 20 years to put a new product on the market, he says. "I don't have that kind of time. I'm a very impatient person," Chakrabarti says.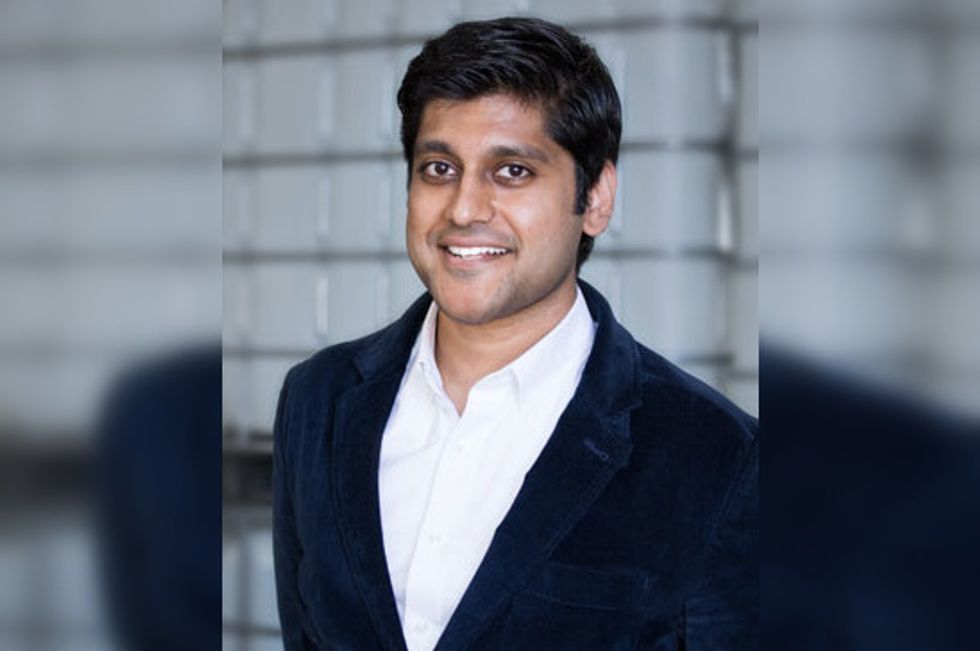 Gaurab Chakrabarti Gaurab Chakrabarti, CEO and co-founder of Solugen, isn't paying any mind to his company's predicted unicorn status — rather he's focusing on the difference he can make on reducing carbon emissions. Photo via solugentech.com
Spurred by that restlessness, Chakrabarti seeks to propel Solugen's products from concept to commercialization in the span of two years. He says the startup already has proven the ability to do that with its sugar-derived hydrogen peroxide product.

"We're going to continue to do that, and it would be great if we can continue demonstrating new [products] coming to market once a year," says Chakrabarti, who grew up in Sugar Land.
Solugen seems to have plenty of financial fuel to make that happen. In April, Solugen raised $30 million in venture capital as an add-on to its Series B funding, which initially closed May 2019. That brings its total VC haul to $68 million since it was founded in 2016, according to Forbes. The recent funding lifted the company's valuation to $250 million, putting it $750 million away from unicorn territory.
Chakrabarti doesn't dismiss the notion of an eventual IPO for Solugen but says being acquired isn't "terribly interesting to me."
"If you want to make money, you can always go be a banker," he notes.
Chakrabarti estimates Solugen will generate $30 million to $40 million in revenue this year, up from $12 million in 2019. Profit remains elusive, though, as the company pours its gains into R&D. The company graduated in 2017 from the Y Combinator startup accelerator. Aside from Y Combinator and Unicorn Venture Partners, investors include Founders Fund, Refactor Capital, Fifty Years, and KdT Ventures.
Solugen's current lineup features fewer than a half-dozen products, which are sold to industrial and government customers. Hundreds more products are in the pipeline for use in sectors like agriculture and energy, Chakrabarti says.
"It's one of the blessings and curses of this company — there's always something to work on, always something big to scale up," says Chakrabarti, who earned his M.D. and Ph.D. from the University of Texas Southwestern Medical Center in Dallas.
Working on selling Solugen's current products and developing its new products are 70 employees, located at its headquarters in Houston and its new production facility in Lubbock. By the end of this year, the startup should employ close to 100 people, Chakrabarti says.
Chakrabarti hesitates to identify Solugen's competitors, as he believes a perceived rival very well could end up becoming a partner.
"I think everyone eventually should be a partner of Solugen, not competition," he says. "It's an ideology that's actually the competition, an ideology like, 'We've always used petrochemistry. This is just how it's been done.'"