Digital home buying and selling tool expands to Houston market
Jan 17, 2019, 2:44 pm
A growing digital home sales platform has moved into town. Courtesy photo
A Phoenix-based real estate company has expanded to the Houston market and opened a new office in town.
First launched in 2015, Offerpad is a tech-enabled home buying and selling solution. As of October, Offerpad had expanded to 534 cities with access to an estimated 6.7 million home-owning households.
The company is what's known as an iBuyer — a type of investor that uses automated valuation models, or AVMs, and other technology to quickly turn around offers on homes to sellers and then resell them to home buyers. The process tends to be quicker and higher tech than the normal home selling and buying process.
Offerpad previously had expanded into Dallas before launching in Houston on January 15. It's the first expansion in 2019 — a year that's poised to be full of growth for the company, the press release says.
"The company has a very concentrated vision to bring our real estate solutions to millions more people this year," Trent Capps, Offerpad's regional market director focused on Texas, says in the release. "Our start in Texas, with Dallas-Fort Worth, has far and away exceeded our expectations and we anticipate the same for our other Texas markets. In Houston, we began receiving home offer requests weeks ago, so we foresee huge success there, as well as in San Antonio later in the quarter."

The new local office is located in The Woodlands and serves 86 cities within the Houston area including Bellaire, Pearland, Sugar Land, Seabrook, and Friendswood. San Antonio is the next Texas market Offerpad is headed for.
"Dallas, Houston, and San Antonio are all cities we've had intentions of offering our service in," Founder and CEO Brian Bair says in the release. "I'm confident that Texans are going to value the solutions we've developed to the once complicated and stressful process of selling a home."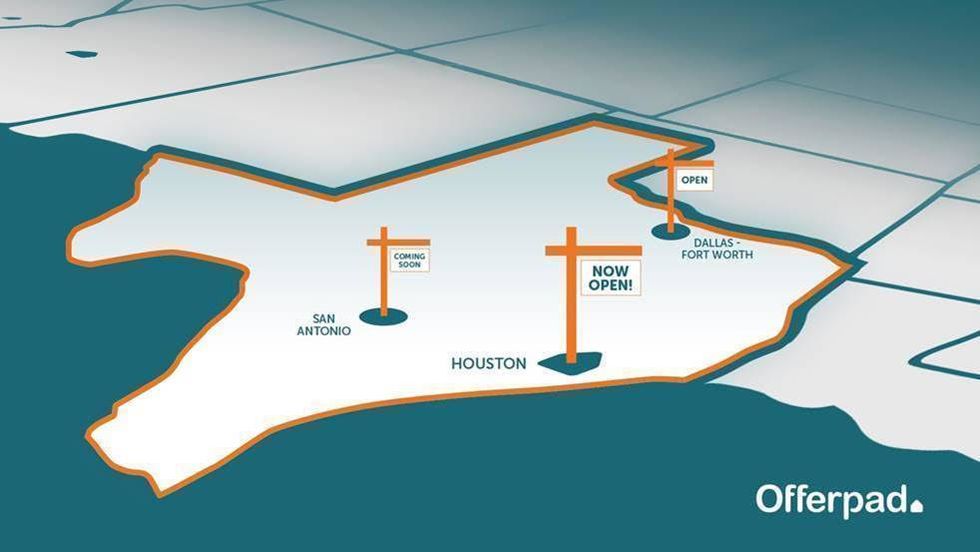 Graphic courtesy of Offerpad