Houston-based, cancer-fighting organization breaks ground on new collaborative building
Sep 25, 2023, 1:02 pm
MD Anderson broke ground on a 600,000 square-foot building that is specifically designed to enable great minds to meet with the goal of conquering cancer. Photo courtesy of MD Anderson
Houston is where medical researchers and clinicians come together. And it's getting easier for that to happen thanks to an innovative new facility from The University of Texas MD Anderson Cancer Center.
On September 20, the world-class institution broke ground on a 600,000 square-foot building that is specifically designed to enable great minds to meet with the goal of conquering cancer.
Construction on the seven-story structure, known as South Campus Research Building 5 (SCRB5), is supported by a $668 million institutional grant. The facility is expected to be completed in 2026. Designed by Elkus Manfredi Architects, it will include both high-tech research rooms and public spaces that include a restaurant, conference center and spaces for lectures. A landscaped park is designed by Mikyoung Kim Design.
"The construction of our visionary new research building marks the beginning of our next chapter in Making Cancer History," Peter WT Pisters, M.D., president of MD Anderson, says in a press release. "With input from hundreds of MD Anderson teammates, we have carefully designed this building and our research campus to foster collaboration, to stimulate creativity and to fuel breakthroughs that will improve the lives of patients here and around the globe."
SCRB5 is located at 1920 Spanish Trail and is considered an extension of upcoming Helix Park, Texas Medical Center's 5 million square-foot research campus. Both are specifically designed to create seamless collaborations between scientists and clinicians, where water cooler chat can lead to world-changing discoveries. MD Anderson has already announced that the building will be home to a number of strategic research programs, including the James P. Allison Institute.
The new construction isn't just notable for the discoveries that will be made there. In itself, SCRB5 will be an exceptionally sustainable and efficient building, with surrounding green spots and connecting pathways that will serve as inspiration for all who work there. This only makes sense for MD Anderson, which invested $1.1 billion in funding in the last fiscal year. In the same year, the institution had more projects funded by the National Cancer Institute than any other.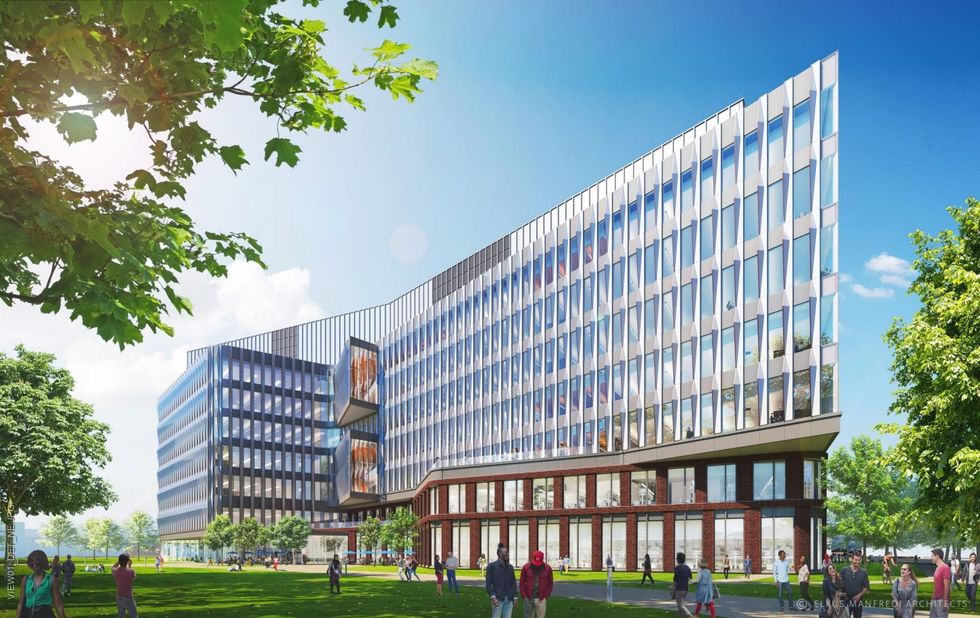 Rendering courtesy of MD Anderson