University of Houston expands human spaceflight partnership with NASA
Jun 14, 2022, 11:03 am
UH Chancellor Renu Khator and JSC Director Vanessa Wyche made a program expansion official. Photo via UH.edu
The University of Houston System has doubled down on a partnership with NASA's Johnson Space Center that involves advancing human spaceflight research, technology development, and more.
The deal was officiated on June 10 with UH Chancellor Renu Khator and JSC Director Vanessa Wyche. According to a UH news release, the expanded partnership includes joint research, technology development, technology transfer, training and educational, and outreach initiatives at the four UH System universities: University of Houston, University of Houston-Downtown, University of Houston-Clear Lake and University of Houston-Victoria.
"Houston is 'Space City,' so it's important for students and faculty in relevant disciplines across the UH System to have opportunities to engage in and be exposed to real world space flight-related research and technology development with NASA," says Khator in the release. "These are the kinds of projects that shape lives and create innovations for the greater good."
Some of the noted research and outreach topics include robotics, data analytics, cybersecurity, and other emerging technologies. Business and entrepreneurship students, for example, ar working to commercialized technology coming out of NASA. Expanding on the 50-plus-year partnership with UH will allow the JSC to further develop technologies for future human spaceflight missions, as well as inspire and engage the next generation of scientists, according to Wyche.
"NASA's Johnson Space Center has a long history of working with colleges and universities since the early days of Mercury, Gemini, and Apollo programs to help us achieve our human spaceflight missions," says Wyche in the release. "We are eager to partner and collaborate with the University of Houston system in vital research and technology development initiatives that will enable us to meet our nation's exploration goals and advance human spaceflight as we work to land the first woman and first person of color on the Moon under Artemis."
Loren Blanchard, president of UH-Downtown, and Richard Walker, president of UH-Clear Lake, were also in attendance at the signing event. The NASA Office of STEM Engagement will work with UH-Downtown to target students to identify learning opportunities and provide connections to NASA's missions. Additionally, UH-Clear Lake and NASA since the JSC's founding in 1961. Collaboration on academic programming and research will only expand under the new system-wide agreement, per the release.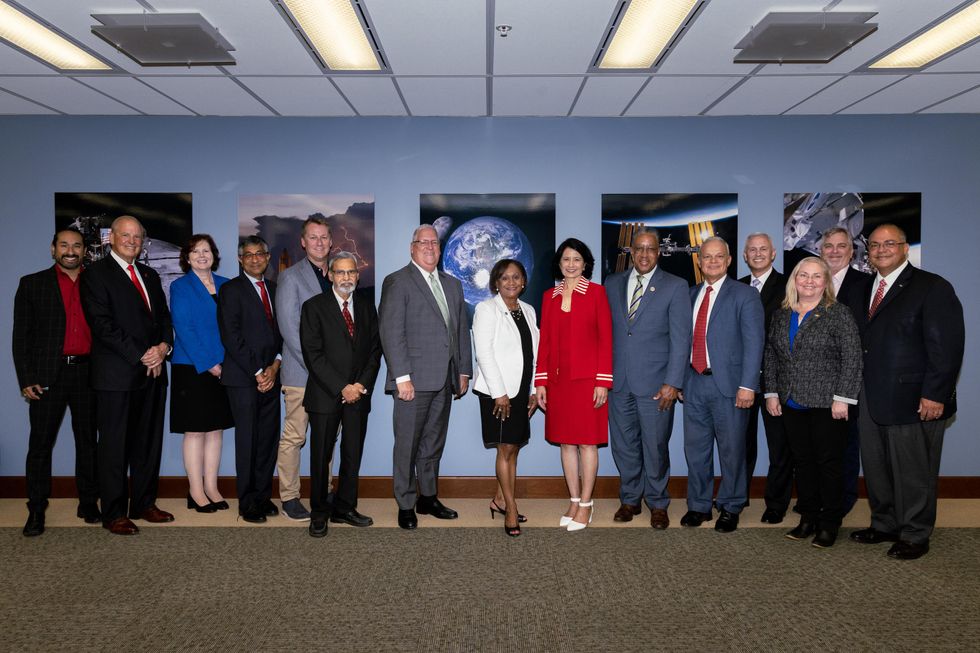 UH and NASA leaders joined for the partnership signing. Photo via UH.edu