Houston startup seeks to simplify sustainable fashion
Jun 3, 2022, 1:38 pm
A Houston innovator found second-hand shopping time consuming. So, she designed a better experience. Image courtesy of Trendy Seconds
When the coronavirus pandemic started in 2020, people found themselves at home with a surplus of free time. Puzzles covered dining room tables, remnants of new hobbies were strewn across dens, TikTok dances were rehearsed, and television was binged. Maria Burgos found herself watching Netflix's "Tidying Up with Marie Kondo," which inspired her to clean out her closet. In practicing Kondo's dogma of parting with items that don't "spark joy," Burgos uncovered a bigger issue to purge: America's unsustainable fashion industry.
With piles of clothing ready for a new home, Burgos searched for reliable organizations to donate her possessions. Her research led her to learn more about the negative impact the fashion industry has on the environment.
According to Slate, almost 24 billion pounds of clothes and shoes are thrown out each year — more than double what we tossed two decades ago. Americans consume more than 20 billion garments each year, and each garment can be expected to be worn around seven times, according to The Wall Street Journal. We're buying more clothing than ever when clothing is at its lowest cost.
A $17.99 linen crop top from H&M may seem like a steal, but the low price tag poses a much greater cost for the environment. Low-quality garments have a bleak chance of finding a secondhand home, and 80 percent of donated clothing won't ever be seen see a charity shop rack. While some used clothing gets recycled as insulation, others end up in containers that overwhelm charities abroad or sit in landfills.
After donating her items to a local church, Burgos sought to be more sustainable and decided to try secondhand shopping.
"The good news was that I had so many options, new with tags, great conditions…the bad news was that it was so much that I ended up being frustrated because I didn't find what I liked," she says. "I had to spend hours of my time scrolling thousands of items, dozens of filters, multiple platforms."
She asked herself why there wasn't a website where she could find items in one place. "That was the genesis of Trendy Seconds," she shares.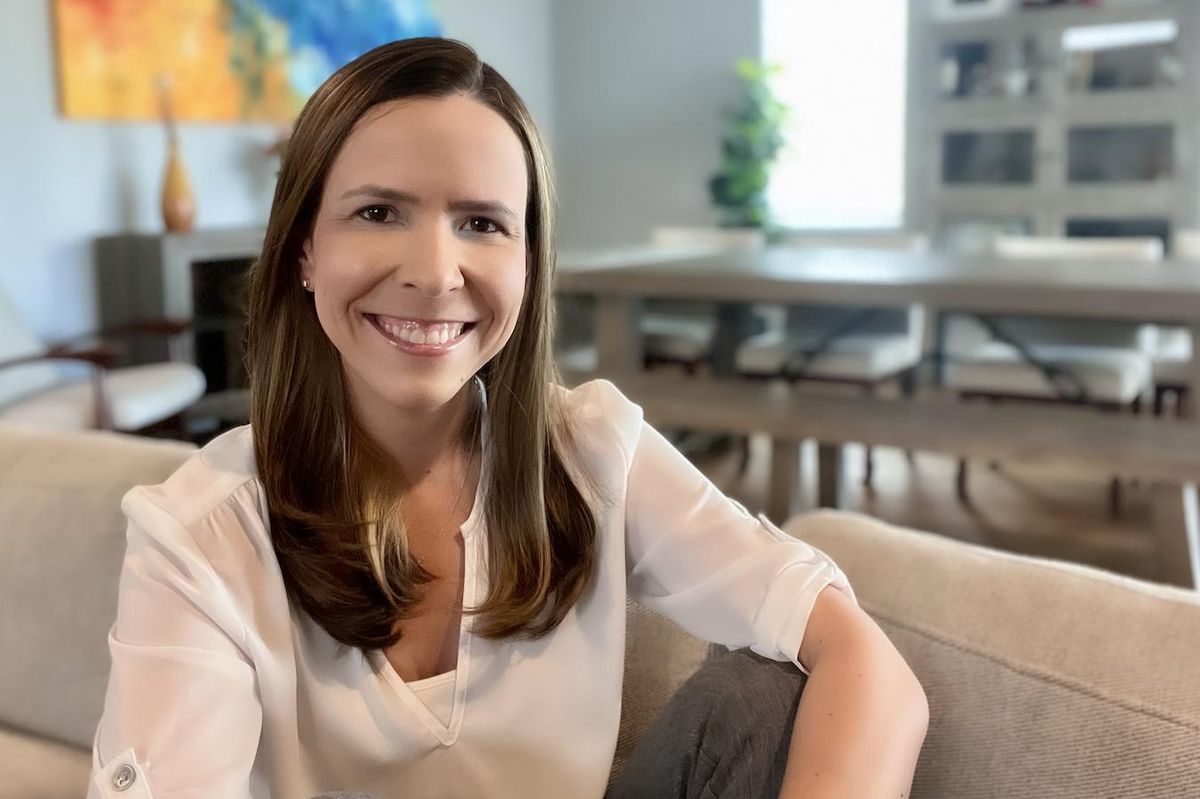 Maria Burgos founded Trendy Seconds to streamline second-hand shopping. Photo courtesy
Burgos has always been drawn to entrepreneurial aspirations. The Venezuela native started her first company, a film magazine, while in college. She studied dentistry and graduated with an offer to become a professor at her university, which she turned down to explore her passion for marketing further. After moving to Spain to obtain an MBA, she gained experience working for large corporations like 3M and GlaxoSmithKline.
Living in countries around the world and dipping her toes into different industries, Burgos gained a unique resume. When she came to the United States, she was eager to get her work permit. She obtained a real estate license and even began working at a startup before having her second child.
"I don't ever have the profile that is right to do what I'm doing at the moment, professionally. That has been something that I considered years ago as a disadvantage, [but] that has been my advantage because I come with a fresh pair of eyes," she explains. "I solve problems differently, and I throw ideas out there that maybe other people don't," she continues.
When she thought of Trendy Seconds, Burgos was trying to solve the issues she faced while striving to be a conscious consumer.
"I know that there are many other women like myself that are trying to make better choices, but right now, it's too hard," she says.
She applied and graduated from the Founders Institute and won a Frost Bank grant to join Impact Hub Houston's accelerator program.
"The accelerator opened up a lot of doors for me, and I went through all of them," she shares.
Burgos launched Trendy Seconds, as an online marketplace where women can find pre-owned clothing or shop for new clothing from sustainable brands. The company shares items from more than 50 brands that can be searched by category, style, size, price, condition, and positive impact. To ensure the clothing is high quality, shoppers will find only gently-used or new items featured on Trendy Seconds.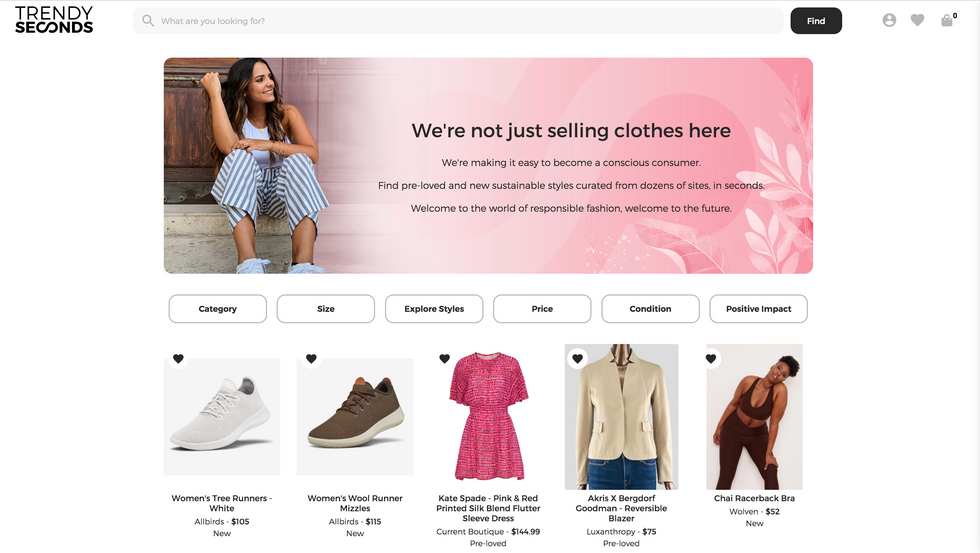 Shoppers can have a much more cultivated experience on Trendy Seconds. Image courtesy
"We work with a fashion stylist to curate the product assortment because one thing that happens is analysis paralysis. When you have too many choices, you don't take action," says Burgos.
Trendy Seconds creates wardrobe capsules that include an assortment of versatile styles that can be mixed and matched together. Visitors can search for various styles like beachwear, spring/summer, maternity, and special occasion attire.
Burgos has aligned with online secondhand marketplaces as well as sustainable clothing websites, where shoppers are redirected once they find items to purchase. She uses the United Nations' sustainability goals to vet vendors and determine which brands to include on the website. Some featured eco-conscious brands include Christy Dawn, Eileen Fisher, Soul Flower, and Allbirds.
"Our ultimate goal is to make responsible consumption super easy," Burgos explains.
Trendy Seconds is currently fundraising and Burgos is looking to bring in investors as she expands the company.
In the future, Burgos wants Trendy Seconds to evolve past the online marketplace and become a resource for circular fashion.
"How we envision this is that we will give the opportunity to consumers to come to the site and not just buy clothes, but actually purchase products and services that can help them increase the life of the clothes that they already have," she shares.
"I believe that the best way to create a really good, like, motivated consumer audience is by letting them know how can they how can they help," says Burgos.