Dec. 06, 2019 02:16PM EST
The Ion Smart Cities Accelerator program's inaugural cohort is moving into its next phase, and some participating startups earned some cash along the way. Courtesy of Station Houston
The Ion Smart Cities Accelerator wrapped up the first phase of its inaugural program with a demo day this week as the startups move onto the pilot phase.
Over the past three months, the 10 selected startups have been working with mentors and the Station Houston resources to hone their companies within the program's new dedicated space, which includes a prototyping lab. At the demo day, which represents the conclusion of the first part of the Intel- and Microsoft-backed program, the startups presented their companies, what they've accomplished, and where they are headed.
Two companies received $5,000 checks from sponsors. GoKid, a carpooling optimization tool, received a prize from Brex, a credit card for startups. The other big winner was Aatonomy, a self-driving communities technology, which was awarded by Gulf States Toyota.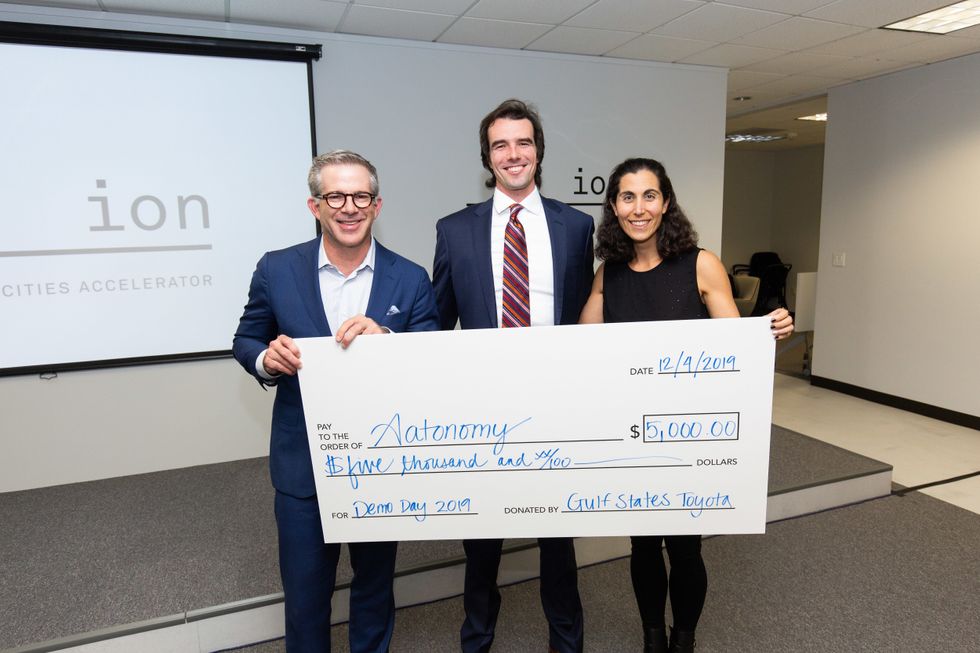 Ion Accelerator Demo Day F. Carter Smith
The second leg of the journey begins in January with pilot programs for the next six months. According to Christine Galib, director of Ion Smart Cities Accelerator, the companies have 15 pilots in the Houston area that hope to positively affect the lives of Houstonians.

"Our startups' technology focuses on connecting people. And this is what makes Houston truly the smartest city in America," says Galib. "To truly be the smartest city in America, we must continue to focus on how we connect people, and why we connect people, as well as to provide the processes and partnerships for these connections — not only to occur by chance, but also to be sustainable."
Gabriella Rowe, executive director of The Ion, echoed the importance people had on the smart cities equation.
"The great success that this accelerator has experienced over the last three months has really been because of people," she says.

Among those people who received a special shoutout from Rowe were the program's inaugural set of mentors. Several of these mentors introduced each of the startups as they presented.
"All of you opened your calendars, your time, and your wisdom to help these startups, but also to help our city," Rowe says to the crowd, which included the program mentors. "And to express a universal desire to make Houston the best possible city it can be, accessible to all Houstonians in every way as we grow to be that innovation economy and city of the future."