Mar. 15, 2023 12:30PM EST
Axiom Space has announced plans for its third commercial space launch and revealed details of its high-tech spacesuit. Photo courtesy of NASA
A Houston-based space tech company has revealed details on two of its commercial partnerships with NASA.
NASA and Axiom Space have again signed a mission order for a private astronaut mission to the International Space Station. The mission will commence sometime in November or on and will be from the agency's NASA's Kennedy Space Center in Florida. Axiom Mission 3 is the third mission of its kind and, according to a statement from NASA, is expected to be a 14-day trip.
The ISS's Multilateral Crew Operations Panel will approve four proposed crew members and two back up crew submitted by Axiom for the Ax-3 mission. The crew will be expected to train for their flight with NASA, international partners, and SpaceX beginning this spring, according to NASA.
"Axiom Space's selection to lead the next private astronaut mission to the International Space Station enables us to continue expanding access to nations, academia, commercial entities, and emerging industries to research, test, and demonstrate new technologies in microgravity," says Michael Suffredini, CEO and president of Axiom Space, in the release. "As NASA's focus shifts back to the Moon and on to Mars, we are committed to transforming low-Earth orbit into a global space marketplace, where access to space moves beyond the partners of the space station to nations, institutions and individuals with new ideas fueling a thriving human economy beyond Earth."
Axiom's historic first commercial launch was in spring of 2022, and Ax-2, which will launch the first Saudi astronauts to visit the ISS, is expected to launch this spring. In addition to these two missions, Axiom has been tasked by NASA to develop spacesuits and space station technology.
After several months of working on the suits, Axiom has revealed the details of the technology that will be worn by NASA astronauts returning to the moon on the Artemis III mission that's scheduled to land near the lunar south pole in 2025.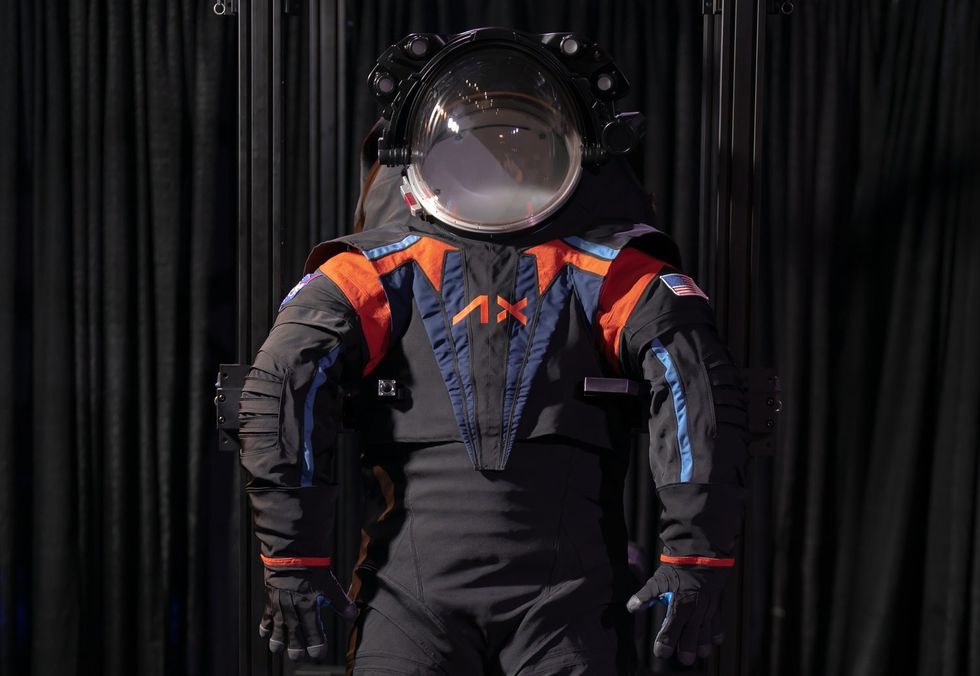 The newly revealed spacesuit will be worn by the first woman and first person of color to visit the moon. Photo courtesy of Axiom Space
"We're carrying on NASA's legacy by designing an advanced spacesuit that will allow astronauts to operate safely and effectively on the Moon," says Suffredini in a statement from the company. "Axiom Space's Artemis III spacesuit will be ready to meet the complex challenges of the lunar south pole and help grow our understanding of the Moon in order to enable a long-term presence there."
Called the Axiom Extravehicular Mobility Unit, or AxEMU, the prototype was revealed at Space Center Houston's Moon 2 Mars Festival today, March 15. According to Axiom, a full fleet of training spacesuits will be delivered to NASA by late this summer.
At the same time as the Ax-3 mission announcement, NASA also announced that it has selected Firefly Aerospace of Cedar Park, Texas, to carry multiple payloads to the far side of the Moon. According to NASA, the commercial lander will deliver two agency payloads, as well as communication and data relay satellite for lunar orbit, which is an European Space Agency collaboration with NASA.
The contract — awarded for around $112 million — is targeted to launch in 2026 through NASA's Commercial Lunar Payload Services, or CLPS, initiative, and part of the agency's Artemis program. It's the second award to Firefly under the CLPS initiative.
"The diversity of currently available commercial orbital human spaceflight opportunities is truly astounding. NASA's commercial crew flights to the space station for our government astronauts paved the way for fully private missions to space like Inspiration4 and Polaris as well as private astronaut missions to the orbiting laboratory like the one we are announcing today," says Phil McAlister, director of commercial space at NASA Headquarters in Washington, in the release. "We are starting to see the incorporation of space into our economic sphere, and it is going to revolutionize the way people see, use, and experience space."