Growing Houston startup is gamifying professional sales with management tools for sellers
Feb 12, 2020, 10:52 am
Houston-based Outfield, a sales management app, wants to gamify the sales process for its users. Photo via outfieldapp.com
Actor Alec Baldwin's "always be closing" monologue is not only the most popular scene in David Mamet's 1992 film, "Glengarry Glen Ross," it has become the unofficial mantra for sales professionals worldwide.
While that ABC line, the art of persuasion and strong product offerings are necessary pillars in sales, the ability to centralize data and foster accountability, productivity and drive revenue is just as vital. That's where Outfield, a web and mobile-based CRM, comes in. The app specializes in data driven revenue and efficiency solutions for companies with a burgeoning outside sales force.
"Outfield is a software solution designed specifically to support organizations to drive revenue, generate efficiencies and build operational structures via outside sales, field marketing efforts and field merchandising efforts," says Austin Rolling, CEO and co-founder of Outfield.
"For example, the merchandising that seen in a grocery store where sales reps are taking pictures of displays, dropping off marketing collateral, setting up demos and setting up tastings, those are the types of programs where individuals will likely use our software solutions in order to manage their workflow operations," Rolling adds.
How it works
Outfield's selling point revolves around helping organizations discover valuable insights about their market vertical, track and verify their sales team's activity and manage their field operations.
Simply put, it gives field reps an intuitive interface to manage their territory and accounts on-the-go as well as instantly communicate with the rest of their team effortlessly across all devices.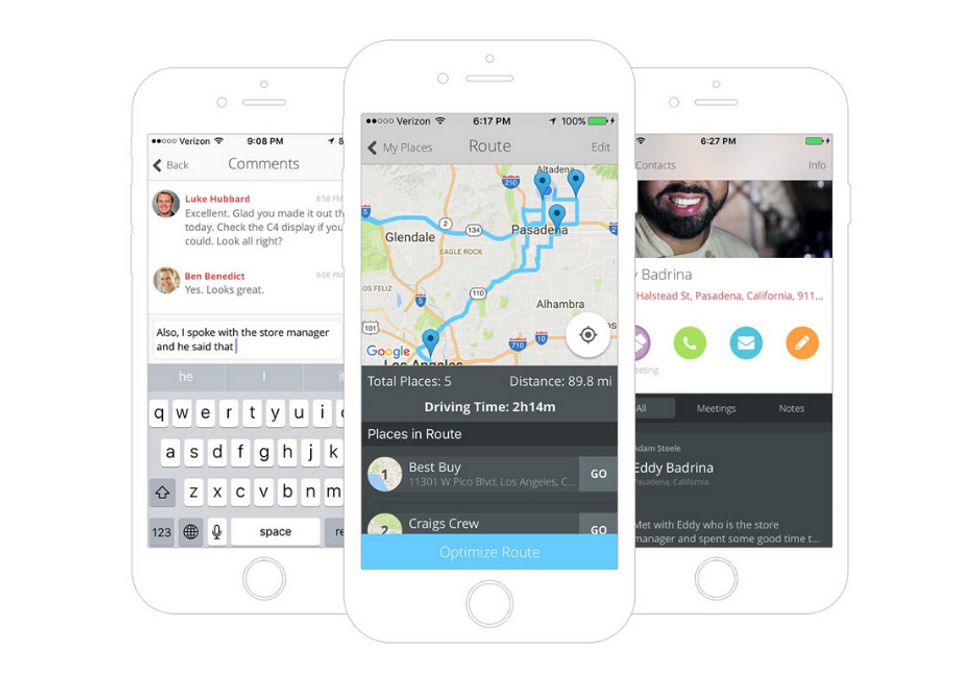 Outfield makes it easier for sales teams to keep track of projects and clients. Photo via outfieldapp.com
"Prior to starting Outfield, I worked in a number of sales positions, both outside and inside sales positions," says Rolling, who worked in sales with such big name companies as Whirlpool and Beats by Dre. "When I was in outside sales, I was always underwhelmed with the amount of support and solutions we were provided while we were out in the field. I always knew there was an opportunity there because the tools that we had were lacking in terms of capabilities.

"Fast forward some years later, my co-founder and I decided to work on a solution that could help support outside sales agents and I was able to use my domain expertise as an outside sales rep to ID the realm of solutions for various customer segments."
Rolling founded Outfield with co-founder Adam Steele in 2015 and operates out of The Cannon, an entrepreneurial co-working space specifically designed to house Houston-based startups and small businesses.
Management tools for sellers
The company began as a solution for a nutraceutical and supplement company called Cellucor.
Cellucor needed an efficient way to manage its legion of outside sales reps, which were servicing stores like Vitamin Shoppe and GNC where they worked with the in-store representatives to promote their brand products.
The company also wanted to track the whereabouts of its sales reps, monitor their touch points in the field and centralize the teams' reports and call forms.
"Sales reps are able to manage their relationships and interactions with their customers through the tool," says Rolling. "We can also integrate with our customers' inside sales tool if they have one. We can send our data over to other systems. It depends on whether or not the system that we are looking to integrate with actually has an open API that we can transmit data from our system to theirs.
"In terms of sales numbers and touch points that you have with customers, there's a report that outside sales reps need to fill out while out in the field. They can record all of the information then sync that data into the cloud, so the sales manager or sales director can see all of that data from the web-based version of Outfield."
Rolling's intimate understanding of the needs of outside sales reps and knowledge of the industry vertical has been immeasurable in growing Outfield's client base, which has expanded to over 200 customers in 75 countries.
Gamifying sales
Over the next five years, the burgeoning startup plans to build on its momentum as a disruptor in the space by incubating and releasing a new suite of products that will ultimately have a number of synergies with Outfield.
The most pressing product is League Play, a built-in game for salespeople within the Outfield CRM platform that allows sales reps the opportunity to compete and collaborate with one another similar to popular video games such as MLB The Show 20 or NBA 2K20.
"League Play essentially allows reps to build reputations of being star performers based on their utilization and activity of their Outfield account," says Rolling. "They're able to leverage that data and this will be good for comparison purposes for upper management. Therefore, if a sales manager or sales director wants to know who their star player is, they can go into League Play see how their sales reps are performing. We designed it to be very reminiscent of sports."
The tool has leaderboards and signature player cards, which is similar to Topps baseball cards. The player cards features the sales reps' profile, including all of the statistics of their individual performance and offer attributes.
"Like Madden, you can go in and see how their ratings are," says Rolling. "This is something that's going to be groundbreaking. This is something that has not been done before. The idea is to be sales as a sport to take advantage of sales reps' competitive nature. It should boost their overall productivity, which managers should be able to reap the benefits of, while reps will be able to build their own brand and personal reputation. It's a great way to boost performance overall."
All sales reps that utilize Outfield will be automatically entered into League Play. While the platform allows sales reps the chance to feel like they're athletes, it also helps them build reputations for themselves as top tier sales professionals and give them more of a vested interest in utilizing the application.
Moving forward, Outfield wants to further permeate the market in its widespread use of advanced analytics with the help of artificial intelligence and machine learning.
"We want to be able to think about KPI's and metrics that can tell the story of outside sales in a very specific way," says Rolling. "We think that we can infuse and generate an appetite for people who want to think more intelligently about their go-to-market activities because one thing we're learning and know for sure is that our customers aren't getting less competitive, they're getting more competitive."