Self-driving pizza delivery goes live in Houston
Apr 12, 2021, 10:28 am
Domino's and Nuro announced their partnership in 2019 — and now the robots are hitting the roads. Photo courtesy of Nuro
After announcing their partnership to work on pizza deliveries via self-driving robots in 2019, Dominos and Nuro have officially rolled out their technology to one part of town.
Beginning this week, if you place a prepaid order from Domino's in Woodland Heights (3209 Houston Ave.), you might have the option to have one of Nuro's R2 robot come to your door. This vehicle is the first do deliver completely autonomously without occupants with a regulatory approval by the U.S. Department of Transportation, according to a news release.
"We're excited to continue innovating the delivery experience for Domino's customers by testing autonomous delivery with Nuro in Houston," says Dennis Maloney, Domino's senior vice president and chief innovation officer, in the release. "There is still so much for our brand to learn about the autonomous delivery space. This program will allow us to better understand how customers respond to the deliveries, how they interact with the robot and how it affects store operations."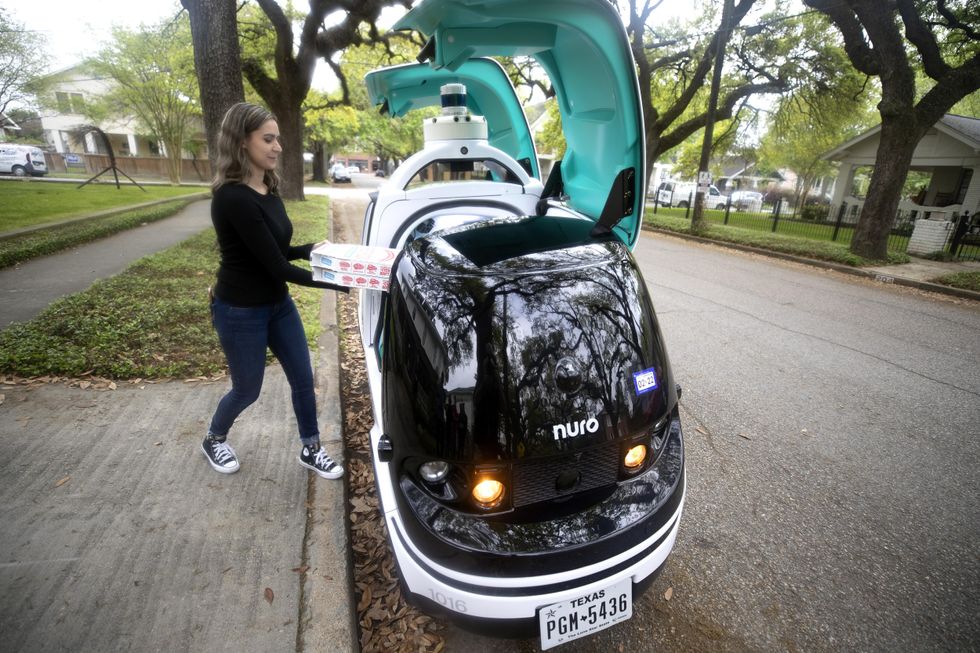 Orders placed at select dates and times will have the option to be delivered autonomously. Photo courtesy of Nuro
The Nuro deliveries will be available on select days and times, and users will be able to opt for the autonomous deliveries when they make their prepaid orders online. They will then receive a code via text message to use on the robot to open the hatch to retrieve their order.
"Nuro's mission is to better everyday life through robotics. Now, for the first time, we're launching real world, autonomous deliveries with R2 and Domino's," says Dave Ferguson, Nuro co-founder and president, in the release. "We're excited to introduce our autonomous delivery bots to a select set of Domino's customers in Houston. We can't wait to see what they think."
California-based Nuro has launched a few delivery pilots in Houston over the past few years, including the first Nuro pilot program with Kroger in March 2019, grocery delivery from Walmart that was revealed in December 2019, and pharmacy delivery that launched last summer.
From being located in a state open to rolling out new AV regulations to Houston's diversity — both in its inhabitants to its roadways, the Bayou City stood out to Nuro, says Sola Lawal, product operations manager at Nuro.
"As a company, we tried to find a city that would allow us to test a number of different things to figure out what really works and who it works for," Lawal says on an episode of the Houston Innovators Podcast. "It's hard to find cities that are better than Houston at enabling that level of testing."
Steam the episode here.