Kroger's autonomous car fleet heads to Houston for a new grocery delivery service
Mar 14, 2019, 11:35 am
Kroger's self-driving cars are coming to Houston. Courtesy of Kroger
Hold on to your hats, Houston. Autonomous cars are hitting the streets this spring as Kroger rolls out its fleet of self-driving, grocery-delivery cars.
Two Houston Kroger locations will provide the service to four ZIP codes — 10306 South Post Oak Road, servicing 77401 and 77096, and 5150 Buffalo Speedway, servicing 77005 and 77025.
Kroger, along with California-based robotics company, Nuro, has been operating self-driving cars delivering groceries in Scottsdale. Arizona since August. According to the release, the service has delivered thousands of orders in the self-driving vehicles.
"We've seen first-hand in Arizona how enthusiastic customers are about getting their Kroger groceries delivered by a Nuro self-driving vehicle," says Nuro co-founder, Dave Ferguson, in a release. "Texas has been a leader in encouraging self-driving innovation, and we're excited to help deliver that future for Houston — a dynamic, diverse, and welcoming metropolitan city that we're excited to soon explore and serve with this autonomous delivery service."
The service costs a flat fee of $5.95, and users can order in the app or online for same-day or next-day delivery, seven days a week. The program will launch using Toyota Prius vehicles. Currently, the exact start date of the service hasn't been provided.
"Our Arizona pilot program confirmed the flexibility and benefits provided by autonomous vehicles and how much customers are open to more innovative solutions," says Yael Cosset, Kroger's chief digital officer, in a release. "It's always been our shared vision to scale this initiative to new markets, using world-changing technology to enable a new type of delivery service for our customers. We operate 102 stores in Houston—an energetic market that embraces digital and technology advancement. The launch is one more way we are committed to sustainably providing our customers with anything, anytime, and anywhere, the way they want it."
In January, the Texas Department of Transportation created the Connected and Autonomous Vehicle Task Force to focus on being a comprehensive resource for information on all Texas CAV projects, investments, and initiatives.
"With our world-class universities, top-notch workforce and startup culture, Texas is a national leader in the development of new technologies," says Gov. Greg Abbott in the release. "As transportation technology advances, the CAV Task Force will ensure that the Lone Star State remains at the forefront of innovation."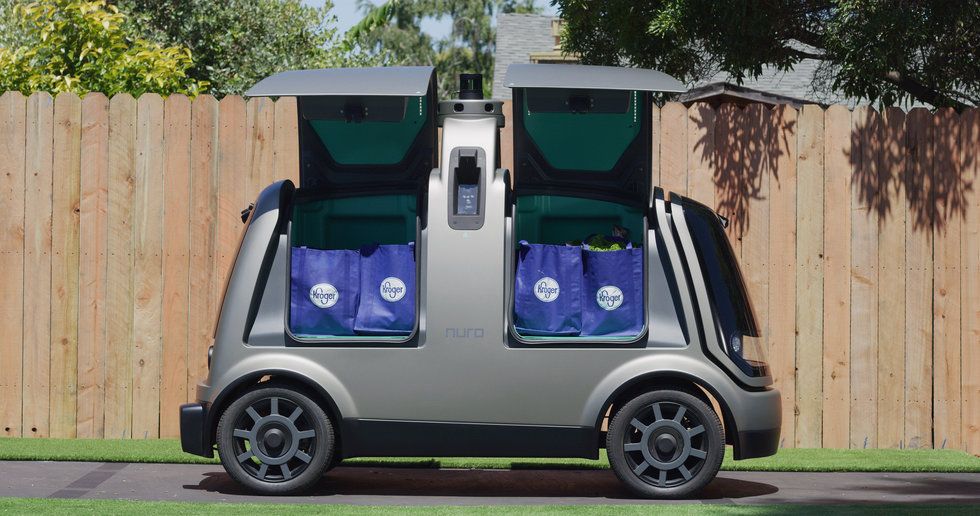 Courtesy of Kroger