Self-driving pizza delivery vehicles will hit Houston's roads later this year
Jun 17, 2019, 10:47 am
Domino's and Nuro have picked Houston to launch a self-driving pizza delivery vehicle pilot program. Courtesy of Nuro and Domino's
Unmanned vehicles are taking over Houston, any way you slice it. Nuro, the robotics company specializing in commercialized self-driving cars, first entered the Houston market earlier this year with its grocery delivery partnership with Kroger. Now, the company has teamed up with Domino's Pizza to deliver an autonomous pizza delivery pilot program in Houston.
Only a select group of Houston Domino's customers will be able to have the option to choose an unmanned delivery process from the R2 vehicles. Currently, Nuro and Domino's have not revealed who will be able to use the service or when. In a news release from Domino's, the company notes that the technology will be available later this year.
"We are always looking for new ways to innovate and evolve the delivery experience for our customers," says Kevin Vasconi, Domino's executive vice president and chief information officer, in the release. "Nuro's vehicles are specially designed to optimize the food delivery experience, which makes them a valuable partner in our autonomous vehicle journey. The opportunity to bring our customers the choice of an unmanned delivery experience, and our operators an additional delivery solution during a busy store rush, is an important part of our autonomous vehicle testing."

On online orders, select customers will have the option to choose to receive delivery from one of the R2 vehicles. Once the order is in, the customers would receive a PIN code to unlock the compartment to access the pizza upon its arrival.
"We are excited to expand our autonomous delivery service in Houston with Domino's delivery," says Cosimo Leipold, Nuro's head of partner relations, in the release. "Domino's delivers millions of pizzas around the world every day, and the company shares our passion for focusing on the customer experience. We see incredible opportunity in offering Nuro's world-class autonomous technology to Domino's customers, accelerating our shared mission to transform local commerce."
Self-driving vehicles are sure to change Houston's landscape, according to Rand Stephens, managing director of the Houston office of commercial real estate services company Avison Young.
"I think forward-thinking tenants, developers, brokers, architects, and engineers will design interim solutions with lower ratios," Stephens says in another InnovationMap article. "They'll really take the time to understand the occupants' commuting patterns and steer away from one parking space for one person."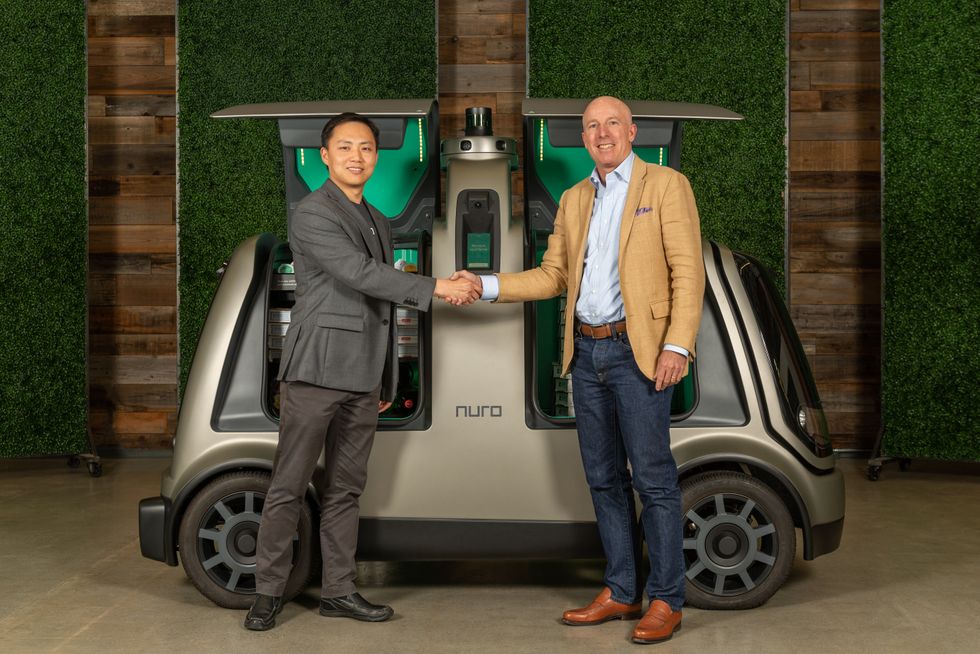 Nuro Co-Founder Jiajun Zhu and Domino's CEO Ritch Allison in front of one of Nuro's R1 vehicle.sCourtesy of Nuro and Domino's