Houston-area space tech startup gets upgraded control center
Sep 28, 2020, 1:39 pm
A Houston-based company that's on a mission to the moon has a new control center. Photo via Jesus Motto/Savills
A space tech startup based in Clear Lake, just outside of Houston, has a new office that's going to help them take their technology out of this world.
Intuitive Machines, an engineering firm specializing in automation and aerospace, has upgraded its Houston-area control center. The company has moved into a 22,300-square-foot space on the sixth floor of a building located at 3700 Bay Area Road. The lease was executed last fall. London-based Savills had a Houston team to represent the tenant and oversee project management of the buildout.
"I was proud to work on the build-out for Intuitive Machines during such an exciting time in its history," says Savills associate director, David Finklea, in a news release. "As Intuitive is a leader in the aerospace space field, we created an environment that is far from the industry standard and complements its innovative endeavors. The design is bright and contemporary, with a relaxing and airy feel that imitates the illusion of being in space."
Currently, Intuitive Machines is working on NASA's Artemis Program and has been granted $77 million from the organization to launch a flight to the moon next year. In light of this project, Intuitive Machines needed a larger, optimized space to support its growing team.
Finklea and Derrell Curry, executive vice president at Savills, teamed up with architecture firm CDI Douglass Pye Inc. on the project that took elements from the company's former first-floor office and created a new design aesthetic that "evoked the neutral colors of the lunar landscape," according to the release.
"Despite the current COVID-19 pandemic and delays caused as a result, we were able to complete the space within six months through close coordination with Intuitive Machines, CDI Douglass Pye, and the landlord," Finklea says in the release. "Everyone came together to ensure the new headquarters was delivered promptly for Intuitive Machines to prepare for its historic mission that further solidifies the future of privatized space travel."
The unique control center is circular, which optimizes collaboration, and equipped with a large curved monitor. The office is also hooked up to emergency backup power — something the team needs as it continues on its mission to the moon.
"I couldn't be more pleased with Derrell and David and the team they put together to create our new headquarters. Everyone demonstrated a high level of professionalism and attention to detail that produced a workplace that truly represents Intuitive Machines as an innovative lunar space systems company," says Steve Altemus, president and CEO of Intuitive Machines, in the release. "Thank you to Savills, CDI Douglass Pye, and Byrd Construction for delivering an exceptional space that allows us to conduct our mission to the moon from our new control center right here in Houston!"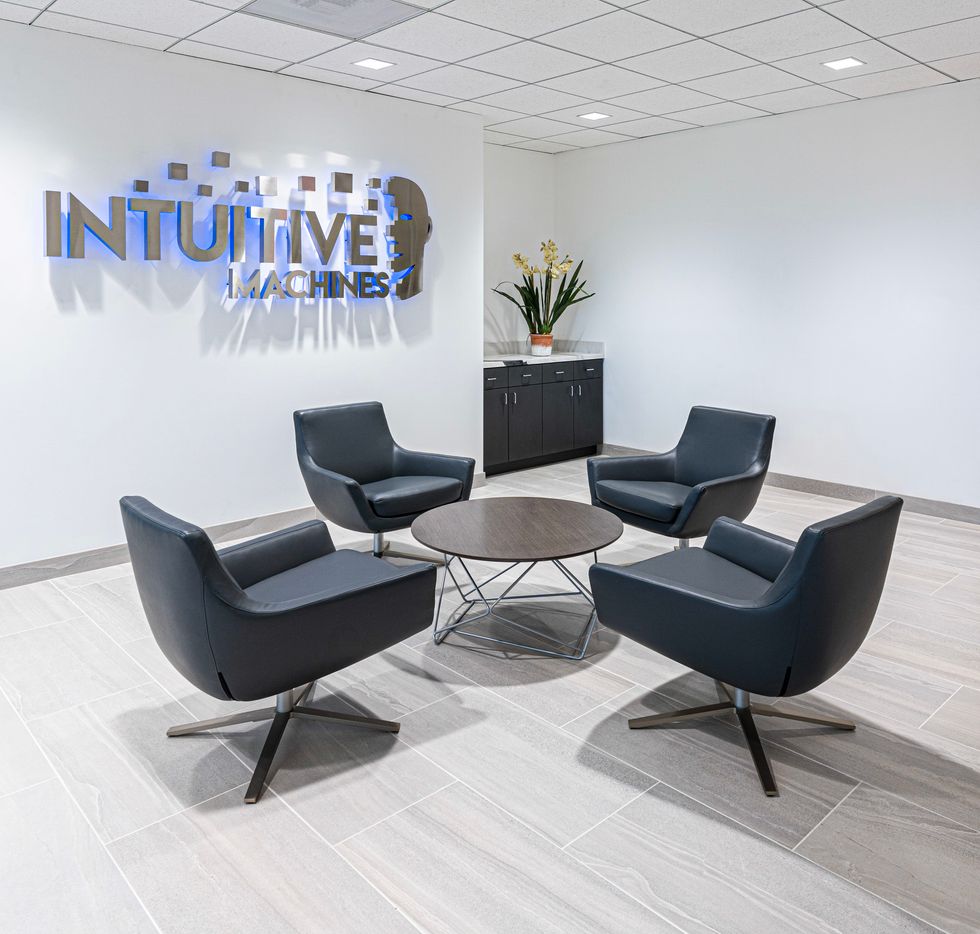 Intuitive Machines moved into a new space. Photo via Jesus Motto/Savills