Houston neck-and-neck with Austin in third quarter venture capital funding reports
Oct 26, 2018, 12:21 pm
Houston essentially matched Austin in venture capital funds received in the third quarter of 2018. Getty Images
It was a Texas showdown when it came to venture capital funding between Houston and Austin in the third quarter of 2018. According to Crunchbase data, Houston startups pulled in $138.8 million — 39.2 percent of the state's entire VC funding — while Austin startups reported receiving $150.6 million — 42.6 percent of the funds.

"It's something we've never even come close to before and, all of the sudden, boom, we're right there," Station Houston CEO Gabriella Rowe tells InnovationMap. "I think that's what we are going to continue to see in Houston."
"We're not going to see little wins now. We're going to start seeing big wins."
Before the startup scene can truly celebrate, it's worth noting that the entire state struggled in the third quarter. VCs contributed $353.7 million to Texas startups in 91 known deals, according to the report. That's less than half of what was reported in the second quarter, and, actually, it's less that what Austin alone received in Q2. However, the state is up year-over-year in VC funding by 11 percent, as the state only saw $319.6 million in Q3 of 2017.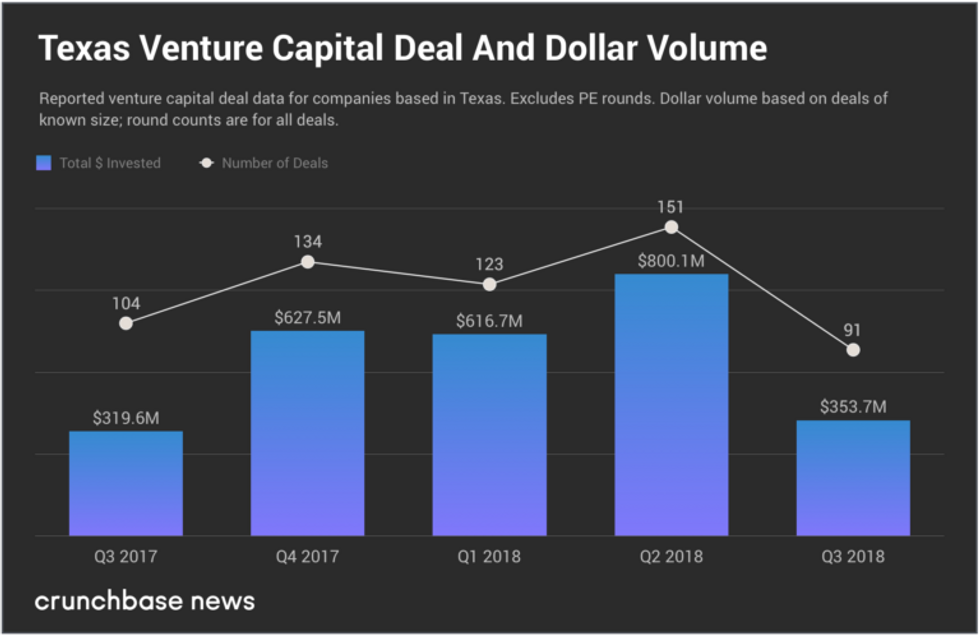 Chart courtesy of Crunchbase
Crunchbase reported that the largest four funding rounds in Houston were as follows:

OncoResponse (immuno-oncology): $40 million in September
ViraCyte (biopharmaceuticals): $30 million in September
Enchanted Rock LLC (utilities): $23.6 million in July
DNAtriX (cancer treatment): $15.5 million in September