Houston entrepreneur creates a portable workspace for productivity on the go
Nov 14, 2018, 9:37 am
Alcove transforms from a laptop case to a private workspace in just a few moves. Courtesy of Alcove
By 2020, almost half of the American workforce will be freelance or contract employees. To prepare for this new way of doing business, innovators have been abuzz with coming up with software and AI workplace solutions.
However, Yared Akalou, a Houston entrepreneur, took a step back from the digital solutions sprouting up everywhere, and he designed a tangible tool for remote workers to have their own private workspace amid a loud coffee house or busy coworking space.
Alcove goes from laptop case to personal workspace with just a few moves. The wings pop out, the top lifts, and a kickstand holds the case upright while ergonomically holds up the laptop at a 40- to 45-degree angle. Akalou even consulted with an acoustic engineer to ensure the materials are optimized for users.
"Our goal is threefold," Akalou says, "to enhance privacy, increase focus, and improve communications within your laptop."
Akalou formed his LLC in March 2017 and went straight into prototypes and market research, before launching his Kickstarter campaign in September 2017 from his booth at TechCrunch Disrupt in San Francisco. He more than met his goal of $20,000 and just completed all the preorders for Alcove.
Now, Alcove has direct presales available for order on its website, which is relaunching this month. However, Akalou has big plans for what he wants to do next. First, he wants to tap into distributors to carry his product — the Best Buys and Brookstones of the world. Next, he wants to have B2B partnerships with big companies to get Alcove in the hands of their employees.
"When you start as a consultant for Accenture for example," Akalou says, "they give you a company laptop and a briefcase. That briefcase ends up in the back of your closet. Alcove would be a more useful product."
In addition to getting this current product on shelves and in the hands of remote workers, Akalou has a product roadmap for several other tools. He wants Alcove to be a complete line of hardware, so to speak, for workplace solutions.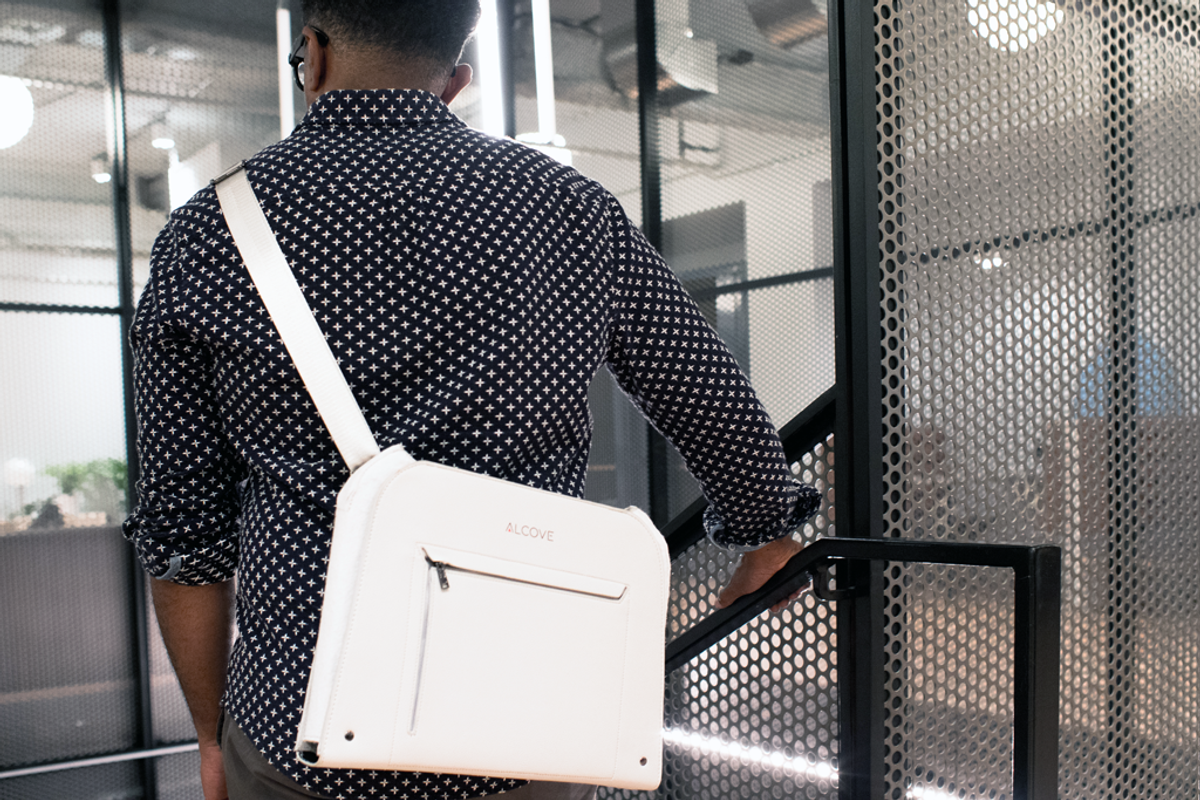 Alcove can even be its own shoulder bag when you're on the go.Courtesy of Alcove