Houston startup uses artificial intelligence to bring its clients better business forecasting calculations
Jan 2, 2020, 10:52 am
Houston-based Complete Intelligence was just recognized by Capital Factory as the "Newcomer of the Year." Photo via completeintel.com
The business applications of artificial intelligence are boundless. Tony Nash realized AI's potential in an underserved niche.
His startup, Complete Intelligence, uses AI to focus on decision support, which looks at the data and behavior of costs and prices within a global ecosystem in a global environment to help top-tier companies make better business decisions.
"The problem that were solving is companies don't predict their costs and revenues very well," says Nash, the CEO and founder of Complete Intelligence. "There are really high error rates in company costs and revenue forecasts and so what we've done is built a globally integrated artificial intelligence platform that can help people predict their costs and their revenues with a very low error rate."
Founded in 2015, Complete Intelligence is an AI platform that forecasts assets and allows evaluation of currencies, commodities, equity indices and economics. The Woodlands-based company also does advanced procurement and revenue for corporate clients.
"We've spent a couple years building this," says Nash. "We have a platform that is helping clients with planning, finance, procurement and sales and a host of other things. We are forecasting equity markets; we are forecasting commodity prices, currencies, economics and trades. We built a model of the global economy and transactions across the global economy, so it's a very large, very detailed artificial intelligence platform."
That platform, CI Futures, has streamlined comprehensive price forecasting and data analysis, allowing for sound, data-based decisions.
"Our products are pretty simple," says Nash. "We have our basic off the shelf forecast which is called CI Futures, which is currencies, commodities, equities and economics and trade. Its basic raw data forecasts. We distribute that raw data on our website and other data distribution websites. We also have a product called Cost Flow, which is our procurement forecasting engine, where we build a material level forecasting for clients.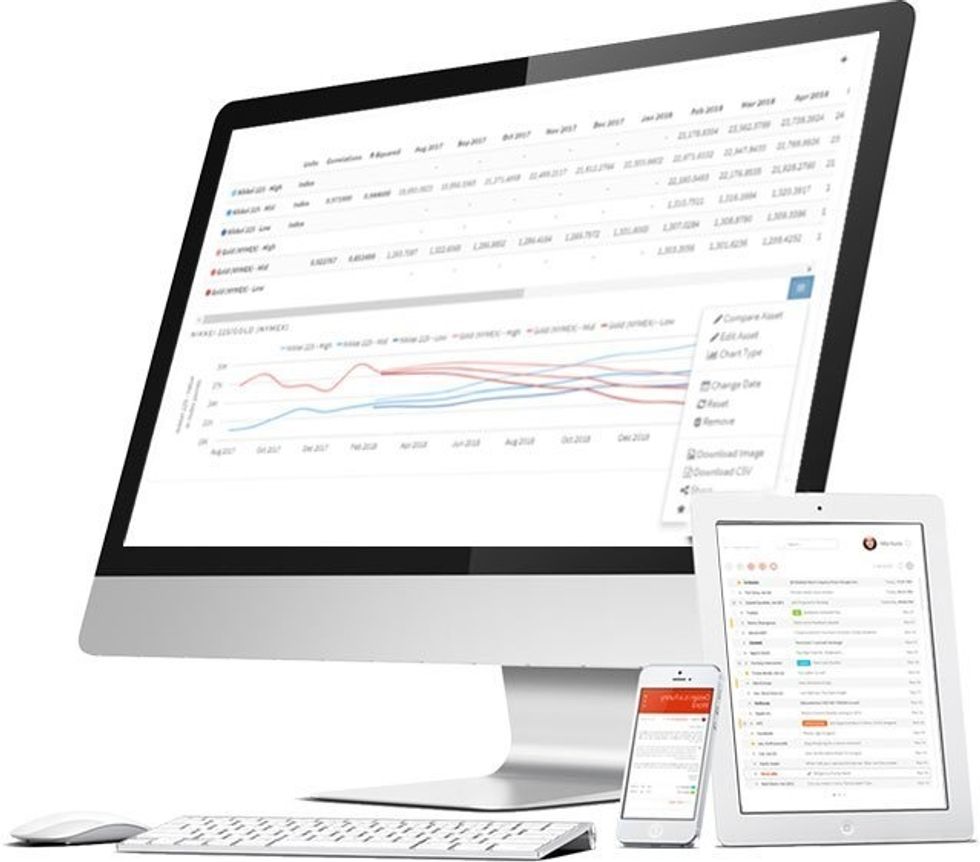 completeintel.com
"Then we have a product that we'll launch next year called Revenue Flow, which is a sales forecasting tool that will use balance of both client data and publicly available data to forecast client sales by product, by geography and so on and so forth. So we really only do three things: revenues, costs and raw data forecasts."

Forecasting across industries
Complete Intelligence's Cost Flow and Revenue Flow products are specific to direct clients. They are working with clients in the food and beverage sector, the energy sector, the chemical sector, and the technology sector.
"Anybody that manufactures a tangible good, should use our product," says Nash. "Because we can take their historical data we can configure their bills of material and they can see the exact cost and exact revenue of those products by month over time."
CI is not a consulting firm, so they offer their clients an annual license, which allows them to receive updated forecasts every month to understand how markets will iterate over time.
"We're integrating with the client's enterprise data," says Nash. "Whether it's their ERP system or their procurement system or their CRM, we're integrating with client's enterprise data, and we're creating forecast outlooks that are perfectly contextually relevant for client buying decisions."
Called out by Capital Factory
As a business solution, CI has garnered widespread industry confidence and accolades, such as Capital Factory's coveted "Newcomer of the Year" award, which recognizes innovative companies from a pool of 110 startups in Texas.

"Honestly, I couldn't believe it because with a startup like ours, there's so much hard work that goes into it, there's so much time, there's so much persistence," says Nash.
"And the types of startups that Capital Factory attracts are very competitive startups, so for us to receive this award, it's given us a huge amount of credibility in the market and it's really encouraged the team inside the company to understand that what we're doing is being recognized, it's meaningful and we're really going places."
From consulting to billions of monthly calculations
Nash is no stranger to going places. Before setting up shop in his native Texas, he lived in Singapore for 15 years where he started his career in sourcing and procurement for American retail firms.

"I became very sensitive to costs, cost inflections and I got very involved in global sourcing and international trade and then I did a couple of corporate turnarounds and start ups and so with that you see costs as an issue with those types of firms," Nash says.
He then worked with the Economist running their global research business. There, he grew familiar with how clients and customers use data. At IHS Markit, a global information provider.
"When I was working with those firms, those firms helped companies with planning," says Nash. "The problem is that those firms have very large errors in their forecasts. It is not just the internal forecasts that have a 30 percent or higher error rate in their forecasts, even the industry forecasters typically have around a 20 percent error rates in their forecasts.
"Even the people who should actually know where prices are going are not very good forecasters. With Complete Intelligence, we wanted to use data and use artificial intelligence to machine learning to create a better way to identify where costs and revenues will go for companies."
Every month, CI runs billions of calculations. They test their error rates and record them for clients that request them. With 700 assets that they show publicly, CI their average error rate is 3.7 percent, which is dramatically lower than both corporate procurement professionals and industry experts.
"With us doing billions of calculations, it allows us to run simulations and scenarios that your average analyst just can't do and most companies haven't even thought of. We're able to run a comprehensive view of activities in the world to understand how things directly and indirectly affect a cost. In Houston, for example, that could be crude oil or natural gas or something like that."
Proving its value
Last year, the company tested its platform with a natural gas trader. After reviewing the data, CI revealed to the client that natural gas would fall by 40 percent over the next year.
"They looked at our forecast and said they couldn't work with us because it didn't make sense," says Nash. "A 40 percent fall didn't make sense, so they didn't subscribe to us. That was 2018. What has happened over the past 12 months? Natural gas prices had fallen by 49 percent. You would look at our forecasts and say, 'Wow, that's a dramatic drop over 12 months.' But reality was even more dramatic than that and there weren't analysts out there saying what our model was telling us."
That natural gas trading company never admitted its faux pas, but if they had listened to CI, they could have positioned themselves to negotiate their vendors down for their cost base, which helps the margin of their business.
"Nobody ever admits mistakes," says Nash. "But when you think about the numerous materials that require natural gas, especially things that are manufactured in Houston, it affects a lot of costs."
Houston roots — by way of Asia
The missed opportunity with the natural gas trader notwithstanding, Nash is happy that he brought Complete Intelligence to Houston.
"I went to Texas A&M and grew up in Texas, so I moved back to Texas knowing how good Americans are with planning, with math and with data. I like Houston because people make stuff in Houston," Nash says. "We just found Houston to be perfect after spending 15 years in Asia given the global centrality of Houston. The industry's here and there's a lot of diversity in Houston."
Nash's expectation was that he would be able to work with Western multinationals to improve their analytics and their artificial intelligence processes because he has learned that there is a lot of pressure in American financial markets and analysts communities to really know what is happening within companies.
"We want companies to be able to really tightly plan their costs so they can better improve their profitability," says Nash. "That's what I wanted to do when we moved to the U.S. and we're finding that there's a lot of interest from companies."