Photos: $38M innovative maker hub space opens in Houston's East End
Jun 4, 2021, 10:56 am
The East End Maker Hub, a public-private endeavor, aims to put Houston on the map for manufacturing. Photo by Natalie Harms
A new 300,000-square-foot innovation and manufacturing hub with a goal of creating 1,000 new companies in the next five years has officially celebrated its grand opening.
The East End Maker Hub — a $38 million public-private partnership — is anchored by TX/RX Labs, a makerspace nonprofit, and located at 6501 Navigation Blvd. So far, 25 companies have signed leasing agreements with the hub that has two of its three phases completed.
"Houston can become the next great manufacturing hub in America," says Roland von Kurnatowski, president at TX/RX Labs. "We can decrease our external reliance and increase our resilience."

The grand opening event, which was held June 3, was attended by makers, EEMH tenants and employees, and some of the local politicians that aided in making the hub a reality with grants, private funding, and more.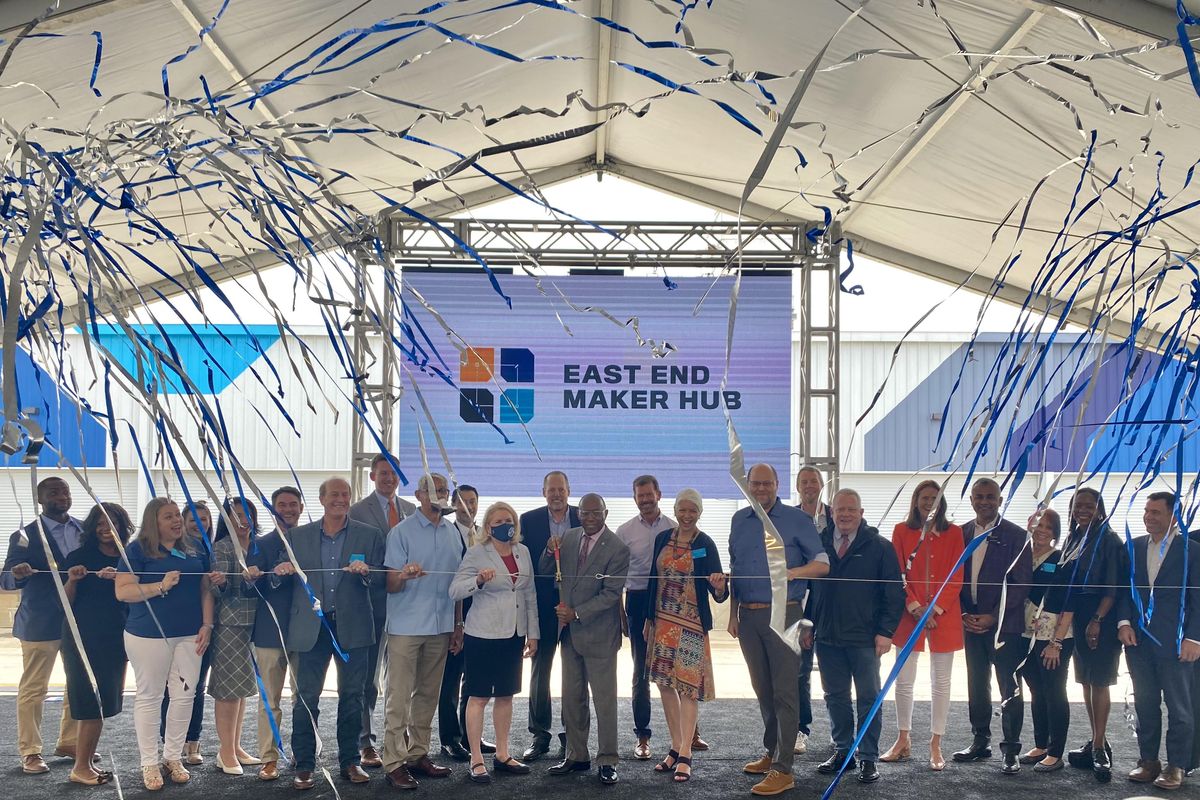 The EEMH has officially celebrated its grand opening. Photo by Natalie Harms
"We've always been a city of amazing innovation, whether it's been in energy, medicine, or space exploration," says Mayor Sylvester Turner. "And, we've led the world in whatever we have chosen as the pursuit of our endeavors. One thing about this city is that when we work together, we win."

"The East End Maker Hub provides an opportunity to reclaim our history of innovation and manufacturing and to ensure that the process of innovation is equitable," Turner continues. "It is not saying much to be diverse if you are not inclusive at the same time."
Through TX/RX and other tenants, the EEMH will aim to provide education, workforce development, jobs, and entrepreneurial space to innovators, students, and more.

The mission of the East End Maker Hub is to "drive advanced manufacturing by bringing together the brightest engineers, scientists, manufacturers, and makers to generate innovative advanced manufacturing solutions," according to Patrick Ezzell, president of the Urban Partnerships Community Development Corporation.
Six Houston startups recently announced their moves into the space, and the EEMH tenants represent everything from 3-D printing and unmanned aerial vehicles to vodka distilling and fragrance design.
Take a slideshow tour of the TXRX space below.